Witness the 2015 all-joke extravaganza! Per DPD tradition, we've crammed a year's worth of so-bad-they're-good icebreakers into one nifty little package. You'll hear enough lightbulb-changing  jokes to last you a lifetime, along with witty one-liners and groaners, from guests including Adam Scott, Marion Cotillard, Joe Manganiello, Tracee Ellis Ross, Oscar the Grouch, Jenny Slate, David Duchovny, Nick Kroll, Fran Drescher, Rivers Cuomo, and more. EYES WILL ROLL. Enjoy!
---

The comedy legend provides etiquette advice we suggest you never take.
---

Gina Rodriguez, the Golden Globe-nominated star of "Jane the Virgin," opens the show up with this book-joke.
---

Rivers Cuomo of Weezer gets down with this joke about a piano... falling down.
---

Before his big break in cinema, the director once believed his career was doomed from the start... all because of a visit to New York City's Feast of San Gennaro.
---

Kelly Link's magical-realist stories have earned comparisons to Kafka, the Brothers Grimm, and Alice Munro. She has won a slew of sci-fi literature awards and the O. Henry Prize. She reads an excerpt from a story in her brand-new collection, "Get in Trouble."
---

Author Tiphanie Yanique gives us a perfect, tiny joke for the summer holiday weekend.  
---

Essayist Meghan Daum, whose new anthology "Selfish, Shallow, and Self-Absorbed: Sixteen Writers on the Decision Not to Have Kids" is out on March 31, does a little horsing around with her icebreaker.
---

Corin Tucker, one of the dual singer-guitarists of seminal rock band Sleater-Kinney shares a joke about staying connected to family in modern times. They are currently on tour supporting "No Cities to Love," their first new album in a decade.
---

Actor-writer Greta Gerwig takes a leap in this icebreaker.
---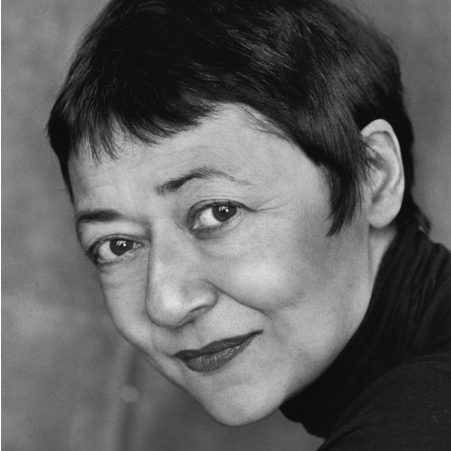 Novelist Sigrid Nunez shares something a bit unflattering - but definitely funny - that filmmaker Sergio Leone may have once said about Clint Eastwood.
---

Author Thomas Pierce tells an insightful joke about the consequences of an out-of-date eyeglass prescription. He joins us this week to discuss his new short story collection, "Hall of Small Mammals."
---

Playwright Robert Schenkkan performs his mother's favorite joke, which involves a rather sassy rabbit.
---

The "Ricki and the Flash" screenwriter, who also delivered a few rock star etiquette tips, offers up an icebreaker familiar in her home.
---

A joke from a joke book that one two year old thinks is a story book, read by author/autuer Miranda July. After a list of story collections, films, and creative projects, she returns to the show this week to discuss her first novel.
---

Author Heidi Julavits gives us an icebreaker fit for a stand up act at a grammar police convention.
---

A joke that made Meryl Streep laugh - and may make you feel uncool - from musician Jenny Lewis
---

The writer of "Red: A History of the Redhead" teaches us some dinner party-worthy fun facts about the history of redheads, with a little pop culture trivia to boot.
---

Canadian author Miriam Toews new novel, "All My Puny Sorrows," draws from her own life story to tell a story of two sisters touched by tragedy.
---

Mary Norris has spent over three decades working as a copy editor at The New Yorker. She shares a tale from her new memoir, "Between You & Me: Confessions of a Comma Queen," about a love note passed to her by her literary crush.
---

The "Rectify" and "True Detective" actress puts a modern twist on the ol' light bulb joke with a little vegan humor.
---

The Minnesota native, whose debut book, "Kitchens of the Great Midwest," won the Faulkner Society's annual novel competition and is earning universal praise from the likes of the New York Times, shares an excerpt -- in which a chef attempts to create the littlest foodie.
---

Grammar lessons, architecture jokes, polka left-overs and drugging your sibling: parody king "Weird Al" Yankovic answers listener questions.
---

Comedian Sara Schaefer has hosted an MTV talk show (Nikki & Sara Live), had an innovative interview podcast (Lies) and earned an Emmy blogging for Late Night With Jimmy Fallon. This week, she shares a story from her brand new comedy album ... that smells like teen spirit.
---

The sticky subject of faulty boomerangs.
---

Writer William Bostwick tells us a joke about another nighttime delight, the moon.
---

Issa Rae shares a joke which combines art, culture, and food, so obviously we approve.
---

Comedian Nick Kroll serves up a juicy joke... about grapes (and prunes).
---

Eater.com Managing Editor Sonia Chopra guides us through the growing variety of options in baseball stadium dining, from "The Churro Dog" to pulled pork parfaits.
---

Writer Amelia Gray tells perhaps the bleakest knock-knock joke in history. She learned it from a 5-year-old.
---

The "Whose Line Is It Anyway?" funnyman releases his book, "The Smartest Book in the World," on May 5. He crafts a guest list for the ultimate cerebral dinner party. Watch your back, Trebek.
---

Actor David Duchovny -- of "X-Files" and "Californication" -- recently published his first book, titled "Holy Cow." He explains why a pig makes for a better main character than a clam, and takes on your etiquette questions.
---

USC Associate Professor Josh Kun recently curated an exhibition for The L.A. Public Library on the vast history of the city's menus called, "To Live and Dine in L.A." He gives Rico a peek at the some of the tens of thousands of menus they have in their collection, ranging from the subtle to the absurd.
---

The grumpy "Sesame Street" Muppet cooks up a joke for his own amusement (not yours). He returns later in the show for our etiquette segment.
---

Jenny Slate is a comedian and Saturday Night Live alum in addition to actor, but for her joke this Father's Day weekend, she turned to a classic from her own dad.
---
Lauren Owen's debut novel, "The Quick" is a gothic, supernatural tale, set in Victorian England about a woman searching for her brother who has gone missing under very mysterious circumstances.
---

"Science Guy" Bill Nye gazes at the stars with us and gives his interstellar travel guide.
---

The actor, who returns later in the show with his "Overnight" co-star Adam Scott for our etiquette segment, quotes his "Rushmore" co-star Bill Murray when he recites a poem with a zinger from the 1991 comedy.
---

Musician and photographer Otis Gibbs accomplishes a puzzling feat.
---

A dad joke about "Star Wars'" most famous dad, from musician and New Pornographer (and dad) A. C. Newman.
---

Adam Scott and Jason Schwartzman both star in the very smart and funny new indie film "The Overnight," about two couples who get awkwardly intimate over the course of a very long dinner party. The actors talk about letting it all *almost* hang out on the set... and then they tackle a few listener questions.
---

Jeffrey Tambor plays the transgender parent at the heart of "Transparent" -- the critically-acclaimed new dramedy series from Amazon, which manages to be poignant, sensitive, and funny. He tells Rico about the immersive prep he did for the role, and about his, like, totally spacey Bar Mitzvah, maaan.
---

Justin Simien - the filmmaker behind the smash Sundance hit "Dear White People" (in theaters this week) - riffs on pumpkin proportions.
---

Australian actor Joel Edgerton's first big Hollywood role was in 2002's "Star Wars Episode II: Attack of the Clones." Since then, he's been seen in "Zero Dark Thirty," "The Great Gatsby," and last fall's smart thriller "Felony." Now he directs himself (along with Jason Bateman and Rebecca Hall) in the drama "The Gift" (out August 7th).
---

French movie star Marion Cotillard may be best-known to U.S. audiences for her roles in "Inception" or Woody Allen's "Midnight in Paris." She won an Oscar for playing Edith Piaf in 2007's "La Vie en Rose," and now she's up for another Oscar, for "Two Days, One Night."
---

"Chappie" and "The Second Best Exotic Marigold Hotel" star Dev Patel attempts to torpedo his own career with a terrible joke.
---

For his newest book, acclaimed author Colson Whitehead inserted himself deep into the world of high-stakes poker. He shares a list of poker inspirations from books and film.
---

Emily Spivack, artist, author, and editor of "Worn Stories" - a book about clothes - tells us a cheetah-print joke.
---

Swedish soul singer Seinabo Sey, who recently gave us a soundtrack with spice, jokes about why pirates might need a help navigating the alphabet.
---

Actor Fran Drescher, who is starring as the wicked stepmother Madame in the musical "Cinderella" in Los Angeles, puts a spin on a biblical tale involving Eve's origin... and a little haggling.
---

The award-winning journalist talks to Rico and Brendan about her new book, explains why "women are just better," and gives a tip on White House etiquette.
---

Maine multi-instrumentalist Lady Lamb creates an eclectic party soundtrack for us... and for her best friend, Shervin.
---

Tracee Ellis Ross of "Black-ish" gives us a joke that is blue and white. She stopped by to tell a story about how she has been doing this comedy thing for a while.
---

The foodie world of "heirloom tomato ketchup and chanterelle mushroom omelets" holds little appeal for columnist and essayist Meghan Daum.
---

Stand-up comic and filmmaker Bobcat Goldthwait discusses his deeply empathetic documentary, "Call Me Lucky," which follows the life and career of Crimmins, and the comedian/activist's fight against child pornography.
---

Acclaimed chef and best-selling author Gabrielle Hamilton knows her way around a kitchen. For 15 years she has helmed Prune, one of the most celebrated restaurants in New York City, and her memoir "Blood Bones and Butter" won a James Beard award. This month she released her first cookbook, "Prune."
---

A royal laugh from writer Nick Hornby about a peculiar way to cook potatoes.
---

Rico gets back to bread basics -- yeast, wheat, water -- with Mark Stambler, an LA baker recently named one of the ten best in the country.
---

Tania James -- author of the acclaimed new novel "The Tusk That Did The Damage" -- offers up a (fittingly) elephantine joke.
---

The "Magic Mike XXL" star tells a snowy icebreaker with the perfect '90s sitcom reference before answering a few listener questions in our etiquette segment.
---

Writer and "Call Your Girlfriend" co-host Ann Friedman gives us the scoop on the growing popularity of moss-viewing excursions with women in Japan.
---

Legendary Muppeteer Carroll Spinney -- the man behind Oscar the Grouch and Big Bird -- gets the spotlight in a new documentary (out now). He brings Oscar along with him to the studio, and the Grouch shares some VERY reluctant etiquette tips. (DON'T thank him for them, mind you.)
---

Lauded filmmaker Mike Leigh is known for coaxing emotionally rich performances out of actors through unusual technique. His newest, "Mr. Turner," offers more compelling evidence of this skill.
---