After a month-long battle that pitted cocktail against cocktail (and host against guest co-host at the end) the polls have closed and the winner of the Martini Madness bracket has been crowned.
And the winner is…
Gin and Tonic!
How did the G&T pull off this win?
It handily defeated the Daiquiri in the first round of the competition, 68.77 percent to 31.23 percent. In round two, it went up against the Margarita and came out on top, 52.61 percent to 47.39 percent. Then, came round three…
The G&T entered round three of the competition a bit of an underdog. The Martini, aka the "King of Cocktails," not only proved to be a formidable foe, but also a favorite of the DPD crowd. Despite numerous public pleas to keep the cocktail hierarchy intact, the G&T pulled off a major upset and beat the Martini, 50.68 percent to 49.32 percent.
And that explains how we got to this final round. Despite a good amount of support and sound arguments for its superiority over the G&T from Big Bar's Cari Hah, the Manhattan was defeated.
The results of the final round:
The final bracket: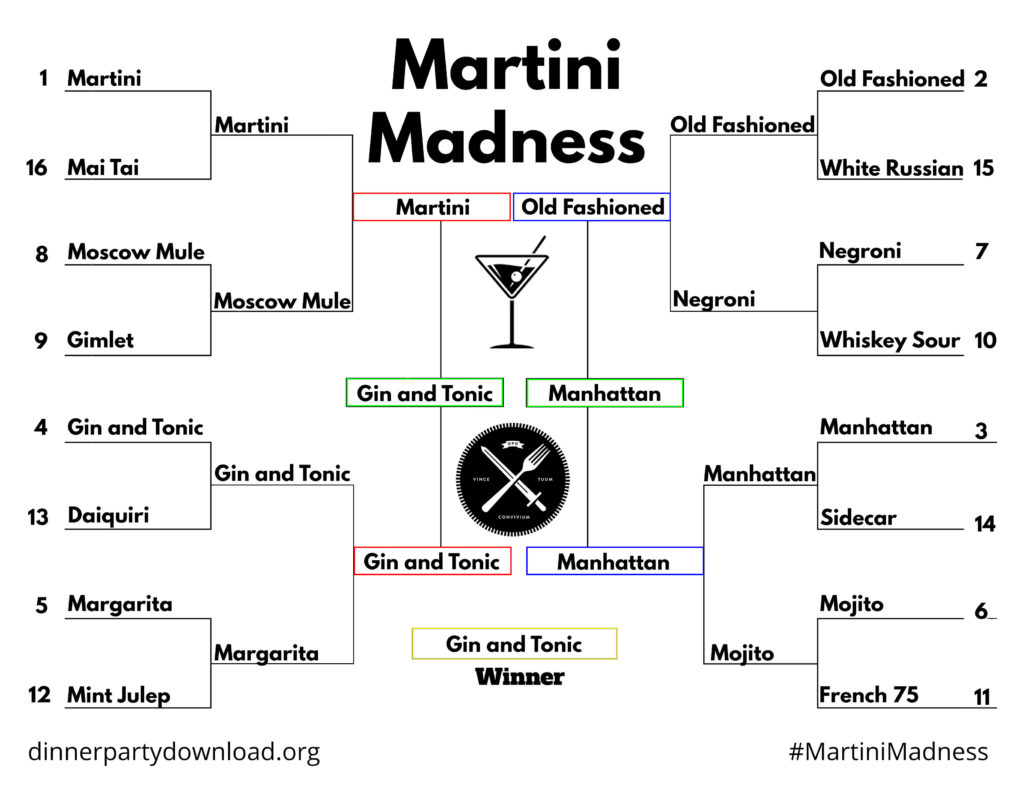 One last note…
All month long we've been saying, "You imbibe, you decide." We just wanted to thank all of our listeners and fans who joined in on the fun, filled out the brackets, voted, and participated in some cocktail name-calling. We hope to cook up something just as fun next year. Perhaps the Martini will be avenged!
As for which fan's bracket was the most accurate… we're still tabulating the results for this. Stay tuned.
Love cocktails? We've got recipes!
And you can get them delivered right to your inbox by signing up for our weekly newsletter right here:
We promise our newsletter is useful and fun. You also get a joke, a song recommendation, and a few behind-the-scenes updates. How many other newsletters give you booze, jokes, and music?