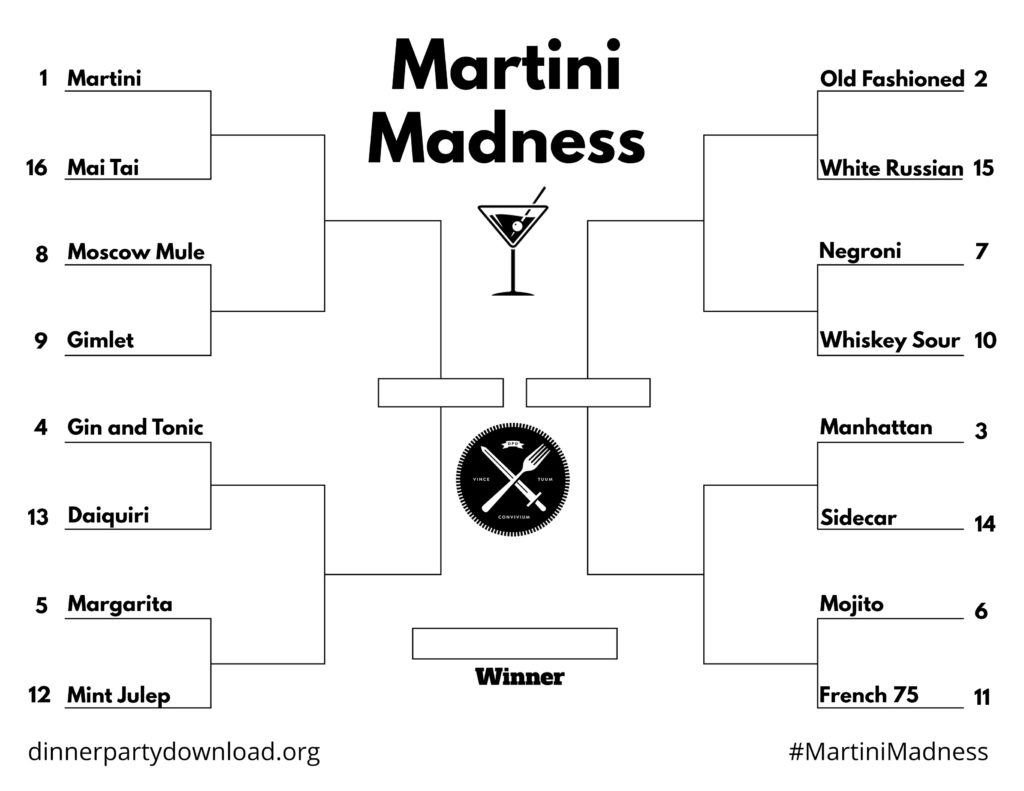 (Click to enlarge)
Wait, what is this?
It's the perfect time of year for a totally made up poll we're calling Martini Madness! Think of it like a basketball tournament, except with booze instead of athleticism.
We're asking YOU to vote for your favorite classic cocktail, round after exciting round. Will there be a massive upset? A Cinderella story? Or will the martini run the table and remain the "King of Cocktails"? You decide!
This is a bracket-style tournament and we'll be updating this page each week with the results. Voting in the first round has closed! Check out Round 2.
Sounds great! How do I play?
VOTE: We've got the first round polls below. Your vote matters!
SHARE: Print out this Martini Madness bracket and fill it out (tip: make sure you print out the bracket in "landscape" mode). Make your picks for the whole tournament and then snap a photo and post it to Instagram or Twitter using #MartiniMadness (tag @dinnerpartydnld, too). We'll post the brackets we receive on the site next week so that we all can see whose bracket comes closest to perfection.
FOLLOW: Keep track of the competition by following the #MartiniMadness tag on twitter.
Round 1: Vote!
Martini vs. Mai Tai
About the competitors
Martini: We've covered the history of the Martini on our show before with cocktail maven Derek Brown, who advocated for a 50/50 gin and vermouth combination. Brendan and Rico like their Martinis with gin and a rinse of vermouth. Our listeners weighed in, too, and voted for their own "custom" recipes. We'll find out at the end of this competition if the Martini can hold onto its "King of Cocktails" title. (I mean, this is literally the logo of cocktail culture. Jerry West, meet your match.)
Mai Tai: Eater contributor Caroline Pardilla (also known for her site Caroline on Crack) once wrote of the drink, "There's no cocktail more misinterpreted than the Mai Tai." The true inventor of this cocktail is disputed and there are many variations, but the folks at Serious Eats put together this recipe which calls for Jamaican rum, lime juice, curaçao, orgeat and rock candy syrup.
Old Fashioned vs. White Russian (aka Draper's drink vs. The Dude's)
About the competitors
Old Fashioned: As one of the oldest mixed drinks in existence, the name is fitting. According to The New York Times, the earliest mention of the Old Fashioned happened in 1886 and its heyday was at the beginning of the 20th century. It was the drink of choice for "Mad Men" character Don Draper and a classic recipe calls for a sugar cube, a few dashes of Angostura bitters, rye or bourbon for the base, and an orange twist.
White Russian: The origin of this drink dates back to the 1930s and it went under a few variations — swapping out the gin and crème de cacao for vodka and Kahlua —  before becoming the cocktail we now know it to be in 1961, according to Esquire. Add a little cream, and you've got yourself Jeffrey "The Dude" Lebowski's drink of choice. We shall see if it abides.
Moscow Mule vs. Gimlet
About the competitors
Moscow Mule: There's some debate as to whether or not this drink's origins started at the Cock 'N' Bull in Hollywood, but like many cocktails, its ingredients were thrown together because, at the time, they were unpopular; the owner may have been looking for a way to get rid of some ginger beer and Smirnoff vodka. Typically served in a copper mug — almost like a tournament trophy? — the Moscow Mule gets a sharp, simple treatment in Bon Appétit. Their recipe calls for lime juice to go with the above Mule staples.
Gimlet: The drink, not the "Reply All" podcast network, has a few different origin tales. One claims the drink got its name from navy surgeon Sir Thomas D. Gimlette, according to The Kitchn. It was mentioned in the 1953 Raymond Chandler novel "The Long Goodbye" when protagonist Philip Marlowe recalls a conversation with drinking buddy Terry Lennox. He tells Marlowe, "A real gimlet is half gin and half Rose's Lime Juice and nothing else. It beats martinis hollow." (Time will tell, Mr. Lennox.)
Negroni vs. Whiskey Sour
About the competitors
Negroni: The most common backstory of the Negroni involves a thirsty Count in a Florentine bar. The story goes that in 1919, Count Camillo Negroni, who spent time in America as a rodeo cowboy (yes, really), was sitting at Florence's Café Casoni and wanted something stronger than an Americano. The bartender swapped out the Americano's soda water for gin and the Negroni was born. Esquire has what it called the "essential" Negroni recipe here.
Whiskey Sour: As Mental Floss notes, the recipe for what we now know as the Whiskey Sour was first printed in the 1862 edition of Jerry Thomas's "The Bartender's Guide," but it might've been around in some form long before then. It has ties to the British Navy and the original recipe included white sugar dissolved in seltzer, lemon juice and whiskey. Most modern recipes (like this one from Food 52) call for simple syrup, whiskey, lemon juice and egg white to add a little texture to the drink.
Gin and Tonic vs. Daiquiri
About the competitors
Gin and Tonic: One of the oldest cocktails in the competition, the G&T has a surprising backstory involving imperialism and malaria prevention. The story goes, according to Slate, that British soldiers in India ingested quinine powder to prevent malaria. The problem was that the powder was bitter and to make it more palatable, they combined it with soda and sugar, creating a tonic of sorts. Eventually, in the 19th century, someone got the idea to add gin and lime to create the G&T we know today. Bon Appétit has a simple recipe if you're in need of one.
Daiquiri: We talked to Saveur magazine writer and "Brooklyn Bartender" author Carey Jones about the Daiquiri history. While it is similar to other competitors, like the Gimlet and the Whiskey Sour, it sets itself apart with its rum base. The accepted origin story is that Jennings Cox, an American mining engineer in Daiquiri, Cuba, had a guest and wanted to mix him up a drink.
Cox was out of gin and whiskey, so the standard Gimlet was out of the question. He did have white rum on hand and combined it with what he had lying around. A classic recipe calls for simply rum, lime, and sugar. The slushy daiquiri we know today is the result of the cocktail being popular around the time the blender was invented, according to Jones. Check out a slushy, strawberry-flavored variation here.
Manhattan vs. Sidecar
About the competitors
Manhattan: A cocktail staple, its history has ties to Winston Churchill's mother, but that fact is often disputed, according to The Daily Beast. What we do know is that it was crafted at New York's Manhattan Club in around 1880 and the original recipe featured equal parts vermouth and whiskey with some orange bitters. A more modern take, like this one from Bon Appétit, calls for more whiskey, less vermouth, bitters, and a maraschino cherry.
Sidecar: One accepted backstory of this cocktail, according to Paste magazine, is that back in 1920 an American Army captain in Paris was known for riding around in his friend's motorcycle sidecar. He wanted a cocktail to warm up before dinner, but having cognac so early in the evening was looked down upon. To get around this, a bartender mixed it with Cointreau and lemon juice to make a cocktail and the sidecar was born. Esquire has an easy recipe here.
Margarita vs. Mint Julep
About the competitors
Margarita: There are a few stories about the creation of the drink, one of which does involve a woman named Margarita. According to the Smithsonian, Margarita Sames was a Dallas socialite who, in 1948, whipped up the drink for her friends at her Acapulco vacation home. The first frozen Margarita machine was invented in 1971, by another Dallas local, Mariano Martinez. Bon Appétit's recipe requires tequila, triple sec or Cointreau, lime juice and salt.
Mint Julep: The recipe for the official drink of the Kentucky Derby was first printed in 1803, according to Town & Country. The magazine credits the drink's rise in popularity to U.S. senator Henry Clay of Kentucky. The classic Mint Julep calls for simple syrup, mint, bourbon, and crushed ice.
Mojito vs. French 75
About the competitors
Mojito: The Mojito might have started out as a variation of a drink called "El Draque," which combined mint and lime to make sugar cane spirits easier to drink, according to Eater. Eventually, the recipe made its way to Cuba where workers incorporated the ingredients with local rum. The drink became popular with American tourists visiting the island during the prohibition era. Esquire's recipe calls for rum, mint leaves, superfine sugar, lime juice and club soda or seltzer.
French 75: We asked our listeners for a final cocktail to include in this matchup and the huge response for the French 75 took us by surprise. The cocktail is named after a light artillery gun, according to Mental Floss. The accepted origin story for the drink takes place sometime during the 1910s in London. A bartender was making a variation of a Tom Collins and swapped out the soda for Champagne. A recipe by Serious Eats includes gin, sugar, lemon juice and Champagne or sparkling wine. (And what's a tournament without a little champagne for the victor, no?)