Emily Haines is the frontwoman of the Canadian band Metric, which combines rock with gritty electronic music. She also has her own solo project called Emily Haines and the Soft Skeleton, and her her second album "Choir of the Mind" is out now.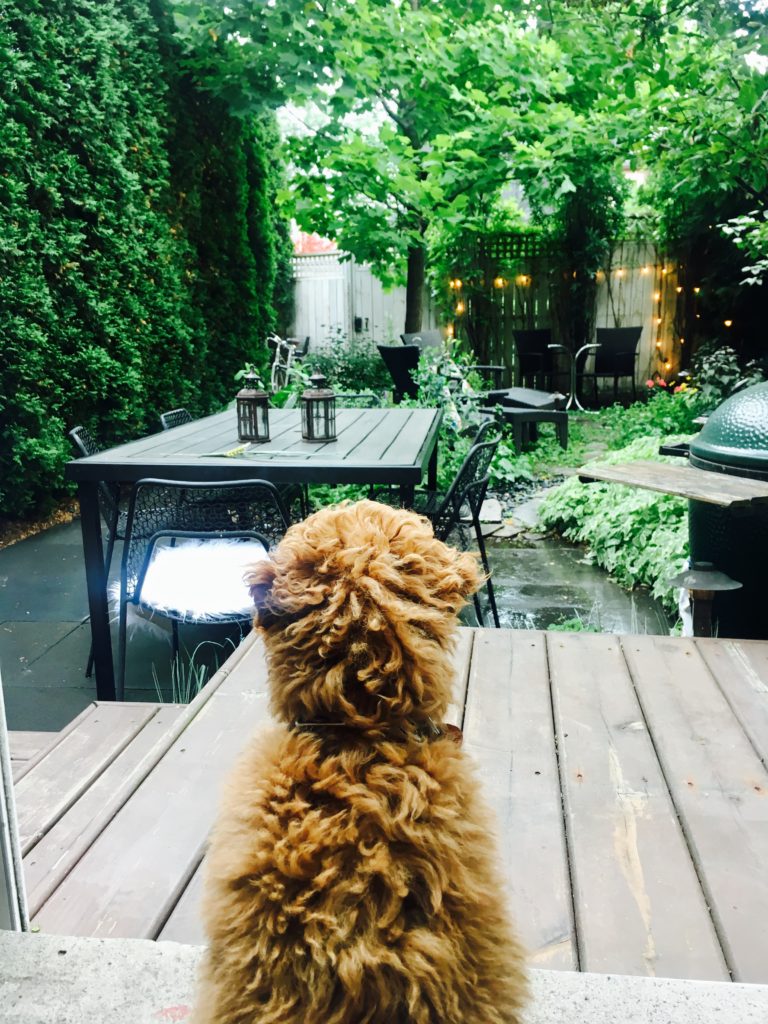 Before we dive into her playlist, here's a little info on Emily's home dinner party space: To the right, you'll see a view of Emily's backyard with her dog, Romeo. Her home is a laneway house, a unique type of outbuilding common in Canada. Because her home is "basically a cabin," she spent years fixing up the garden to create a space large enough for entertaining.
"I really believe in good lighting," she says, so she installed two outdoor fireplaces and hired a contractor to add outdoor fixtures to the space. "When I was doing the lighting in my garden, the technician said it was the most dim lighting he'd ever seen," Emily laughs. "Maybe this is some reaction to strobe over the years," she muses, "but I really like the feeling that when people step into my garden … that you feel transported out of the city."
"Being someone who tours so much, on the one hand I live for all the travel and I love the environment of my work and the stage and the industrial environment," Emily reflects, "but it's also almost in direct proportion to the amount my career has taken me away that I've developed so much love for a big pair of socks."
In the audio above, she talks about her famous tortilla soup, be sure to get recipe for it right here. Enjoy Emily's party playlist (with a bonus song!) below.

Khruangbin – "People Everywhere (Still Alive)"
Emily Haines: This is something really good to put on as people are arriving. It has to be that the music has something interesting about it that gets your attention. I don't believe in music as wallpaper. And, at the same time, it doesn't have to be distracting, but something that really fills the room with a sense of possibility.
The Avalanches – "Saturday Night Inside Out"
My dad, I really do think was the original mix tape guru. He was famous in his lifetime for what they were called "Mystery Tapes." And he would tape difficult music that he purposely would challenge you with and there were two rules. One was: you are not allowed to ask who it is, because that means that you're not in the moment of the music. And the other thing is: he would always say, "Don't worry, it will be over soon."
So I try to push people with the music that I play. We need to push ourselves with music not to just sit in things we already know. You know, what are we afraid of? That we're going to feel funny for a few minutes because Frank Zappa is saying something weird? Just push yourself. Let the thing be weird, let it be awkward, and hear something new. So, this is how I got my moniker DJ Emotional.
Dead Meadow – "Burn The Here And Now"
"Burn the Here and Now" is a quintessential DJ Emotional selection because it's really, really heartbreaking. The lyrics have like, "I'm holding on to what I know is true. / I'm holding on to the truth in you." "Memory's [a fire] to burn the hear and now." The idea that we can't get into the present, this is a major theme on my album. This is something I think we all grapple with, just trying to actually be present.
Emily Haines & The Soft Skeleton – "Minefield of Memory"
[This is a song] that's really about going back to where you're from, and instead of feeling trapped, actually realizing how incredible it is to have access to those memories. The reference [in] this particular song is this one corner that every time I'm standing there, I'm just like, "Ugh this is since I'm 15 years old, I keep coming back to this corner." Kind of like being able to see your past through glass.
BONUS "EXIT JAM:" Mary J. Blige – "Family Affair"
Every time I've ever had a dinner party, there has to be what we call an "exit jam." It's a thing that happens where we all know that we're not going to have a massive sleepover, but it is getting really late. How do we all feel good about leaving because we never want it to end? An "exit jam" needs to be something uplifting, you can crank it up, everybody knows it, you can kind of look at each other, sing it to each other… badly. You want to send them out on a high note. It's not unlike a concert I suppose.
[This interview has been edited and condensed.]