In 1980, Toru Iwatani created an arcade video game that he thought would appeal to the ladies featuring a cute little dude who bounces around noshing on fruits and dots. It wasn't big in Japan – but stateside, Pac-Man took off big-time. Listen to the history, play a few levels, and then join us at the bar for a highly unusual cocktail.
The Booze
The Pac-Man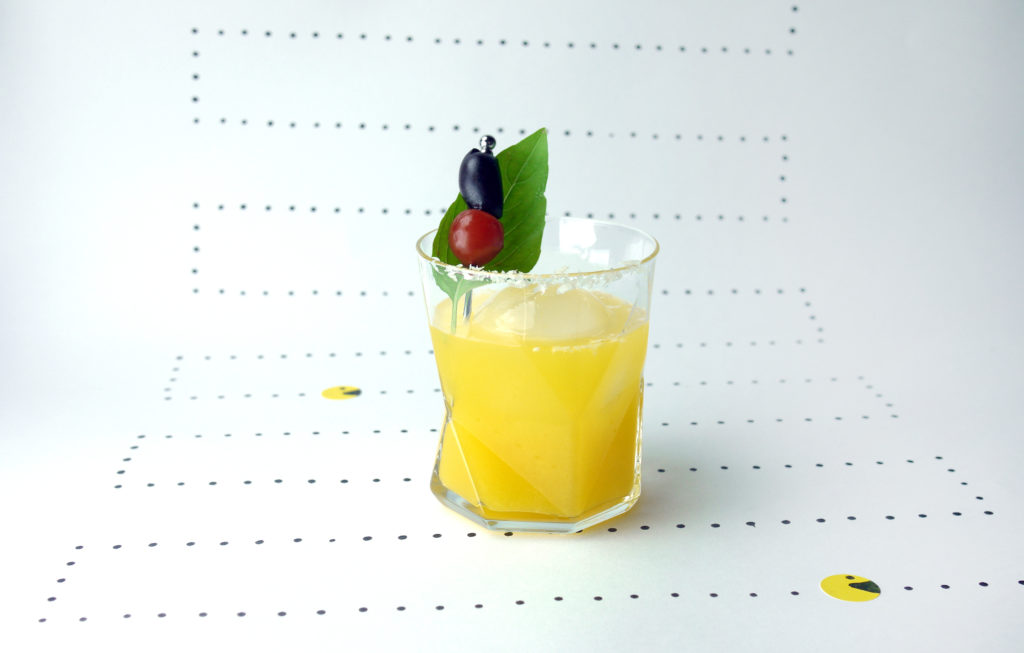 The Pac-Man, by Kentaro Wada of Bar the Fifteen's in the Shiba Park Hotel, Tokyo, Japan – inspired by, well, the inspiration for the game
Ingredients:
In a shaker, add:
– 1 oz. vodka
– 4 fresh basil leaves
– 1.5 oz. Pineapple juice
– 1.5 oz. Orange Juice
Instructions:
Rim a low-ball glass with grated parmesan cheese and drop in a big sphere of ice (to evoke the power-pill). Muddle basil leaves gently with the vodka. Add juices and shake. Strain over the ice ball. Skewer one black olive, one mini tomato, and a leaf of basil onto a toothpick and place across the top of the glass to garnish.