Inventor Lonnie Johnson will probably be remembered for the least important thing he ever made.
First, some background. Born in Mobile, Alabama, Lonnie took a quick interest in mechanics and science. The kind of kid who set the family kitchen on fire… when he tried to whip up a batch of homemade rocket fuel.
Still, as an African-American growing up in the segregated South, Lonnie wasn't encouraged to achieve much. But he did anyway — earning a Master's in nuclear engineering. He went on to design circuitry for NASA's Galileo mission to Jupiter. And also worked on a little Air Force project called The Stealth Bomber.
But it was a humbler gadget that accidentally made Lonnie a fortune: a heat pump he designed in his spare time, that used water instead of freon. One day, testing a prototype in his bathroom, the gizmo shot a powerful stream of water into the tub. His first thought? "This would make a great gun."
He called it, "The Power Drencher."
The name didn't stick. But the toy did. Renamed "The Super Soaker," it hit stores in 1989 and has since racked up around two billion dollars in sales.
With the proceeds, Lonnie formed his own company. They're now working on an engine that'd create solar power as efficiently as coal power. Thereby saving the planet.
Now, if it also lets you drench your little brother from 60 feet away, they might be on to something.
The Midori Soaker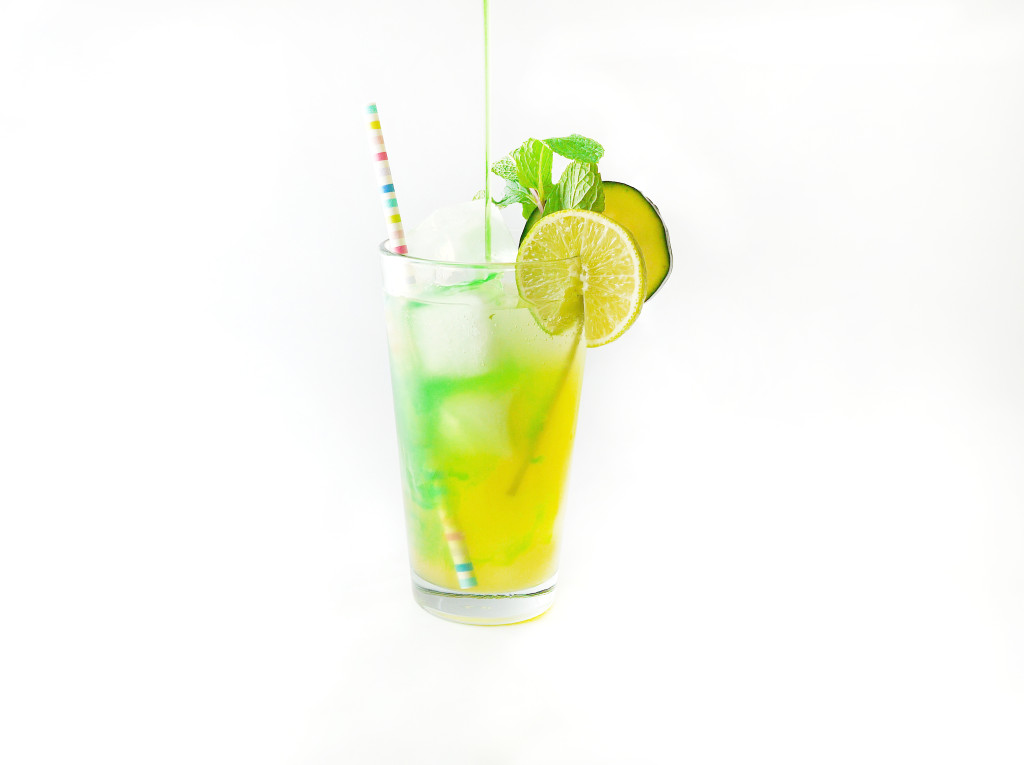 In honor of an excessively powerful squirt gun, here's a Southern variation on the excessively powerful Long Island Iced Tea — pumped up by Emi Bencsath of The Noble South, a bar in Lonnie Johnson's birthplace of Mobile, Alabama.
Ingredients:
3 peeled cucumber slices (about 1/4 inch thick)
1/4 ounce simple syrup
3/4 ounce lime juice
3/4 ounce of Alabama's own 27 Springs Gin
3/4 ounce 27 Springs Vodka
3/4 ounce Bacardi White Rum
1/3 ounce Yellow Chartreuse
3/4 to 1 ounce Midori (depending on how sweet you want the drink)
4 sprigs of mint
Chilled sparkling water
Instructions:
In a cocktail shaker, muddle the cucumber slices with simple syrup. Add ice, Midori, vodka, gin, rum, Yellow Chartreuse, and lime juice. Shake ingredients with 4 sprigs of mint. Fill a pint glass 3/4 with fresh ice. Strain drink into the glass, and top with chilled sparkling water — preferably fired out of a bar gun.