For Chicago Cubs fans, it was supposed to be the best day ever. For a fan named Steve Bartman, it turned out to be the worst.
That day at Wrigley field, the Cubs were hosting the Florida Marlins in game six of the National League playoffs. By the eighth inning they were ahead 3 – 0. Just five more outs and the Cubs would win their first pennant in 58 years.
The Marlins' Luis Castillo hit a foul ball. It sailed towards Cubs' outfielder Moises Alou. He leaped to catch it, but fans in the stands did, too. One of them was Steve Bartman, who knocked the ball away. So what might have been an out… stayed a foul.
Suddenly the Cubs unraveled. They gave up eight runs, and lost the game. But instead of blaming the team, the crowd turned on Bartman. They hurled insults and garbage at him until security ushered him away. Cop cars surrounded his home to protect his family, while he went into hiding. The Governor joked about putting him in the witness relocation program.
The Cubs went on to lose the playoffs. But they handled the Bartman situation like champs. Players told the public not to blame him for their mistakes. And the team released a statement saying he'd only done, "What every fan who comes to a ballpark tries to do." Just this July, Chicago Tribune columnist John Kass suggested new signs at Wrigley should read, "Steve Bartman, we're sorry. Please forgive us."
As for Bartman, he is said to remain a Cubs fan, though you'll never hear him say so himself. Since releasing a statement back in 2003, he's avoided all media. He doesn't grant interviews. He's never made a buck from his fame – at one point turning down an offer of 25,000 for his autograph. And he never returned to Wrigley field.
The supposedly cursed ball itself sat on display at Harry Caray's Restaurant until it was symbolically destroyed in 2004 by a special effects expert who rigged it to explode. The Cubs have now gone 69 years without winning a pennant.
La Haine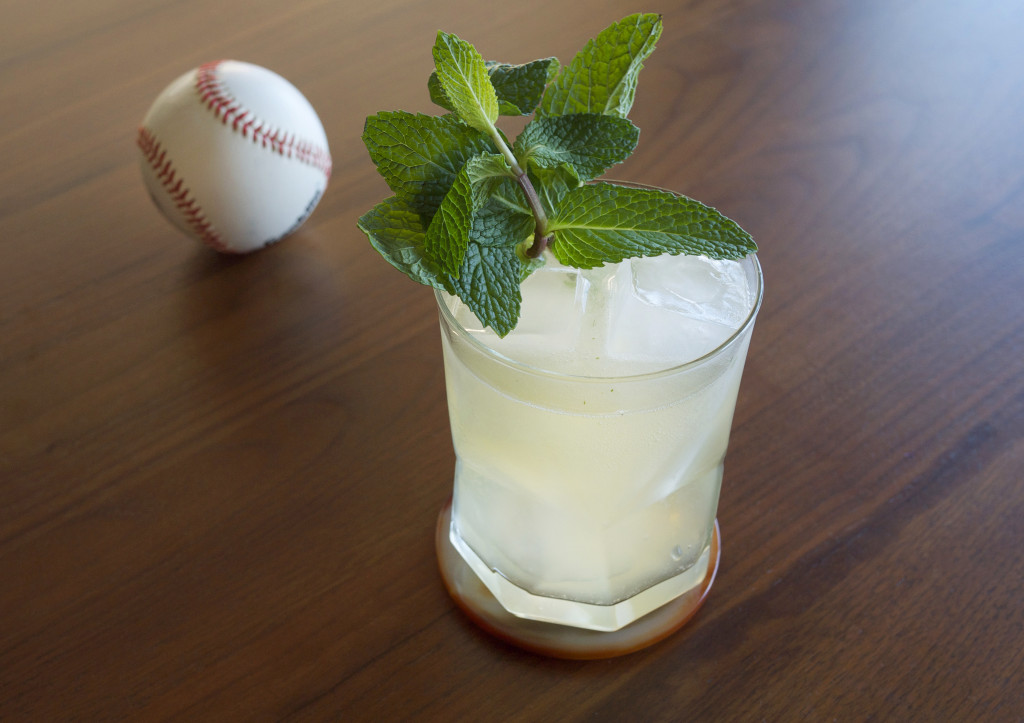 Courtesy of Annemarie Sagoi of THE DRIFTER in Chicago.
Ingredients:
1 ounce Del Maguey Vida Mezcal
1/2 ounce Letherbee Malort (they recently changed it to "Bask" due to a lawsuit; everyone still calls it Malort)
1/2 ounce grapefruit juice
1/2 ounce simple syrup
1/4 ounce lime juice
Splash of soda
Spritz of Pig's Nose Scotch
Handful of mint
Instructions:
Gently muddle mint and combine all ingredients except soda and Scotch. Shake well, and then double-strain on to fresh ice. Top with soda, spritz with Scotch, and garnish with a few sprigs of mint. The drink so delicious, you'll want to hate it (but you won't be able to)!