Texas was known mainly for cattle and cotton until Pattillo Higgins came along. An amateur geologist, Higgens was obsessed with Spindletop Hill, near the town of Beaumont, Texas. The hill was formed by what is called a "salt dome," a bulge of underground minerals which pushed up the rock above it. Higgens' theory was that the dome would also create cavities in the earth around it, a great hiding place for lakes of oil.
Only problem? No one believed him. Especially after his company drilled three wells on Spindletop that struck only quicksand. Finally, Higgens placed an ad for some expert help. He got one response. It was from a guy named Anthony Lucas, a salt miner who also suspected salt domes hid oil. The men struck a deal and Lucas started drilling.
It took months, but on January 10th, 1901, mud bubbled up from his well. Then an eruption of natural gas. And, then, the most powerful oil geyser the world had ever seen shot more than a hundred feet into the air. It spit out over 100,000 gallons a day, more than all the other oil wells in America combined.
The Lucas Gusher changed Texas almost overnight. Oil prospectors flooded in. Companies like Gulf and Texaco sprung up.  Beaumont land, which had been $10 an acre, suddenly sold for thousands. And the gusher changed the world, too, because all that new-found oil fueled the nascent automobile industry. Literally.   
Industries kept sucking oil and other resources out of Spindletop Hill for most of the century.  Maybe too much, actually. A monument to the Lucas Gusher had to be moved away from Spindletop when the ground beneath it subsided.
The Black Gold Martini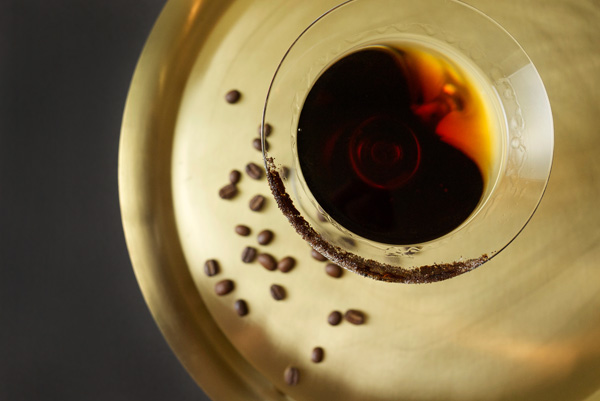 Paul Shrack, bartender at The Grill in Beaumont, Texas.
Sugar
Coffee Grounds
2 ounces of Goldschläger
2 ounces of Patron Cafe XO
Mix the sugar and coffee grounds together. Wet the rim of a martini glass, and roll into the mixture. Pour the Goldschläger into the glass. Then, use a bar spoon to layer in the coffee liquor, which will sink to the bottom, much like the oil under Spindletop Hill.