The History Lesson
This is a story about the power… of rebranding.
It was the late 1940s, and America had just won World War II. But a Cincinnati company called Kutol wasn't feeling super victorious. See, their flagship product was a putty-like substance that cleaned coal soot off wallpaper. Pretty useful when American homes were heated with coal, but now sootless natural gas heating and also easy-to-clean vinyl wallpaper was in vogue. Kutol's sales tanked.
Enter nursery school teacher Kay Zufall. She wanted her students to make Christmas decorations but didn't want to spend a ton on the project. Then she read a tip in a magazine: Apparently, one could fashion cheap Christmas ornaments… out of Kutol's wallpaper cleaner.
Kay provided her students with the stuff and watched in amazement as they happily entertained themselves with it, for hours. This, she dutifully reported to her brother-in-law, who happened to be one of the head honchos at Kutol. What he had on his hands wasn't unwanted cleaning putty, she said. What he had was a fun new toy.
It didn't take much to turn Kutol's cleaner into a plaything. The company just removed detergent from the formula, injected colored dyes into it, added a nice almondy scent, and changed the name to "Kutol's Rainbow Modeling Compound." They quickly dropped that for something a little catchier: "Play-Doh."
At first, Play-doh was only marketed to schools, but after showing up on kid's shows like "Captain Kangaroo," it became a nationwide hit and a cure for Kutol's financial woes.
The company sold its wallpaper cleaner for $.34 a can. But Play-Doh? They retailed for a $1.50.
The Booze
The Play Foam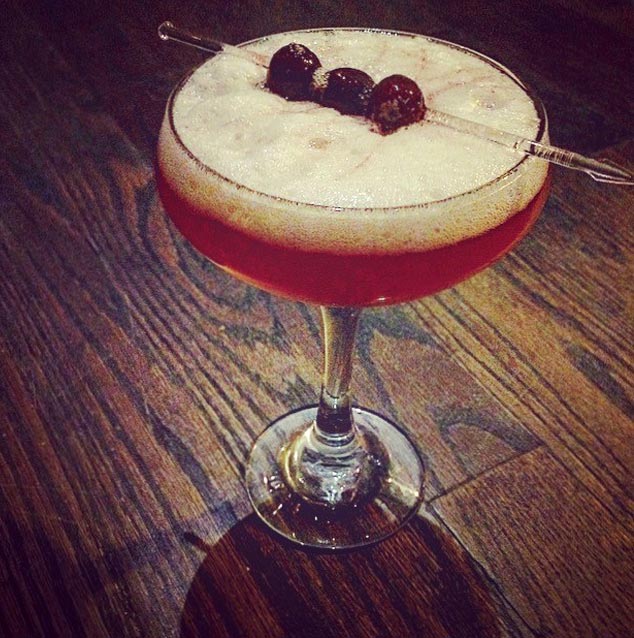 Squished together by Thomas Daily bartender at Vestry Bar in Cincinnati, where Kutol is still based (though Play-Doh is now made by Hasbro).
Ingredients:
Instructions:
In a cocktail shaker (without ice) combine the cranberry simple syrup, lemon juice, Bourbon, and egg white and shake vigorously. Add ice into the cocktail shaker, then strain into a coup glass. Top off with beer and garnish with three cranberries on a toothpick.