When you think of great food cities, the former steel town of Pittsburgh, PA probably doesn't come to mind.  But maybe it should — in this month's issue of Bon Appetit magazine, roaming "foodist" Andrew Knowlton called Pittsburgh the city "where you need to eat right now."
Among the chefs changing the city's foodscape is  Chef Kevin Sousa, a James Beard Award semi-finalist who's already opened four eateries in the area – Salt of the Earth, Harvard & Highland, Station Street, and Union Pig & Chicken (and this week, he set a certified Kickstarter record when diners pledged more than $300,000 to support his next restaurant/community-building project).
Former Pittsburgher Rico visited Chef Sousa to talk about how dramatically the Iron City's food options have changed in their lifetimes – and how to preserve local flavor as 'Yinzers' become hipsters.

Rico Gagliano: Tell me what you remember about the food scene when you were growing up in [the] McKees Rocks [area just outside Pittsburgh].
Kevin Sousa: Outside of my family and the few restaurants that we went to, most of which were Italian — or good Chinese, there were only a couple — there weren't good contemporary restaurants in Pittsburgh.
Rico Gagliano: So where did you get your palate from?
Kevin Sousa: I think just growing up, you know, Eastern European, and Italian — Sicilian — we at a lot of funky stuff.  A lot of guts, a lot of weird seafood.  And so I just think that I developed a love of all things food.
Rico Gagliano: So do you remember the first fine dining experience you had? How old were you?
Kevin Sousa: I was probably 8 or 9, and it was a restaurant downtown called Frenchy's, and of course it was a French restaurant. I'm sure we were celebrating something. You know, we ate snails… and I don't particularly remember loving it.
Rico Gagliano: The level of food that you're doing is kind of way beyond that — and was the kind of thing that I'd never even really seen in Pittsburgh before. What made you think that people here would, you know, go for it?
Kevin Sousa: You know, it's… I don't know that I'm a great business person because of what I'm about to say, but: I didn't really care. There were a group of chefs — a lot of them I'm still friends with now and we've all come up together, and ended up opening our own restaurants — and we were  like,  "You know? F*** it, let's do what we want to do."  And people were more than ready for it.
Rico Gagliano: But I guess what I'm trying to get at is why do you think people were ready for it? Because I can guarantee you when I left Pittsburgh, people were not ready for it. They would have looked at a restaurant like this and thought, "I don't even know what that is."
Kevin Sousa: Well, I think that the market was always here and we didn't, as restaurateurs, give them enough credit.  And I started to see that. I started to see with every little bit that I pushed, every dish that I did that was a little bit further out there, people were flocking to us — and to crazy things.  You know, "crazy" in the eye of the general Yinzer.  Which, for those uninitiated,  "Yinzer" is a term of endearment for "Pittsburgher," because instead of saying "you guys," some people say "yinz."
Rico Gagliano: It's still amazing to me, I love it.
Kevin Sousa: Yeah — you know I made a conscious effort when I was a kid to break myself of that accent, and I can fall right back into it if I spend five minutes in McKees Rocks.

But I was tired of every restaurant doing the same f***ing dishes. I've been quoted as saying this before: Everyone did a crab cake, everyone did a filet with asparagus and béarnaise, and when I started to have the control of my own menu, I was like "I'm not doing that here!"

That was probably early 2000's, and then it started to build and build and build, and then there were restaurants popping up all over the place, everyone was doing their own little shtick… and it became like, "Okay, where do I go to get a filet and asparagus and béarnaise now?" You know? And that's a good thing.
Rico Gagliano: Actually let's talk a little bit about the food here. One of the things I liked about this place, the first time I came here, was it was really forward thinking, but also still had traces of the old Pittsburgh left in it. Do you remember this dish you made that had haluski in it- the kind of polish cabbage-and-noodles dish?
Kevin Sousa: Yeah, it was a duck dish, and it had like a throwback egg-noodles-and-cabbage… and I think there was an apple butter element to it as well. A lot of people come in– like my mom came in and I think she ate that dish — and she was like, "You know Kev, this isn't really like traditional haluski."  And I said "Yeah, I know, but –"
Rico Gagliano: At all.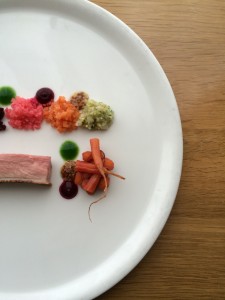 Kevin Sousa: At all!  And she loved it.
Rico Gagliano: Do you have anything coming up like that, maybe?
Kevin Sousa: We don't plan the menus too far in advance, you know. That dish was probably born out of the fact that we had a lot of cabbage. And today I made you a dish that… I remember you saying that you liked that dish, and I did a duck dish that isn't anything like that.  But what makes it super Pittsburghy is the fact that everything in it came from our farm that is an eighth of a mile from here, in the hills of Garfield.
Rico Gagliano: Before I eat that dish, what's your favorite kind of local ingredient that you happen to use a lot, that maybe people don't think of as a Pennsylvania ingredient?
Kevin Sousa: My favorite ingredient in general are mushrooms. All of the cooks go out and  spend time in the woods — it's my favorite thing to do, is go out and spend time in the woods — so when mushrooms are in season in Western Pennsylvania, our menu is very mushroom-heavy.
Rico Gagliano: All right, let me at long last eat this delicious looking thing, which I'm sure is cold now, but is gonna be delicious.
Kevin Sousa: It's cold, but it still should be pretty delicious. So this is a local duck breast. We cook it sous vide.  And what I did was just take a lot of local vegetables- turnips and Brussels sprouts and carrots — and they're treated a couple different ways: They're roasted, they're pickled, they're raw. We made sauces out of them, and it's just a really strong representation of what's happening on the farm, right now, in Pittsburgh.
Rico Gagliano: It looks like a work of art. It's very minimalist. Here we go. [tastes it] Oh man… that is fantastic. That duck is so tender.
All right, one last question: Do you remember the moment where you ate somewhere in Pittsburgh, maybe somewhere other than your own place, and you thought "Okay, this city is happening now — a great food town?"
Kevin Sousa: It was probably… in the matter of about three months, I ate at three of the best restaurants, and I was like, "Holy s***, we have a scene."  And then, with all the national media hyping it, it's reaching a fever pitch — which is a good thing.
Rico Gagliano: Do you worry about that though? On some level you know, there's the danger of this place losing its character.  It becomes, like, a hoity-toity restaurant town.
Kevin Sousa: There's always that danger. There was just a symposium last night — a kind of Q & A downtown with Mayor-elect Bill Peduto and a bunch of other locals about "the hipsterization of Pittsburgh." And we all worry about that. We pride ourselves on our work ethic — and not just the fact that we can buy a flannel and a pair of work boots and look like we work.

But we've always kind of been the underdog?  And we like that.  And so the possibility of not being the underdog…
Rico Gagliano: It's scary.
Kevin Sousa: — It's scary!  And it's a weird proposition, but we'll take it. You know, there are a lot worse things that can happen than people wanting to move to your city.