In the mid-60s, British pop was a worldwide sensation. But you wouldn't have known from listening to British radio.
Back then, there were just three U.K. radio stations. All run by the publicly-funded BBC. Which spun just six hours of pop music per week. a.) Because they were kinda square, and b.) because the musician's union wanted to promote live performances — and wouldn't let the Beeb broadcast much recorded music at all. U.K. kids had to tune in static-y signals from Luxembourg to get their rock fix.
Enter indie music producer Ronan O'Rahilly. He had pressed a record by a pop singer named Georgie Fame… but he couldn't get it played on the few BBC shows that did spin rock. So in March 1964, he bought a ferry boat, sent it out to international waters… and from it, broadcast his own station: Radio Caroline.
In just a few years, ten other boat-based pirate stations floated onto Britain's airwaves, spinning top-forty rock for an audience of up to twenty million Britons.
It wasn't easy. DJs spun during ocean gales, trying to keep their phonograph needles from skidding across the records. In the winter, they would bring supplies on board, and couldn't come ashore for weeks at a time. But when they did dock, thousands of fans greeted them as heroes.
In 1967, Parliament banned the pirate stations. But the BBC had learned its lesson: Just a month later, they launched Radio One – an all-pop music channel. The first DJ on air was one Tony Blackburn, one of the stars of Radio Caroline.
The Rolling Wave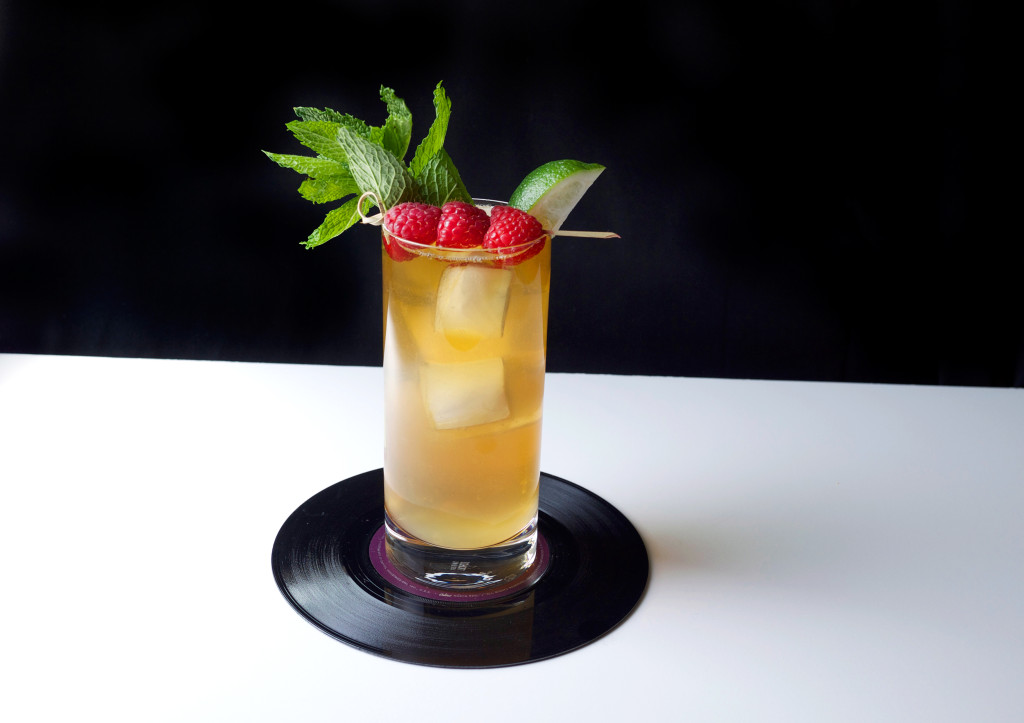 Shaken up (presumably to the beat) by Naomi Fletcher of London's Hawksmoor Seven Dials.
40 ml Redbreast Irish Whisky
20 ml Lime juice
10 ml Over-proof rum (any will do, Wood's Navy ideal)
10 ml ginger syrup
10 ml sugar syrup
Guinness stout beer
5 fresh raspberries; lime wedge; mint sprig
Shake whisky, juice, rum, and syrups. Strain into a highball glass, with ice.  Top the drink with a float of Guiness. Garnish with fresh raspberries, lime wedge, and a mint sprig.
Hawksmoor Seven Dials…henceforth to be called the Pirates' Lair: