Nellie Bly was always a trailblazer.
At age 16, in an era when almost no women worked in media, she landed a newspaper reporting gig. A few years later, she became one of the first women to file an undercover expose… when she feigned insanity to report on conditions at an asylum.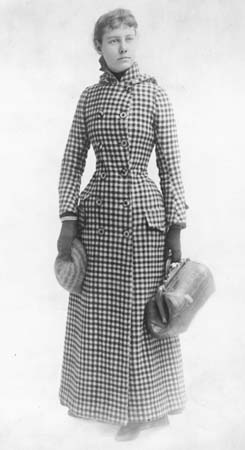 By age 24, Nellie was running out of firsts and itching for a big adventure. You know, something like the journey of Phileas Fogg, the hero of Jules Verne's fictional novel "Around The World In Eighty Days." And that's when it hit her: She'd become the first person to make Phileas' 80-day trip… for real.
Nellie's editors thought it was a great idea… for a guy reporter. A woman, they said, would need a chaperone. And would be burdened by the quote "dozen trunks" full of womanly stuff she'd surely bring. But when Nellie threatened to write about the adventure for another paper, she got the go-ahead.
Turns out, Nellie brought a single 16×7 inch suitcase on her trip containing a few changes of clothes, writing and sewing gear… and a flask. "It will be seen," she wrote, "That if one is traveling simply for the sake of traveling, and not for the purpose of impressing one's fellow passengers, the problem of baggage becomes a very simple one."
Nellie may not have tried to impress passengers, but the stories she filed managed to impress everyone else.
By the time she got back to the U.S., 72 days after her departure, she was the most famous woman on the planet. Among her fans — Jules Verne himself, whose book was suddenly reprinted around the world… 17 years after its original release.
The Muckraker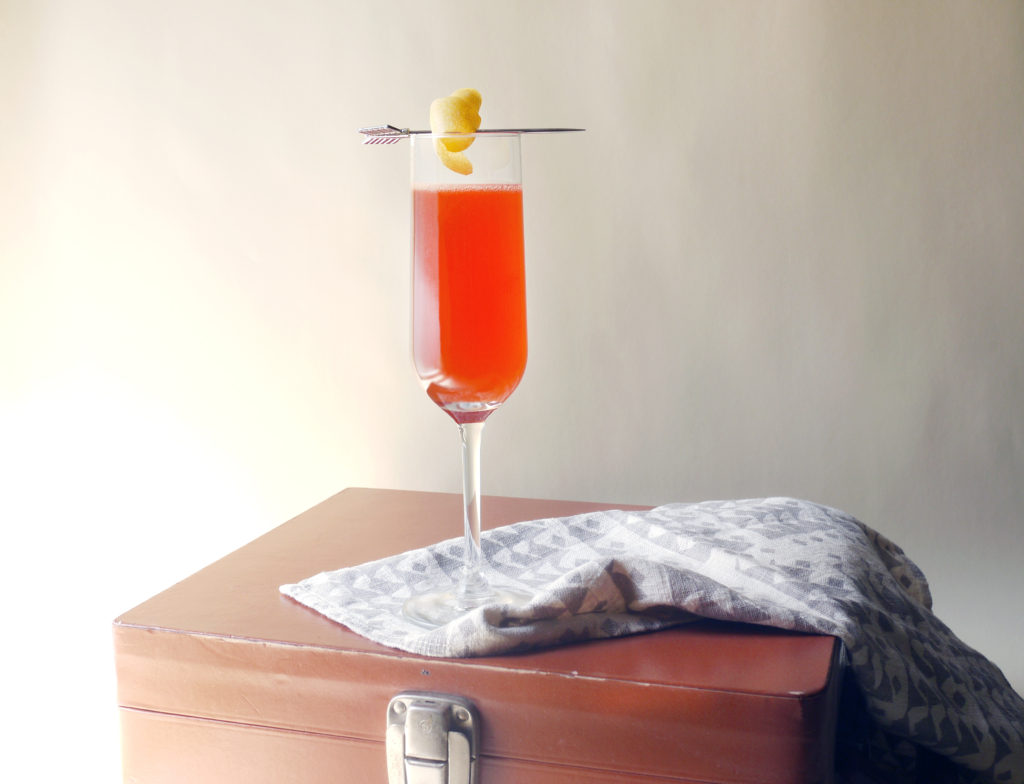 Packed up by Joel Liscio, General Manager and Beverage Manager of Bin 14 in Hoboken, where Nellie started and ended her trip.
Ingredients:
1 ounce Opihr Gin
1/2 ounce Imbue Bittersweet Vermouth
1/2 ounce Housemade Cardamom Simple Syrup
1/2 ounce Fresh lemon juice
1/4 ounce Housemade Drunken Cherry Juice
1/4 ounce Dimmi Milano Liqueur
Bugey Cerdon Sparkling Gamay
Lemon peel garnish.
Instructions:
First, chill a champagne flute. Combine all of the ingredients, except for the Bugey, in a shaker full of ice. Shake vigorously. Empty the champagne flute. Take lemon peel and rub along the rim and drop into the glass. Pour shaker out into glass. Top with Bugey Cerdon and feel like you're taking a trip with Nellie around the world in 72 days.
(Ed. note: A previous version of this story incorrectly cited the "Around The World In Eighty Days" character as Phineas Fogg. This has been corrected.)