The History Lesson
The history of the doughnut is… yes, full of holes.
Most folks agree they're derived from a fried delicacy from the Netherlands, called an oliekoek, or "oil cake." Then, at some point around 1800, Americans started calling 'em "doughnuts." Probably 'cause they were made of dough… and shaped kinda like a nut.
But when did someone first poke a hole in that nut-shaped dough? Smithsonian Magazine credits one Hanson Gregory — a sea captain from Maine, who piloted a spice boat. Before he'd set sail, the story goes, his Mom would pack him a nice bunch of doughnuts, flavored with the spices he carried in the ship's hold.
Only problem? Mom's doughnuts were always uncooked in the middle. So one summer day in 1847, Captain Gregory grabbed a little round pepper tin and used it to punch holes in the treats, ripping out the uncooked center. Back on the mainland, he taught his Mom this technique, then sent her ring-shaped doughnuts to pals in nearby towns. Voila! An iconic snack was born.
Of course, there are variations on this tale. Some less believable than others. Like the one that claims Captain Gregory invented the hole out of necessity, while piloting his ship through an ocean gale. Supposedly, to hold his doughnut in place, he jammed it over a spoke in the steering wheel.
Whatever actually transpired, in the Captain's hometown of Rockport, he's revered as a hero. A plaque there commemorates him as the godfather of the hole in the doughnut. Though he never bothered patenting his creation.
As he told a reporter in 1916, "I don't suppose Peary could patent the north pole, or Columbus patent America."
The Booze
The Mortal Eyes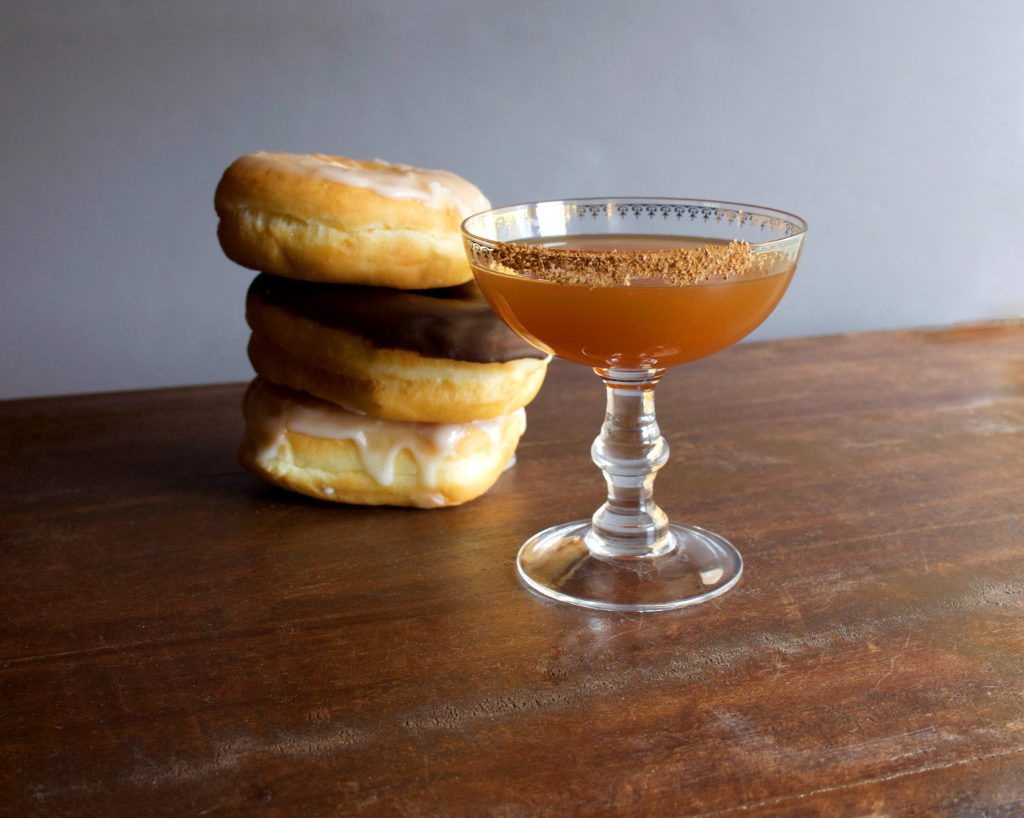 Mixed up by Griffen Cooper, lead bartender at 40 Paper in Camden, Maine, which is along Maine's rock coast, where Captain Gregory hailed from. The drink's name was inspired by the Captain's quote, "I cut into that doughnut, the first hole ever seen by mortal eyes."
Ingredients:
3/4 ounce Jenever (Dutch gin)
3/4 ounce Laird's Applejack
3/4 ounce Allspice Dram
3/4 ounce lemon juice
Nutmeg
Cinnamon
Sugar
Instructions:
Put in Jenever, Apple Jack, All Spice Dram, and lemon juice in cocktail shaker. Shake vigorously. Coat the rim of a coupe glass with a nutmeg, cinnamon, and sugar, then fine strain the cocktail into the glass.