Charles Forster made millions — out of little pieces of wood.
It was the mid-1800s, and Charles, a Bostonite, was working for his uncle's company in Brazil, where he couldn't help but notice that the locals were really into using toothpicks. These weren't the splintery toothpicks folks would whittle for themselves back in the States. These were smooth, high-quality numbers, hand-carved and imported from Portugal.
Charles' idea: Get a machine to mass-produce similar toothpicks and sell them cheaply around the world.
Not being an engineer, Charles bought the patent rights to someone else's machine to do the job. It was designed by a guy in Boston to cut wood into pegs which were used in making shoes. Charles and a mechanic friend adapted it to cut the pegs smaller and thinner, and, voila! The first machine-made toothpicks.
Only problem? Boston store owners didn't believe people would buy something they could just carve off a twig. Since there was no apparent demand for his product, Charles created some. He hired a team of kids to barge into stores and clamor for his toothpicks. Then, later, Charles would stop by, and find the owners more than willing to stock a few boxes.
Charles did the same thing with restaurants, paying Harvard students to demand toothpicks after their meals. Eventually, chewing on a toothpick became a status symbol, implying you had dined at a fancy eatery.
Soon Charles had to launch a mill in Maine to keep up with demand. It stayed in business for over a century. At its peak, it churned out over 15 million toothpicks a day.
Forster's Mills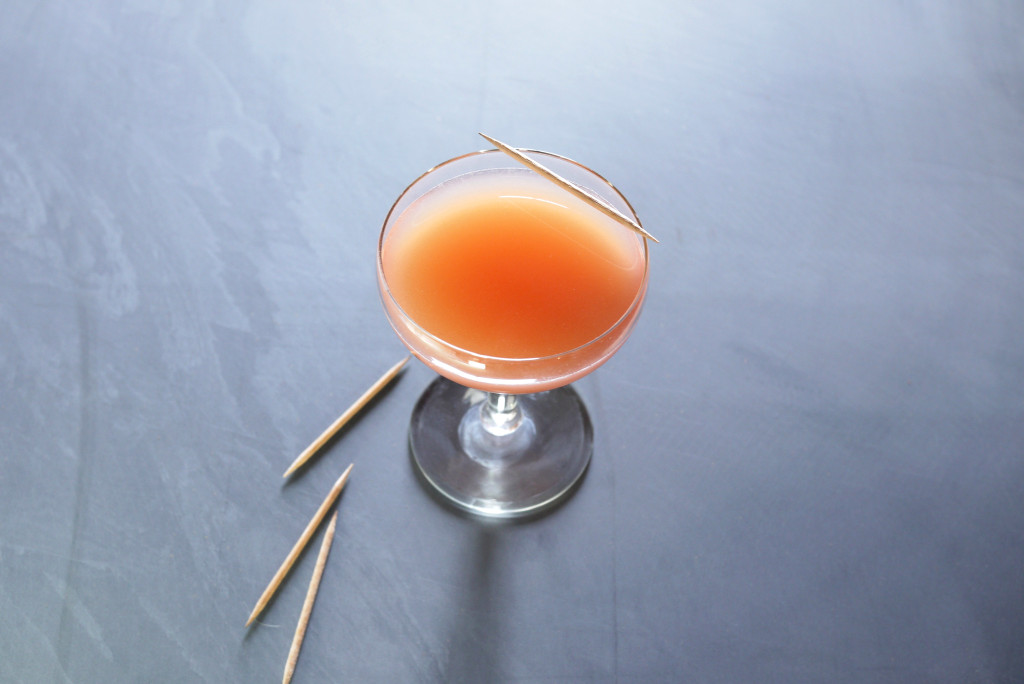 Stuck together by Naomi Levy of Eastern Standard in Boston, MA
Ingredients:
1.5 ounces Leblon Cachaca
.75 ounce Ruby Port Syrup*
.5 ounce Fresh Lime Juice (pulp strained out)
.5 ounce Fresh Orange Juice
Combine all ingredients into a mixing glass and shake vigorously. Double strain into a chilled cocktail glass. No garnish required – but if you swirl a toothpick in it, you'll have a mighty tasty toothpick!
*To make the Ruby Port syrup, combine equal parts superfine granulated sugar with ruby port over low heat until sugar is dissolved. Cool and store in the refrigerator.