She may perform fearlessly, but Broadway star Audra McDonald tells us which party decoration freaks her right out … Thomas Jefferson (well, scholar and radio host Clay Jenkinson channeling Thomas Jefferson) expounds on patriotic decorum … Get ready, people, for a playlist from indie-supergroup People Get Ready … A scoop of new Spoon … Blankets that broadcast your mood to fellow flyers … One man's vendetta against disco … The national pride of eating sheep innards stuffed in a stomach and stabbed with a knife … Reuniting a musician with his only recording … And avoiding scams with Priceonomics.
---

Author Tiphanie Yanique gives us a perfect, tiny joke for the summer holiday weekend.  
---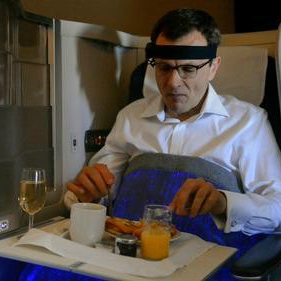 British Airways is testing a high-tech "happiness blanket" that changes colors to indicate a passenger's in-flight mood.
---

This week back in 1979, Chicago rock DJ Steve Dahl took revenge on the disco craze by holding a massive disco bash – literally.
---

Brooklyn band People Get Ready create electronic pop that, while it stands alone on record, is composed with choreography in mind. The playlist they provide this week may itself inspire a bit of dancing.
---

Historian Clay Jenkinson hosts the The Thomas Jefferson Hour, in which answers questions in the character of Thomas Jefferson. He takes on the persona for us to answer modern etiquette questions with Jeffersonian reason.
---

Writer and former musician Jake Tuck's band sold one record. He would like his record back.
---

During a visit to one of the only California restaurants to make haggis on a daily basis, a chef teaches Rico about the dish's heritage and how she updates it for American tastes.
---

Actress and singer Audra McDonald is among the brightest Broadway stars of a generation. In "Lady Day at Emerson's Bar and Grill," she depicts a weary, addiction-addled, yet nonetheless tremendously gifted, Billie Holiday, giving one of the final performances of her life.
---

In their new book, bloggers from Priceonomics set out to use the tools of hard data analysis to puncture some of the arbitrary assumptions and outright scams built into everyday life.
---

A memorable new track from Texas rock band Spoon's forthcoming album "They Want My Soul."
---