We look back at our favorite moments of 2016! Filmmaker Guillermo del Toro professes his love for insects and imperfections… Actor Saoirse Ronan pronounces Brendan's name correctly… Mya Taylor (star of "Tangerine" and winner of DPD's "NOTscar") finds home on the range … We toast the high-flying, history-making exploits of Bessie Coleman, the first black female pilot… Phoebe Waller-Bridge, creator of TV's "Fleabag," shows off her performing chops (and something else) … And rising R&B star Jamila Woods provides a funky playlist for your next outdoor, overnight hangout! Also on the menu: Bolivian salteñas, Sam Heughan spacing out, and etiquette tips from an all-star crew including Norm Macdonald, Cameron Diaz, Maria Bamford, and Jessica Williams.
---

The "Outlander" star tells us an out of this world icebreaker before tackling our listeners' etiquette questions.
---

This week back in 1926, a great American's high-flying career came to a sudden end. We toast to Bessie Coleman's life and legacy with a moonshine-based cocktail.
---

The R&B singer and poet, best known as a featured vocalist on standout tracks by Chance the Rapper and Macklemore & Ryan Lewis, provides a chilled-out, funky playlist for a magical overnight gathering under the stars.
---

Rebecca Hall first made a name for herself on the British stage, winning awards in plays by Shaw and Shakespeare. Her latest role is in the indie film "Christine" she plays a real-life local news reporter and host who, in 1974, committed suicide during a live broadcast. The actor details how she crafted her haunting performance in the biographical drama, before telling us what it was like to work for her dad (and Shakespeare).
---

At the ripe old age of 12, Saoirse Ronan earned an Oscar nomination for her performance in the movie "Atonement." She also played the titular teenaged assassin in "Hanna," appeared in Wes Anderson's "The Grand Budapest Hotel," and starred in last year's "Brooklyn," for which she was up for another Oscar. Right now she's on Broadway, playing Abigail Williams in Arthur Miller's "The Crucible." She chats with Brendan about making the adjustment from movie sets to treading the boards, her accent, and her boogie-down roots.
---

Mexican-born filmmaker Guillermo Del Toro makes horror-fantasy films, but they've brought him praise way beyond the world of genre fandom and a bunch of Oscar nominations. Rico spoke to him at the Los Angeles County Museum Of Art where there's now an exhibit of his own personal items, which includes everything from life-sized statues of Frankenstein's monster, to taxidermy, to movie collectibles.
---

We're giving the very first NOTscar to actor Mya Taylor, who debuted this year in a film that isn't the kind of thing we typically see on screens. The actor explains how she drew from her own life experiences for the film and what's missing from mainstream conversations on transgender issues.
---

Phoebe Waller-Bridge, writer and star of the upcoming Amazon Original Series, "Fleabag" -- based on her play of the same name -- shares a tale from her days in the theatre, when her writing and acting talents weren't the only thing on display.
---

Imagine a dish like a dumpling, but with a crunchy, flaky skin like a pie crust, mixed with a spicy, gooey filling like a stew. No, we're not reading your mind. What we described exists in reality. It's called a Salteña and it's a Bolivian delicacy that was hard to come by in New York... until three brothers of Bolivian descent started selling them. Alex, David and Patrick Otropeza now have a place near Columbus Circle called Bolivian Llama Party.
---

Sharon Jones is the unstoppable lead singer of the funk and soul band Sharon Jones and the Dap-Kings The ten piece act has been releasing albums and touring the world for a decade. In 2014, they earned a Grammy nomination for Best R&B album. The year before that album came out, Sharon was diagnosed with pancreatic cancer. The singer talks to Brendan about her cancer battle, which was chronicled in the documentary "Miss Sharon Jones," and drawing strength from soul songs.
---

Each week you send in your questions about how to behave, and here to answer them this week is comedian Norm Macdonald. After giving us a little insight on his new memoir and his "Saturday Night Live" days, he hung back for a bit to solve our listeners' etiquette woes.
---

Each week you send in your questions about how to behave, and here to answer them this time is Maria Bamford. She is one of the comedy world's most beloved and original voices, and is also, by the way, a master at using her voice. Maria's new project is a candy-colored, hilariously absurd, kind of, sort of semi-autobiographical series called "Lady Dynamite." It just premiered on Netflix.
---

Each week you send in your questions about how to behave, and here to answer them this time is Golden Globe nominated actor and author, Cameron Diaz. Among her many hit movies, "There's Something About Mary," "Being John Malkovich," and the "Charlie's Angels" franchise. She has just recently published her second book, called "The Longevity Book."
---

After talking to Rico and Brendan about her new stand-up special and married life, the comedian expertly guides our listeners through a few cringe-worthy problems.
---

Each week you send in your questions about how to behave, and here to answer them this week with a bit of gruff wisdom is "Parks and Recreation" actor and comedian Nick Offerman. After chatting with Rico and Brendan about his new book and his woodworking passion, he stuck around to tell handle our listeners' grilling quandaries and whiskey woes.
---

The talk show legend and "The Daily Show" Senior Correspondent join forces to tell you how to deal with competitive co-workers and personal space invaders.
---

Each week you send us your questions about how to behave, and here to solve all of your problems this week, is Pulitzer Prize-winning New York Times columnist Maureen Dowd. The New York Times columnist explains how she looks at both presidential candidates with a critical lens before trying to solve our listeners debate party problems and more.
---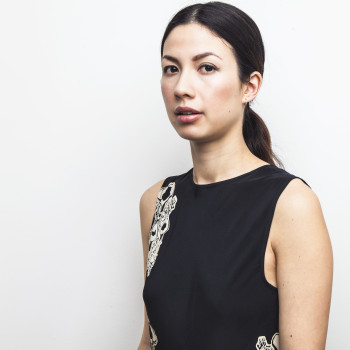 We revisit a song, recorded live at our show in New York last Spring, which we've never shared before. It's from one of our favorite folk-pop musicians, the aptly named Emmy the Great. She serenaded us with a cover of a Sandy Denny tune.
---