Mexican-born filmmaker Guillermo Del Toro makes horror-fantasy films, but they've brought him praise way beyond the world of genre fandom. His gothic fable "Pan's Labyrinth" earned a bunch of Oscar nominations, and shows up regularly on lists of the best films of the century.
He was also behind the robots-vs-monster blockbuster "Pacific Rim," and the FX show "The Strain," which he co-created with Chuck Hogan. The series just launched a new season last week. Rico spoke to him at the Los Angeles County Museum Of Art where there's now an exhibit of his own personal items, culled from what he calls "Bleak House."
That's his personal working office, which he keeps stuffed with everything from life-sized statues of Frankenstein's monster, to taxidermy, to movie collectibles. In a press conference before the show opened, he said he considers Bleak House his "greatest achievement." When Rico met with the director, he asked why.

Guillermo del Toro: It's like an exploded view of my brain. I organize it as a thinking place where I do the shelving, I classify the books alphabetically. The little altars in the house, every object, every little trinket is there because I put it there, and there's a reason behind it. There's a corner dedicated to [H. P.] Lovecraft. There's another corner dedicated to crustaceans. And another corner dedicated to insects or watches or — you know. When you see Bleak House, it's me in a sense.
Rico Gagliano: Lovecraft, crustaceans, insects; all of those are represented in this exhibition, and I want to go through each one, and you tell me what the significance is to you. Starting with insects, because insects are the most freaky things in the world to me. I can't stand cockroaches, and the first film of yours that I saw was "Mimic," which is all about giant cockroaches. So, start with that. What's the fascination?
Guillermo del Toro: Well, I think that the most alien creatures in the world live with us. When you think about insects, they have multiple hearts. They don't need oxygen; they don't have lungs. Their blood is white. They have six, seven, eight eyes — whatever they need…
Rico Gagliano: Nothing that you're saying is making me more pleased with insects.
Guillermo del Toro: And the fact, then, is, as a kid in Mexico, in my grandmother's house, I shared that house with hordes of insects. Particularly a horde of cockroaches that lived in the water tank. My grandma used to pay us very paltry sums to go in and clean that water tank.
Rico Gagliano: You could not pay me enough!
Guillermo del Toro: Well, I tell you, the scariest part was lifting the lid! Because the entire lid was covered with roaches.
Rico Gagliano: [In horror] Aaaaaahhhhh!
Guillermo del Toro: And then, the thing about insects that is freaky, and particularly roaches: They are not afraid of you! You know, these things are a hundred times smaller than you — and they attack you! They go for you. And that is incredibly scary. It's a little bit like Joe Pesci with a knife.
Rico Gagliano: They're the Joe Pesci of the animal world.
Guillermo del Toro: Yes! [imitating Pesci:] "What? I'm funny?" You know, they come at you!
Rico Gagliano: But then, why celebrate them and have them in your house, in altars?
Guillermo del Toro: I celebrate what I like and what I fear. And in my movies, the only monsters that are remote — because of their perfection — are insects, you know?

If God made a mistake with an avocado by putting in too big a pit? God got everything right, apparently, with insects. Because they are perfect reproductive, eating, constructing machines.  But they lack a soul. They have a sort of hive mentality. They die for the hive, but they don't have a moral choice. They represent uncomplicated, horrible, unstoppable nature for me.  And they are perfection, but they are not a perfection that is pleasing. I am a lover of imperfection, and I celebrate it.
Rico Gagliano: Why?
Guillermo del Toro: Because it's a standard we can all live by, you know? I think imperfection is a highly attainable goal.  Whereas perfection isn't. It isn't! And I think that we live in a world that… it's a pendulum swing, socially, of completely staged perfection.  We present ourselves as politically impeccable, perfect, shiny teeth, we don't sweat, we wear the right clothes.

And then, you swing the pendulum… and we are shooting each other, we're chewing on each other, we're grinding each other.

And the pendulum, if it's not that extreme in one end, is not that extreme on the other. And in the middle, is imperfection. And I think when we allow ourselves to be imperfect, fallible, grotesque even… we deal with it.
Rico Gagliano: This leads nicely to the second thing I'd like to talk about, and is represented very well in this exhibition — monsters. Talk to us about your fascination with them.
Guillermo del Toro: Monsters are patron saints of imperfection. And they represent otherness. You and I may have a trade or a proclivity that can marginalize us. We can be neatly grouped for people to hate us, you know? It can be gender, race, you name it. But monsters are all-in-one. Monsters simply don't belong, you know?
Rico Gagliano: They're, like, the biggest outsiders.
Guillermo del Toro: They're the biggest outsiders, and that's what I celebrate and love about them. There's a liberating aspect to monsters that I find, spiritually, very close to the way that I view the world.
Rico Gagliano: You love Frankenstein. Why him specifically?
Guillermo del Toro: The creature of Frankenstein, as played by Karloff and as written by Shelley is a Miltonian figure, you know?  An outcast of paradise that was thrown into a world of pain and sensorial overload and disoriented existence, by an uncaring father. Basically, the predicament of all the human race boiled down into one. And when you're 19, and when you read a book written by a teenager…
Rico Gagliano: Shelley.
Guillermo del Toro: …Shelley — that encompasses exactly how you feel as an outsider, in a world that is impossible for you to understand, and no one is guiding you, this creature is incredibly moving. And Karloff captures always, in his performances, a vulnerable side. I think he was a terrific actor.  His Frankenstein creature is the pinnacle.
Rico Gagliano: Speaking of your heroes, you mentioned also — in this speech you gave before we were all allowed to look at this stuff — that you met Ray Harryhausen, the special effects and stop motion genius, who was huge in the '50s and through the '80s. Tell me about meeting him.
Guillermo del Toro: I met him in Lake Placid, in the film festival in Lake Placid. I interviewed him on stage. They said, "We know you're a big fan. Can you interview him?" I said, "Absolutely!" I went to Lake Placid with Elmore Leonard.
Rico Gagliano: Yeah, the writer.
Guillermo del Toro: And Quentin Tarantino, you know, and we had a dinner.
Rico Gagliano: That is a geekfest par excellence.
Guillermo del Toro: That was, I tell you!

And then, Ray came onstage. We met. I was — I wouldn't say erudite — but I was a lover of his movies.  And he liked the questions I had, and he said, "You must visit me in London!" And I visited him in London. We had dinner, and he showed me the place where he kept all the monsters from his movies.
Rico Gagliano: The little models?
Guillermo del Toro: Yes, and I held in my hands the models of the two creatures of his that I love the most: Talos, the animated statue, and the skeletons from "Jason and the Argonauts."
Rico Gagliano: And did you steal them?
Guillermo del Toro: No, but I thought about it! I thought about it. I said, "Well, the door is not that far away… and he's not that fast [laughs]!"
Rico Gagliano: He knows where you live, though. He knows where you'd put it: in Bleak House.
Guillermo del Toro: Yes, he would find me!

And the reality is, look, I adore the man. I think that there is a generosity of spirit to the monster lovers — you know, Rick Baker, Dick Smith, Ray Harryhausen.

And the love of monsters is very profound, and that unites through the generations. Ray Bradbury, Ray Harryhausen… to John Landis, Joe Dante, John Carpenter… and you keep going. And then, yesterday, signing books for kids that love monsters, I see myself in them. There is a healthy, unhealthy adoration for these creatures.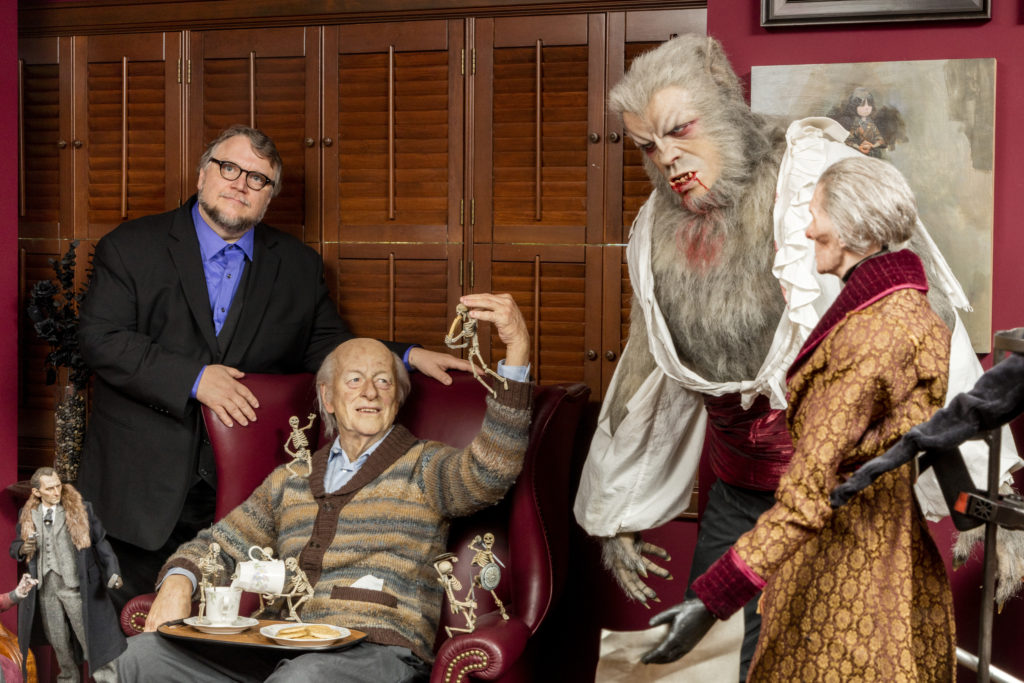 Rico Gagliano: Healthy and unhealthy, that sounds about right.
We have two questions that we ask everyone on this show. The first one is: if we were to meet you at a dinner party, what question should we not ask you? What are you tired of being asked?
Guillermo del Toro: There's nothing like that, I think. I'm actually very… because I'm so misanthropic in my daily life, when I'm gregarious, I enjoy it.
Rico Gagliano: Why are you so misanthropic in your daily life?  You seem like a sweet guy.
Guillermo del Toro: I really love to be thinking or watching or reading or listening to music or being with my family. I think in order to have an amplitude of work, you need a very narrow focus socially. It's almost like your social life is your creatures and the places you go in your stories.
Rico Gagliano: To that extent, since you've done so much reading, our second question is: tell us something we don't know — about yourself, or it could be about the world at large, a piece of trivia.
Guillermo del Toro: Well, I am completely incapable with a yo-yo. I am 51, and I never mastered a yo-yo.
Rico Gagliano: Is that important to you for some reason?
Guillermo del Toro: It is actually a dent in my pride! I remember being a kid and being frequently and completely humiliated by the fact that I cannot even make it come back, not once!
Rico Gagliano: I hope it works out for you, man.
Guillermo del Toro: It won't.