This week: Comedienne Amy Schumer secretly enjoys tea and reading … Errol Morris explains Donald Rumsfeld's problems with reality … Actress Judy Greer steps into the spotlight, for a change … The War on Drugs' Adam Granduciel invites Bryan Ferry and Humphrey Bogart to his party … The best milk for your coffee, from cow or nut … Freezing frenemies at the North Pole … A teen-girl cop who isn't the set-up for a new sitcom … Not where but why Waldo buys those sweaters … And blowing the dust off a special vintage Britpop record.
---

A joke regarding the sartorial selections of an iconic character of Western literature. You know... Waldo. Of "Where's Waldo."
---

John Spong, senior editor of Texas Monthly (previously a lawyer and possible outlaw) shares the story of Annie James, a Texas teen who caught a police car parked illegally and issued her own ticket.
---

In 1909, former friends Robert Peary and Frederick Cook became bitter rivals over competing claims to have lead the first expedition to reach the North Pole.
---

Classic-rock revivalists The War on Drugs have made a major breakthrough with their third record, "Lost in the Dream." The band is currently in the midst of a tour, selling out club after club across North America. Adam Granduciel, the man behind the band, offers up a dinner party playlist.
---

Comedian Amy Schumer's provocative style of humor has gained her a following, a Comedy Central series, and a stand-up special. She chats with Brendan about finding god in Paul Giamatti, the unique feedback she gets, and the freaks who run public radio.
---

Author and chef Michael Gibney has been working in some of the world's most renowned restaurants since age 16. His new book, "Sous Chef: 24 Hours on the Line" takes readers into the fast-paced world behind the kitchen door.
---

Most of the latte you buy at a coffee shop is, as the name implies, milk. Serious shops know the importance of sourcing or making dairy and non-dairy milks that are truly worthy of topping your perfectly-pulled espresso.
---

Actress Judy Greer has had a prolific career in Hollywood, mainly playing best friends and sidekicks. Her new memoir offers winning insights into the character of a 'character actor.' She stops by to offer some friendly, supportive advice.
---

For his new documentary, Errol Morris spoke to Donald Rumsfeld about the Iraq war and the former Defense Secretary's personal legacy. He describes it as "One of the most puzzling, frustrating interviews I've ever done."
---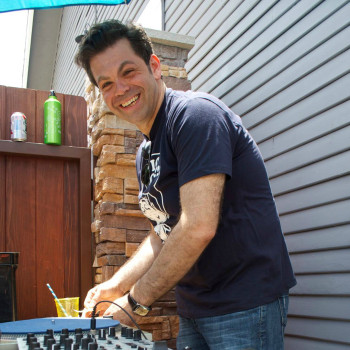 A vintage Britpop track this week to honor a popular Los Angeles DJ.
---
Music from episode 247
---