This week, we reheat one of our favorite episodes: "Project Runway's" Tim Gunn dresses down America for dressing down… Salman Rushdie talks fatwas and fake hair… "Looper" director Rian Johnson rolls the bones… famed author Sherman Alexie makes a Protest… A "Simpsons" writer's favorite odd adaptations… And NYTimes photographer Todd Selby turns his camera on cooks. Plus: How corn helped thaw the cold war, and the official "best word ever."
---

Writer Sherman Alexie sees three ships - and a punch-line - sailing to America.
---
Back in 1959, Iowa farmer Roswell Garst and Soviet leader Nikita Khrushchev struck up a most unusual friendship. Learn how corn helped thaw the cold war (for a time), then shuck this drink.
---

Sadie Stein, Deputy Editor of the Paris Review, brings us the results of a lexical battle royale
---

Michael Price's latest project, "Lego Star Wars: The Empire Strikes Out," debuted recently on The Cartoon Network. It takes the world of Star Wars… and recasts it in the form of animated Legos. He lists some other unusual adaptations.
---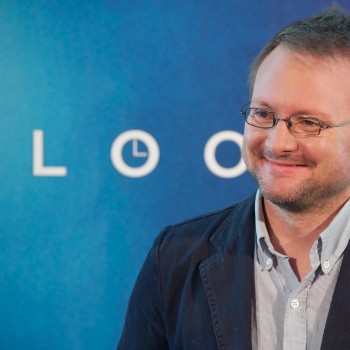 Writer/director Rian Johnson's stunning sci-fi thriller "Looper" is equal parts nerve-jangling thriller and thoughtful rumination on cycles of violence.
---

For over twenty years, Sherman Alexie has been one of the country's finest (and funniest) storytellers. Today we overhear Sherman reading from his new collection "Blasphemy."
---

Todd Selby, mastermind behind the New York Times column "Edible Selby" recently released a coffee table book chock-full of beautifully-shot kitchen spaces.
---

Tim Gunn warns us about the plague of cargo capris, then gracefully addresses listener questions about power(point) ties and ill-suited party wear.
---

Rushdie's new memoir recounts the surreal years following the publication of "The Satanic Verses," after the Ayatollah Khomeini issued a fatwa against him.
---

The first single from actress/model/singer Sky Ferreria's EP is perfect for a thoughtful strut across the dance floor.
---
Music from this week's show.
---