The classic cartoon "Popeye" spawned a totally different pop phenomenon. It was the 1980's, the golden age of arcade video games. Although the Japanese gaming company Nintendo had hits in Asia, it hadn't come up with a game that would get North American kids to part with their quarters. Nintendo's idea? To make a game based on the all-American hero Popeye.
They couldn't secure the rights, so they devised their own cartoon characters who would engage in a Popeye-esque love triangle. Instead of fighting ape-like Bluto over a woman, the game's hero, Jump Man, would fight an actual ape. Popeye meets King Kong. They named the game after the ape character, Donkey Kong.
Obvious question: Why Donkey? Some say it was supposed to be "Monkey Kong" but a fax from Japan blurred the M. The more likely story, game designer Shigeru Miyamoto wanted a word that conveyed "silly stubbornness."
Those words could also have described the attitude of Nintendo's US office towards the game. They thought the name was weird and, unlike every other video game, it didn't involve going through a maze or shooting stuff. They released it anyway, with one change. They renamed Jump Man after the office landlord who kind of looked like him, Mario Segale.
The game was a hit. In just two years, Donkey Kong raked in the modern equivalent of $650 million. Little Mario went on to star in over 200 more games. Nintendo did later get the OK to make a Popeye game, but it never came close to topping Donkey Kong.
The Barrel of Donkeys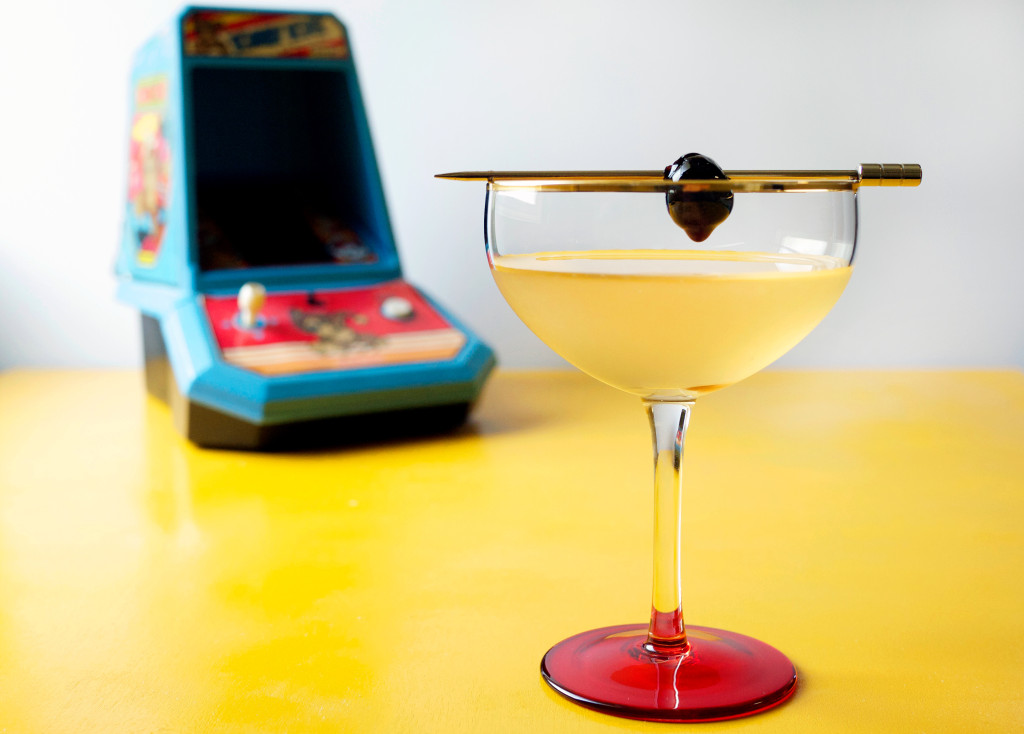 Barrels rolled out by Richard Williams of Pie Bar in Seattle, WA.
1.5 oz Oola Waitsburg Brarrel-Finished Gin
.25 oz grapefruit juice
.25 oz St-Germain
splash of Lillet Blanc
tiny splash simple syrup
brandied cherry
Shake ingredients with ice. Strain, garnish with cherry.