Writer, publisher, and now filmmaker Davy Rothbart keeps busy. He's a contributor to "This American Life," he created, edits, and publishes "Found," an amazing magazine and book series of found ephemera, and has authored two books, "The Lone Surfer of Montana, Kansas" and "My Heart is an Idiot" (the latter of which was named to best-book lists by Vanity Fair, Chicago Tribune, The Huffington Post, and NPR, among others).
With Andrew Cohn he has just co-directed his debut documentary "Medora" – airing on PBS stations nationwide starting on March 31, 2014 – about life in small-town America through the lens of a high school basketball team.  He brought us this winning list.

My name is Davy Rothbart. "Medora" is about a small town in rural Indiana — Medora, Indiana — that's really fallen on hard times. The factories have shut down. And their basketball team, the Medora Hornets, rarely win, if ever. The season before we got there they had gone 0 and 22. Most sports documentaries, they're about trying to win a championship. This is a team just trying to win one game.
They're winners in my book.  They're losers in basketball, but there's something beautiful about just striving for success.
So here's my list of some other beautiful losers.
Mark Borchardt
Number one is Mark Borchardt, from the documentary "American Movie." There's a few documentaries that have really shaped me and my film-making aspirations: "Dark Days," "Hands on a Hard Body," and "American Movie." And "American Movie" is about this guy, Mark Borchardt, he's an aspiring filmmaker in a blue-collar suburb of Milwaukee. And this film, directed by Chris Smith, shows Mark trying to make a film. He hasn't gone to film school, he's really just scrapping together crews from his friends, but he's incredibly passionate.

It's got to be one of the funniest movies I've ever seen in my life — but he's so driven. And Mark's story is really a story of striving for something that you may never get. He may never complete this epic film that he's set out to make.  But just the act of trying, and being such a creatively passionate person, is noble in itself.
Also, these are both movies — "Medora" and "American Movie"– about small towns, towns that've seen brighter days. And there are filmmakers and people that're passionate about art in places that are not San Francisco, New York, and L.A., but are towns like Menomonee Falls, Wisconsin. The drive to create art is not limited to a certain type of person.
Petey Pablo and D-Shot

Number two on my list of beautiful losers are a select few rappers.
Rappers can be broken down into two types: those who brag about how much money they make, and those who candidly admit that they are flat broke! My favorite rappers fall into the latter camp.
There are a couple guys:  Petey Pablo from North Carolina, he really talks about living life in a hard-scrabble small North Carolina town. He talks about "trying to buy gas with the change in your ash tray." He talks about paying a light bill. That's not stuff you usually hear from rappers on MTV.
I understand how a lot of rap is aspirational, and I understand why it's fun for people to live out a fantasy, but it's also strange for me when that's what resonates with people. It seems like people like Petey Pablo,  or another favorite rapper of mine, D-Shot… these are my types of losers.
William Waterman Sherman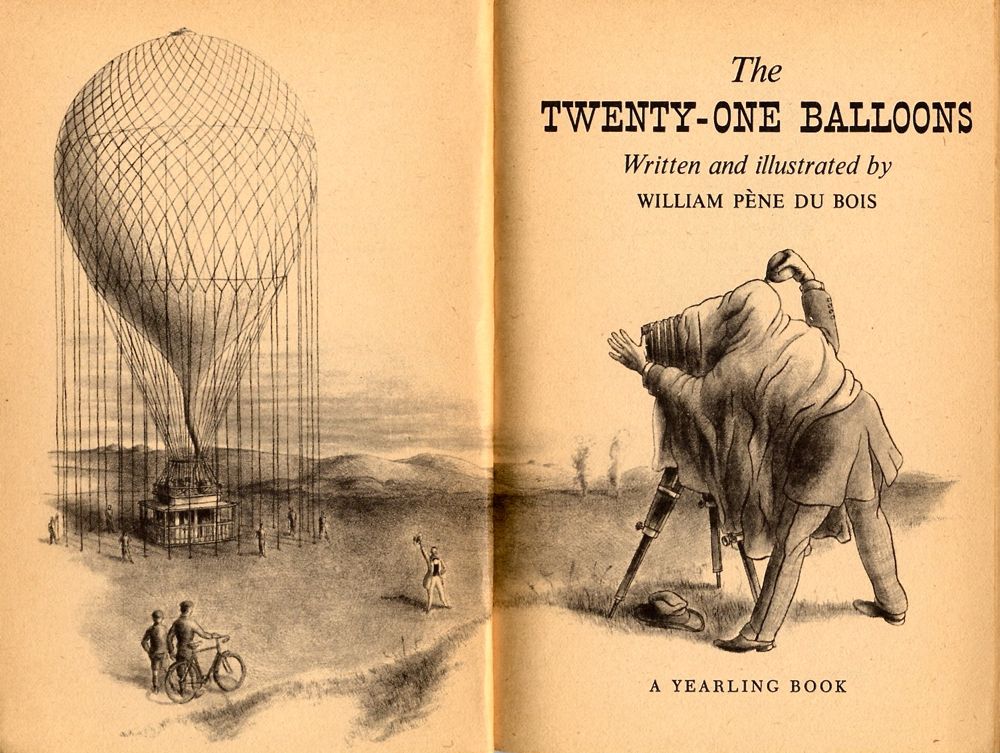 The third one on my list is William Waterman Sherman. and he is a character in probably my favorite book of all time, which is called "The Twenty-One Balloons," by William Pène du Bois.
This is a children's book that came out in, I think, the '30s or '40s. It's about William Waterman Sherman, whose dream is to sail around the world for a year in a hot air balloon. Finally it's launch day and he lifts off… and before he knows it he's crash landing on the remote desert island of Krakatoa. But what he discovers is there's a community of people from around the world who've quietly been building their own sort of Utopian civilization there.
The cool thing about it is, you see how you might have some grand plan… and that might totally unravel. You might have lost your way, you might have lost what you were hoping to gain, and yet sometimes that leads to some other adventure that's more valuable. And I think that's true of these kids in Medora, Indiana, who are setting out to win a basketball game… But what are they really gaining? They're gaining teamwork, this camaraderie.  They're learning life's big lessons.