Los Angeles has an insane bounty of Mexican food. And that's the subject of a new book by the James Beard award-winning food writer Bill Esparza called, "L.A. Mexicano." It's a guide to the city's surprisingly unsung Mexican food history and restaurants, one of which he took Rico to the other day: Birrieria Nochistlan*.
The business is run by a family that hails from the Zacatecas region of Mexico and they specialize in one thing: the braised goat stew called birria. In the audio above, find out why Bill picked this particular spot for Rico to sample the dish and more.
Interview highlights:
On why Mexican imports don't get more buzz
Bill Esparza: To me, these places are very special in Los Angeles, and they're under-appreciated by the press. People should be celebrating… it's like when a new ramen joint with 100 branches in Japan comes here, and they put one here, people go nuts. But when a family opens a second restaurant from Mexico in the United States, no one even talks about it.
Rico Gagliano: Why do you think that is? That seems crazy to me, in the current food climate where we're always looking for the new, cool thing from afar.
Bill Esparza: Well, I think that there's a lack of understanding about Mexican cuisine, certainly among the press. And there aren't really a lot of people writing about Mexican food, or talking about it, that actually know the culture and know the cuisine.

This is one of my stops. If people are visiting and they want to have a Mexican breakfast, this is one of the places I would take them.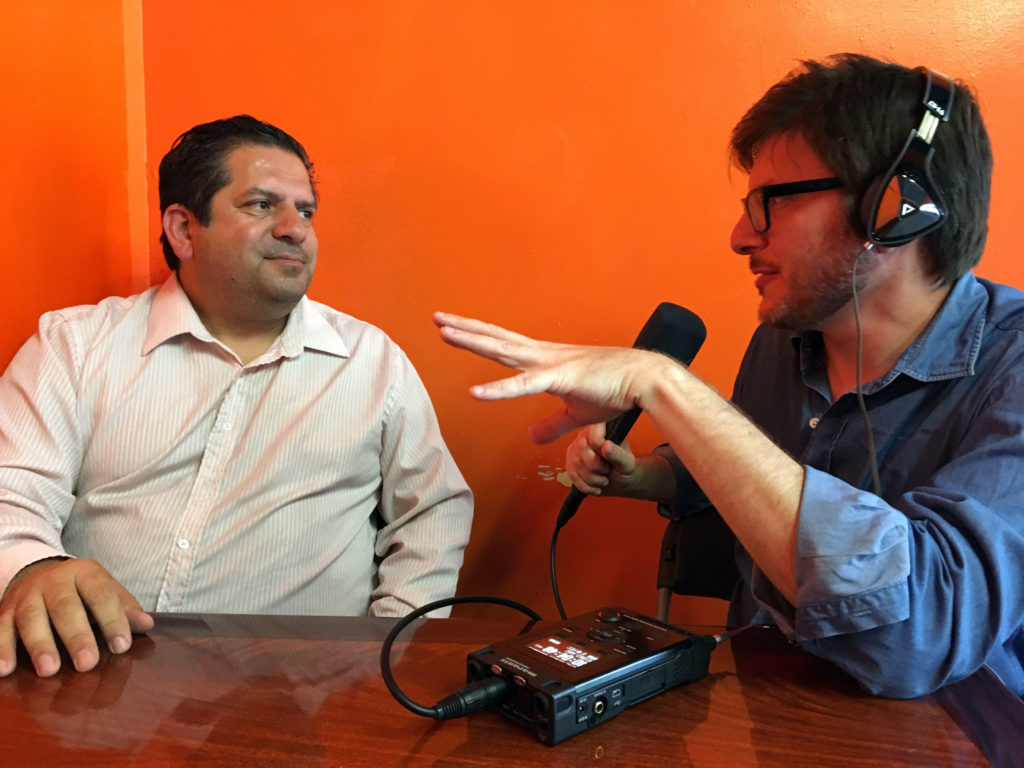 On what makes food from Zacatecas unique
Bill Esparza: The food of Zacatecas is just very simply, really scaled down. So even their birria is very simple, they don't have a lot of condiments when they do it. It's pretty much like the goat, a very simple seasoning, and really hot, hot spicy chilies that they serve with it. It's really simple. (Ed note: Some say birria may have been initially cooked up by their neighbors in Jalisco.)
Rico Gagliano: My understanding too is that it's kind of flat plains, so there's not a lot of agriculture, it's a little more meat-centric, is that right?
Bill Esparza: Yeah, but it's also the center of prickly pears in Mexico. You can buy them from street vendors in all different colors, you know, four or five different colors.
On why food from Zacatecas isn't more well-known
Bill Esparza: Well, the people from Zacatecas came really early. They're one of the large groups that came. My grandparents' generation, lot of people from Los Calientes, Zacatecas, Jalisco, came to the U.S. If they opened restaurants, they didn't necessarily open Mexican restaurants, because there was a lot of discrimination against Mexican foods and everything Mexican.

For instance, El Cholo — one of the oldest Mexican restaurants in Los Angeles — had to call themselves a Spanish restaurant. Even El Carmen on Beverly Boulevard opened as a Spanish food, like Spanish cuisine. If they did open Mexican, peoples' idea of Mexican was a certain way.

It's actually very rare to find something like this place here, at Birrieria Nochistlan, where they're a specialist. Because when you get birria in Mexico, you go to a specialist. You don't go to a restaurant that also happens to serve that dish. You go to a place that exclusively does that, and that's their specialty, that's their artisan craft.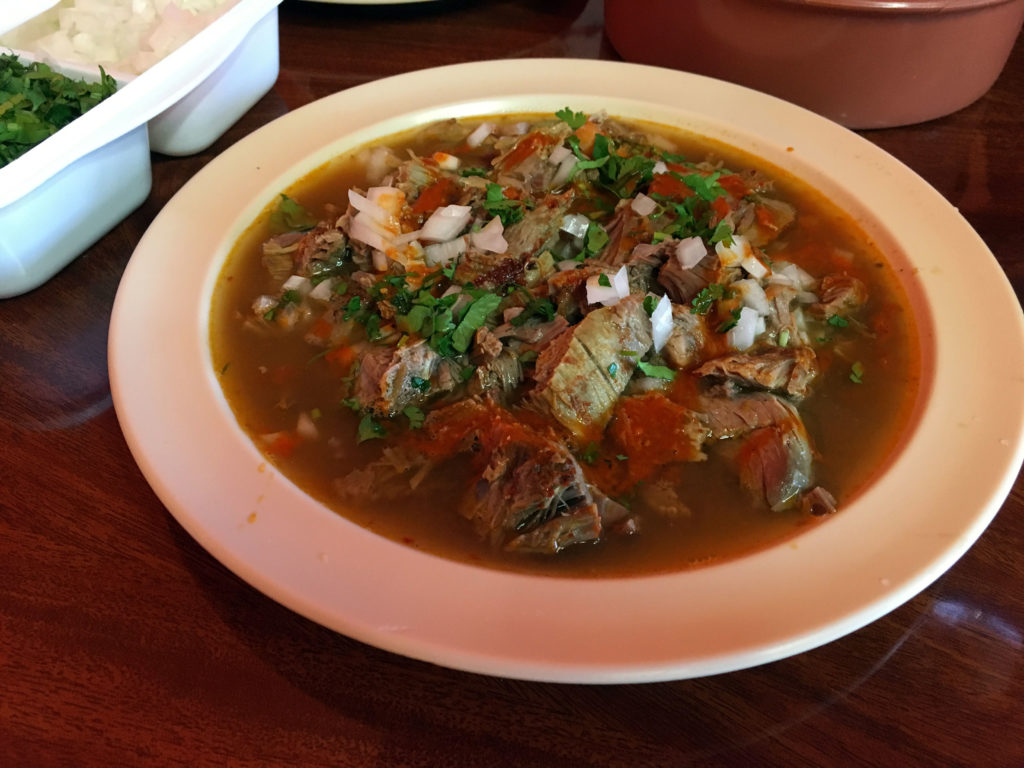 On the best time to eat birria
Rico Gagliano: This is a morning dish?
Bill Esparza: This is a morning dish.
Rico Gagliano: Goat stew is a morning dish.
Bill Esparza: Yes. We take our hangover cures very seriously in Mexico, so, I mean, you know.
Rico Gagliano: Maybe it's more of a brunch dish then, you're saying. You might not get up super bright and early to have this.
Bill Esparza: Oh, no, you haven't gone to sleep. Yeah, it's a weekend morning dish.
On how to serve (and eat) birria
Rico Gagliano: It's interesting because it's a stew, I imagine that it would be served in a deep bowl, but it's actually being served in a fairly shallow dish, kind of in a pool of sauce.
Bill Esparza: This is like a lot of preparations in Mexico where you can have this wet or dry. You can actually have the birria itself without the sauce. I think it's best to have it this way here.
Rico Gagliano: And again, this is a stew, but it's being served with tortillas. Is the idea that I'm supposed to make this into a kind of a little taco?
Bill Esparza: Yes. You can put it in a taco, you can tear little pieces of the tortilla off and grab it, that's the way I grew up doing it.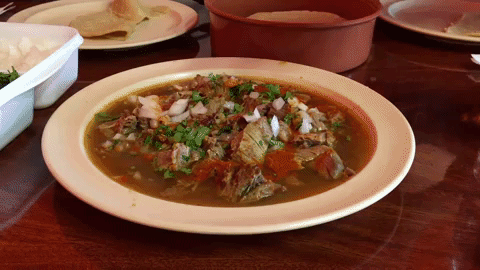 Rico Gagliano: So, show me how you like to do this.
Bill Esparza: The great thing about Mexican cuisine that I like is you get to be your own little sous chef. You get to finish a dish. So, this is not finished yet. We have to add our own onion.
Rico Gagliano: That's right. We have a dish here that's a side of onions. We've also been given some limes and cilantro.
On the Moreno family's secret recipe
Rico Gagliano: What's in this broth, do you think?
Bill Esparza: That would be a secret. Rosio looks really nice and sweet over there, but she would get mad if I revealed her secrets.
Rosio Moreno: You're more than welcome to come in and enjoy it whenever you want, but that recipe is… it's top secret.
Bill Esparza: That is kind of like the secret of the abuela. My grandmother never would show me recipes because she didn't want me to be able to do it at home. She wanted me to always come to her house, so this is it. You've got to come to the Moreno family's house and have their birria if you want it.
Rico Gagliano: That's kind of blackmail.
Bill Esparza: No, it's good business.
*(Ed note: the Yelp address is incorrect, it's actually at 3200 E 4th St.)
[This interview has been edited and condensed.]