The history of the game Twister is… well, kinda twisty.
On one hand, you have Neil Rabens and Charles Foley. Back in the '60s, they worked together at a design agency in St. Paul, Minnesota, where they were hired to dream up games. At some point, they tossed colored pieces of paper on the floor and realized a mat of colors could be the game board — with the players themselves as pieces.
Rabens' and Foley's names appear on the Twister patent, but they never earned royalties for the game. Those went to Reynolds Guyer — their boss — who says he got the original idea for Twister while working on a promotional display for shoe polish featuring multicolored polka dots.
Whoever's idea it was, everyone involved predicted the unique game would be a big hit. So they were shocked when stores like Sears wouldn't feature it in their catalogs. In an era when dancing was the only acceptable way for people to touch in public, retailers were wary of selling "sex in a box."
Sales were slow… until May 3, 1966. That night, millions watched as host Johnny Carson on "The Tonight Show" played a round of Twister with his sexy guest Eva Gabor. America was amused, and, yes, probably titillated. By the end of the year, three million Twister games had sold.
Foley went on to design a liquid adhesive remover called "Un-du." Guyers went on to help develop a little item called the Nerf ball. And America, of course, did not suddenly become one big Twister-fueled orgy. In the '90s, Foley said, "Once you get men and women in play positions… you forget the sex thing. The urge to win takes over."
King's Footsie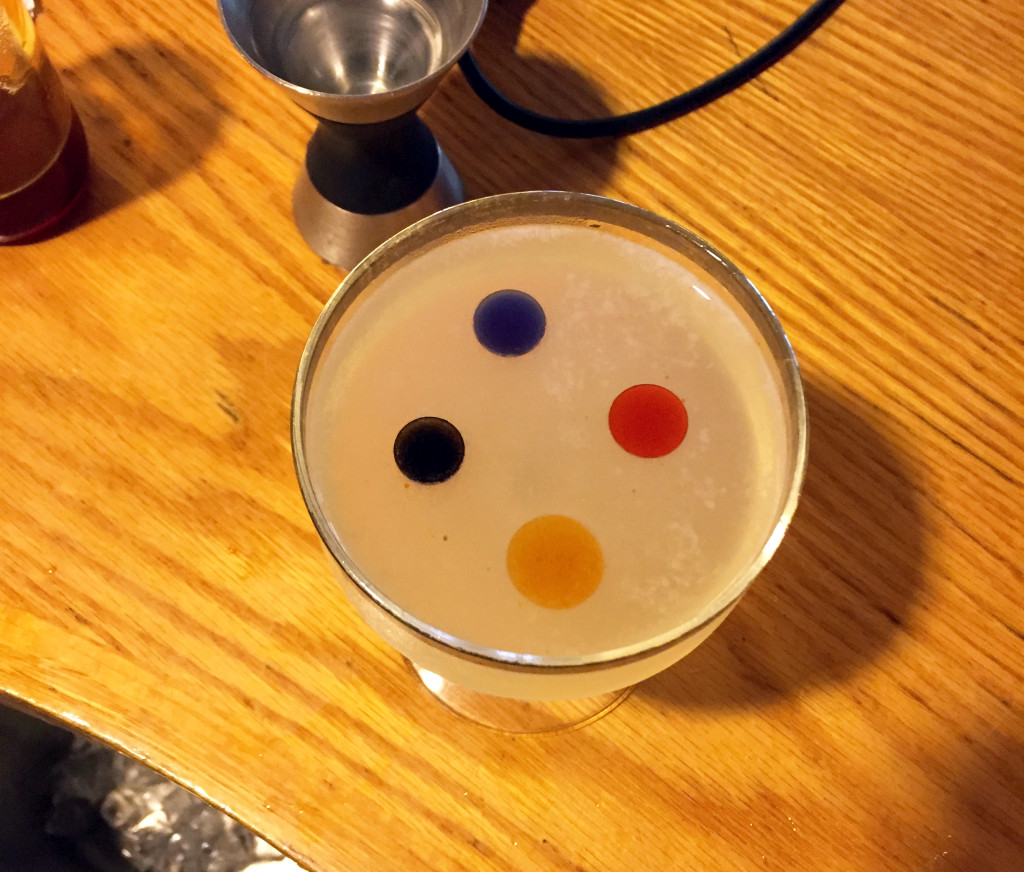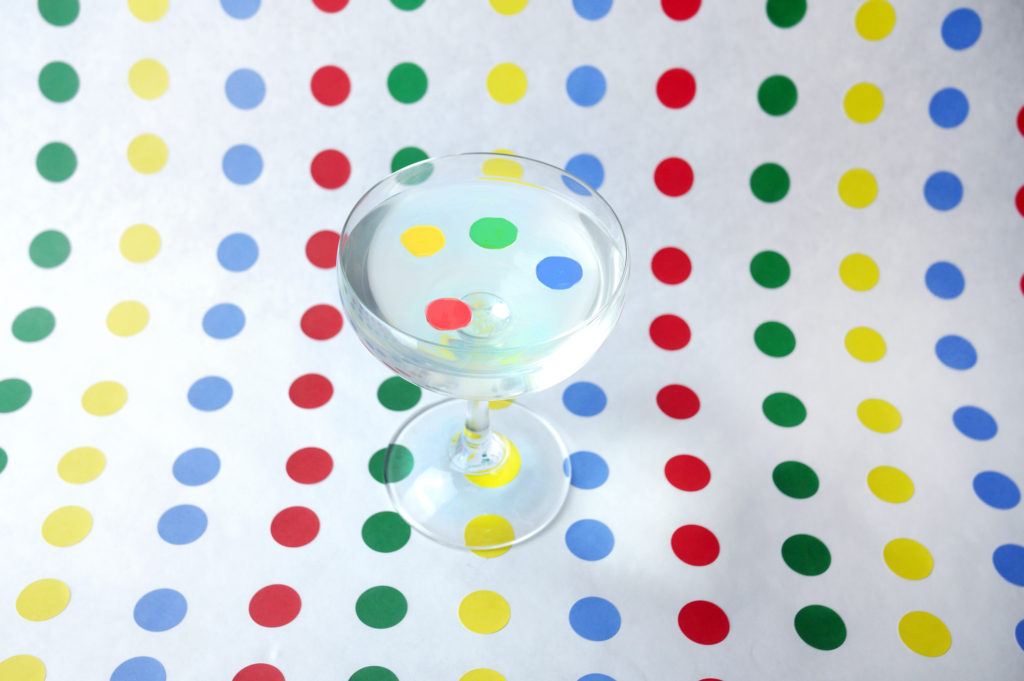 Assembled by Nick Kosevich, a Twin Cities cocktail kingpin who co-founded the artisanal bitters company Bittercube.
Ingredients:
2 ounces  Gamle Ode Celebration Aquavit (to "represent the Scandinavian nature of the Twin Cities")
3/4 ounce fresh squeezed lemon juice
3/4 ounce ginger syrup
2 drops Cherry Bark Vanilla Bitters
Pea flower extract
Hibiscus and/or Aleppo pepper extract
Basil oil*
Saffron oil*
[*Ed note: The two oils were made by Nick Kosevich himself. Other flavored oils that might contain color will work well too.]
Instructions:
Shake up Aquavit, lemon juice, ginger syrup and bitters together and pour into a coupe glass. Then add one drop of each of the four oils to recreate the Twister mat in drink form.