The History Lesson
Navy Captain Robert Stockton battled Pirates in Algeria and fought in two wars. But the most famous shot he fired was in Alexandria, Virginia — during peacetime.
That day, Stockton was showing off his dreamboat, the USS Princeton. It was the first propeller-powered steamship in the Navy. Stockton had convinced engineering genius, John Ericsson, to design it with him. Right down to its two guns named "The Oregon" and "The Peacemaker."
They each weighed around 27 thousand pounds. They could each shoot a cannonball five miles. But there was one big difference: "The Oregon" was well-tested to make sure it wouldn't blow apart when fired. "The Peacemaker" had a different design — and had only been test-fired 5 times.
Ericsson thought it wasn't ready for action. But Stockton had it stuck on the Princeton anyway, apparently eager to impress everyone with his fancy guns. And by everyone, I mean everyone. 350 people boarded the Princeton in Alexandria. Among them President John Tyler and his cabinet.
The Peacemaker was fired twice that day — no problem. Then the Secretary of the Navy asked Stockton to fire just one more round. That's when the Peacemaker made the opposite of peace — the gun exploded. Chunks of flaming shrapnel injured 20 people and killed eight. Including President Tyler's personal slave, his fiancee's father, his Secretary of State and the Secretary of the Navy.
Stockton lost most of his hair in the accident, but not much else: A navy court cleared him of wrongdoing. He went on to become a New Jersey senator. Meanwhile, the explosion went down as one of the worst peacetime disasters in U.S. history. And maybe the first for which no one was held responsible.
The Booze
The Bloodyberry Fizz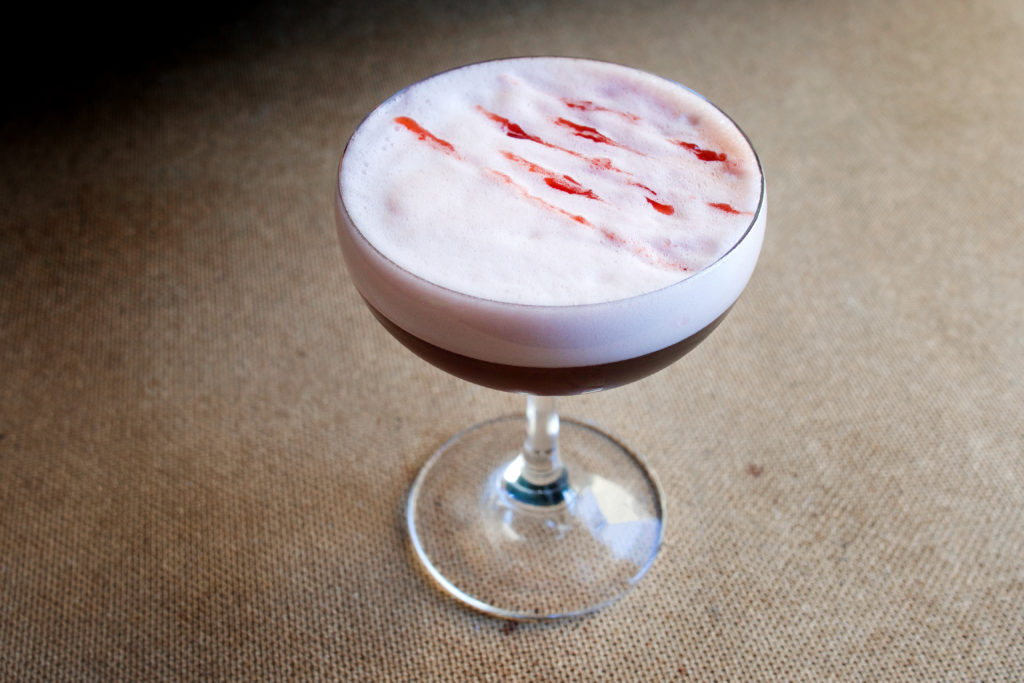 Mixed by Todd Thrasher at Restaurant Eve in Alexandria, Virginia.
Ingredients:
½ ounce raspberry-infused vodka
2 ounces fresh pomegranate juice
1 ounce fresh blood orange juice
Juice from a ¼ wedge of lime
1 egg white
1 teaspoon powdered sugar
Instructions:
Combine ingredients in a cocktail shaker. Shake vigorously for about 30 seconds. Add ice, shake vigorously for another 30 seconds until egg white has formed a meringue. Strain into coup glass and fleck with pomegranate molasses "blood" from an eyedropper. Serve during pomegranate season, Halloween, or when entertaining goths.