The History Lesson
The people of Enterprise didn't just overcome pestilence — they were thankful for it. It all began in 1915, back then everyone in town grew cotton. That is until the bowl weevil showed up, the evil insect had just destroyed Mexico's cotton crop. Now it was happy to chow down on Alabama's. Enterprise farms were wiped out. That is until a local named H. M. Sessions did some research and learned the area was great for farming — peanuts. The first crop hit it off big time.
Soon other enterprising Enterprisers switched to peanuts too. Eventually the weevils moved on to wider, fluffier pastures. But the pest had taught the locals the value of diversifying their crops. So in December 1919, they erected a monument to the boll weevil honoring it as quote, "a Herald of prosperity."
The monument looks kind of like the Statue of Liberty but instead of a torch — she's holding a giant weevil. It's not the original monument. Some teenage boys ripped the weevil off that one — along with both the statue's arms. As of now, Enterprise is not planning a monument — to the scourge of teenage boys.
The Booze
See No Weevil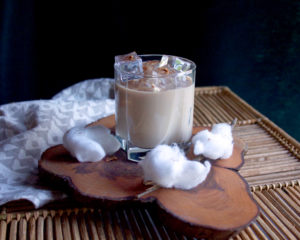 a philosophy and a custom cocktail courtesy of Wes Fraser, bartender at Bottletree in Birmingham, AL.
Ingredients:
In a shaker add:
4 parts Stoli vanilla
2 1/2 parts count Creme de Cacao
Splash of vanilla coconut simple syrup (to taste)
1 part Half & Half
Instructions:
Shake and pour over ice. Sprinkle with cottonesque toasted coconut and dust with cinnamon. Raise it high, like Lady Enterprise with her weevil. Go nuts.