The Roots have a regular gig as the house band for the TV show Late Night with Jimmy Fallon. Well, the band's leader, Questlove, has gotten into the food game. It's good for the world that he's doing this because it turns out his buttermilk chicken is as good as his music. Bon Appetit named it one of their top things to eat in 2012.
All of this ruffled the feathers of David Chang, a guy who's known for, among other things, his fried chicken. So David Chang challenged Questlove to a fried chicken cook off on the Jimmy Fallon show. We grilled the musician about his ironically healthy new diet, and why food is the new hip-hop. For more tales of Questlove's life – musical and otherwise – his just-released memoir is sure to be a treat.

Brendan Francis Newnam: What did you have for breakfast this morning?
Questlove: I had a egg white omelette, spinach, veggie sausage and Turkish bread with no gluten or sugar in it.
Brendan Francis Newnam: What is Turkish bread?
Questlove: This is the bread that all bread lovers would kill for. For those that are trying to avoid bread and the carbohydrates in it this has absolutely zero. This is like the water of bread.
Brendan Francis Newnam: Does it taste like bread bread?
Questlove: It tastes better than bread. It's lighter than bread. I wouldn't overdo it but for those that have a bread Jones, kind of on the eating program I'm on, this does the trick.
Brendan Francis Newnam: That's a pretty healthy diet for a guy who's becoming famous for his fried chicken.
Questlove: This is a very strange crossroads you found me on.  You know it's bad when you're counting the days. I'm on day 43 of my brand new lifestyle. You've got to convince yourself, "It's not a diet, it's a lifestyle. This is what you're going to do for life."
Brendan Francis Newnam: So I caught you mid-lifestyle change?
Questlove: Yeah. This is the real crossroads. Not the "I've got a photo shoot or a video to shoot in three months so let me look right for this photo." No, this is the real thing.
Brendan Francis Newnam: I guess that makes sense; you're kind of a big guy. You're approaching 40, right?
Questlove: You're a great man. I'm actually 41 now. I guess the whole epiphany was I want to join Russell Simmons and be someone from the hip-hop nation that actually makes it to 60 or 70.
Brendan Francis Newnam: I wish you luck, but your work is going to be cut out for you. This month alone you've attended the Food and Wine magazine Best New Chef Event. Bon Appétit called your chicken one of the top 25 things to eat in 2012.
There's going to be tons of great food around you as you receive all these accolades. Tell me how you put yourself in this position? How did you start making and selling chicken?
Questlove: I did a DJ gig once and this truck pulled up. It was special. I'd never seen just an all-grilled cheese truck. It seemed like there were more people in line for the grilled cheese truck than there were to see me DJ. I was one of the people.

Like, "I'm putting on a 25 minute song so I can run and get me a three cheese rye buttered grilled cheese as well." After seeing that, I tossed around the idea that I wanted my version of a food truck. I figured something like a Questlove's version of Mr. Softee ice cream truck. Comfort food.
Brendan Francis Newnam: I like it. Mr. Softee is the summer song of our youth.
Questlove: I was thinking my version, I'd be like Soul on a Roll or something. That's always been the dream talk but because I'm in hip-hop's version of the Grateful Dead. Because we're always travelling I really can't commit to any outside ventures, musical or culinary.

Now that Fallon keeps us in one place for a long period of time, I started to get that Jones again and my manager was like, "Well, why don't you explore that option?" I created a Twitter page @Cook4Quest, and put the work out there that I was looking for a chef.

I'm happy to say that Alida Bradley has made miracle chicken. Any place that we've served this dish, be it at food bazaars or contests or whatever, we've managed to come up roses.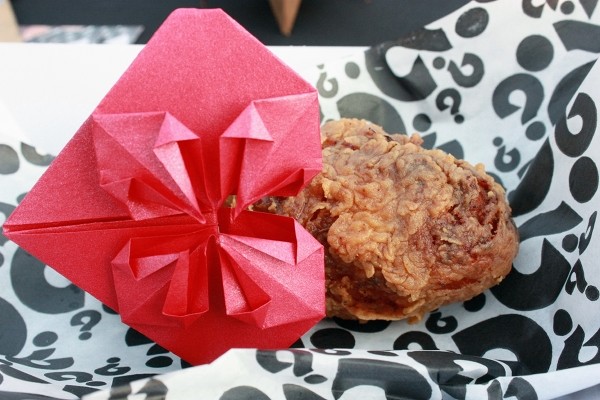 Brendan Francis Newnam: It's buttermilk fried chicken.
Questlove: It's buttermilk fried chicken. It's incredible. All I wanted was just a simple funky food truck with a funky version, my version of Mr. Softee's bells playing and that type of thing but this culinary world is like no other world I've ever seen before.
Brendan Francis Newnam: I was going to ask you about that. People say food is the new music, the new indie rock, the new hip-hop. Chefs are rock stars. People now identify themselves by what they eat. You represent the collision of music and food culture. What is going on there?
Questlove: What I'm learning in all the worlds I observe, the film world, the music world, the food world, it's pretty much the same. There's a subculture that's usually experimenting and trying out new ideas. There's a mainstream that's trying to package and rush it to you in mass quantity for monetary means.

There's an audience that has the patience to sift through and pan for gold and then there's the audience that's just open for business and mass consumption, "I'll take whatever you give me." That's pretty much the same for music, for film, for food.
Brendan Francis Newnam: Long before food became as hyped as music people were singing songs about food. You're known as a DJ; I was wondering if you could tell me your favorite song that involves food and then maybe we could use it as our outro.
Questlove: One of my favorite hip-hop songs, one of my favorite hip-hop groups, A Tribe Called Quest has a song called 'Ham and Eggs' where they just…it's all about food. Their favorite foods. It's such a fun thing for hip-hop to do, that rarely happens anymore.

I would love to hear a Drake and Wayne song and a Nicki Minaj song about their favorite peanut butter sandwiches. But that to me was one of the great hip-hop culinary songs.
Brendan Francis Newnam: You can listen to 'Ham and Eggs' but you can't eat them anymore.
Questlove: I cannot eat…
Editor's note: Something else we learned from talking to Quest is that his dad was in a doo-wop group called Andrew and the Hearts who were on the legendary Chess records label. So, as a kid, he basically toured around with his father and grew up eating Howard Johnson's and IHOP. That was the food of his youth.