The History Lesson
New-wave music was mainly known for flashy videos and enormous hair. But in 1984… Bob Geldof used it to fight hunger
It made sense. Bob fronted new-wave band "The Boomtown Rats." But he'd also been an anti-poverty activist since age 13. So, when he saw a news report about mass famine in Ethiopia, he and Midge Ure of the band "Ultravox" figured they'd raise cash for the cause by putting out a song about it.
Except there were two problems: If they performed the song, it'd look like they were exploiting famine for fame. And it probably wouldn't sell enough to feed a third-world country. So, Bob decided he'd just persuade dozens of the biggest pop stars in the world to perform the tune for them. For free!
According to Bob,  it was kind of a breeze. He quickly got pals like Sting and Bono on board. Others fell into his lap. Like when he bumped into Spandau Ballet's Gary Kemp in an antique store.
The hard part was recording them all: they got free studio time for just one day. So, on November 25th, Bob and Midge had to tape 40 megastar musicians — and mix the song — in 24 hours. The session engineer finally got a chance to hit the bathroom at hour 16.
Not everyone wanted to deny themselves for the project. For instance: U.K. politicians. Though Bob had promised 100 percent of the record's sales would go to famine relief, they insisted on collecting sales tax. So Bob relentlessly shamed them in the media until they gave in and let the tax go to charity too.
Geldof hoped "Do They Know It's Christmas" would raise a few hundred thousand bucks. It did. Plus, over $10 million bucks more. It was the fastest selling track in U.K. history — a million copies in its first week alone, a record it held for 13 years. And it inspired the American charity tune "We Are The World."
In 2010 Bob Geldof told Austrailia's "Daily Telegraph" newspaper, "I am responsible for the two worst songs in history."
The Booze
The Old Brew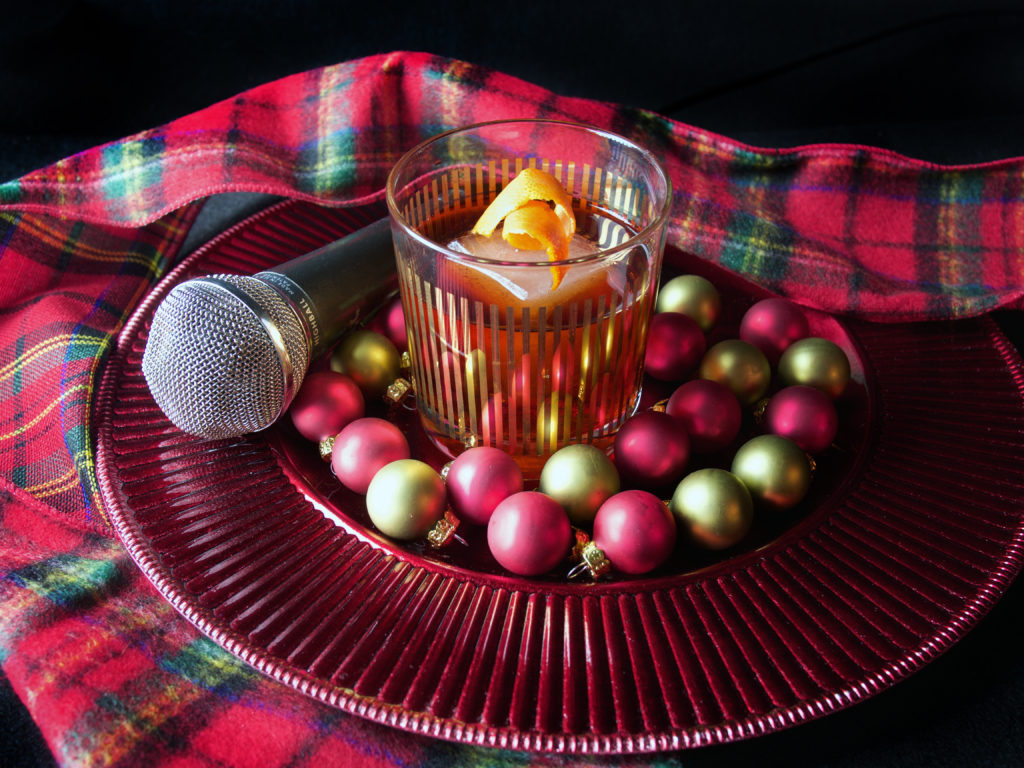 As composed by Melanie Schmidt at King's Row gastropub in Pasadena, CA:
Ingredients:
1/2 ounce Fair Café Coffee Liqueur (from Ethiopia)
1 ounce Rittenhouse 100 Proof Rye Whiskey (from Kentucky)
1 ounce Zaya Rum (From Trinidad)
1/2 ounce Meletti Amaro Liqueur (From Italy)
2 dashes Miracle Mile Toasted Pecan Bitters (from L.A.)
Instructions:
Combine ingredients in a glass or mug. Add a twist of orange to take the edge off the potent liquors. Quaff and feel a charitable glow.