Houston writer Matthew Salesses has published essays and fiction in Salon, The Rumpus, and the esteemed journal "Glimmer Train."
His new novel, "The Hundred Year Flood," is partially set in the backdrop of a 2002 flood that ravaged parts of Prague. It follows a Korean-American adoptee, named Tee, who goes to Prague and has an affair with Katka, the wife of a famous artist. Matthew, a Korean adoptee himself, started the book when he lived in Prague for a year.
"I started out trying to write about the confusion and loneliness I felt as an Asian-American expat in Prague," Matthew told us, "and it took me a while to figure out that the book was even more about adoption than I thought it was."
He shares an excerpt from the novel, in which Tee, now back in the United States, has trouble escaping the memories of the flood and Katka.

In September 2002, after his father flew him back from Prague for good, Tee would stand at the window in Massachusetts General Hospital and stare out at the river for hours. At night he dreamed of floodwater. He smelled something rotting in the distance. For an instant he caught a woman's silhouette behind the frosted glass that separated him from the hall. Then, on the floor, a pair of boots glowed. When he picked up the boots, water poured out of them. The door was locked. He couldn't reach the woman, though she couldn't have gone far. The room felt smaller, or was closing in; he hadn't noticed how small it was before. He would wake screaming his own name, as if he stood outside with the woman and couldn't save himself, as if the water was inside him. Even after he woke, a ghostly calf curved around his door again and again.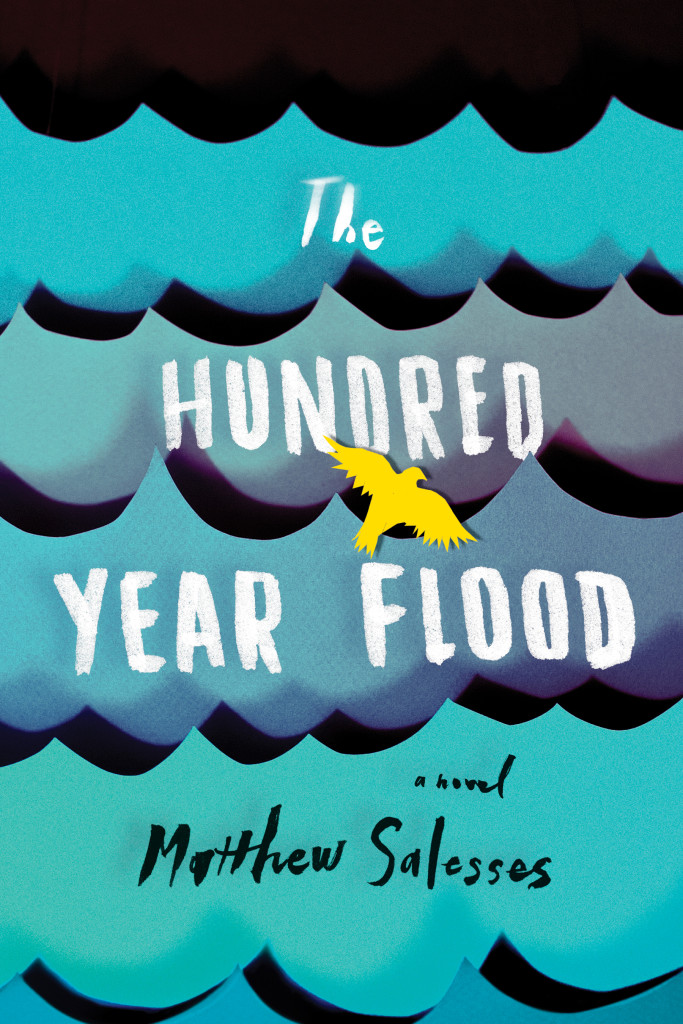 In August, in Prague, the flood would seem a surprise, though storms came and went for weeks beforehand. Police and firefighters raised steel barriers along the embankments in Old Town but left the Karlín district unprotected. On the news a former construction worker warned that buildings in Karlín could collapse, built too quickly–with unfired bricks. An analyst predicted deaths and lawsuits. The city surrendered its boundaries. Citizens defended museums and places of worship with sandbags. In the rain an evacuation was ordered, but people thronged to bridges and riverbanks to watch. Sections of sidewalk buckled like tiny tectonic plates. Trees tipped over in the oversaturated soil and had to be tethered like barges. Metro lines were shut down too late to protect them. The river washed parts of other cities into Prague. The river pulled down levees, then buildings. The river washed parts of Prague into other parts of Prague, then into the rest of Europe.
From where Tee watched in his second-floor apartment, the flood made a high brown sea just below his window. He smelled the sewage in the water. He wondered how he had let himself miss the signs. How strange the way we wade into disaster, step after step, not realizing how far we've gone until we're drowning.
Just before the flood, Katka had asked about Korea as the raindrops formed fat planets against the windowpane. Her finger followed the streaks across the glass.
"A Korean friend told me once about his visits as a kid," Tee said. "Everyone looked like him, but he still didn't belong."
Katka touched her temple where her skin met her hair. "No one your age," she said, "feels like he belongs."
This was the same woman who had cursed at the Thai massage parrot. How did she really see him: his quick black eyes, the scar on his chin that toughened his boyishness, his flat cheeks and curved nose, the cream in his brown skin that seemed to make white people touch him without realizing. He was a believer, as Pavel had painted. In college he had listed ambitions: get a girlfriend, be a writer, drink more water, fall in love. He had believed in the kind of weight that could drag whatever fluttered in his throat down to more comfortable depths–a someplace or a someone.
Katka smoothed her hair, and he said, "You don't know what it's like to be adopted. People see you as who you were at birth. But you're not that person."
At that point, the flood was still weeks off. He opened the window and caught rain in the cup of his palm. Katka pulled his hand in, and for a moment, he thought for some reason that she would lower her lips to the water and drink. She splashed his face. He pulled back in anger, but her grin conquered him.
Excerpted from The Hundred Year Flood by Matthew Salesses. © 2015 by Matthew Salesses. To be published by Little A August 2015. All Rights Reserved.