Minnesota native J. Ryan Stradal tapped into his Midwest roots — and meats, and pretty much anything edible — as inspiration for his debut book "Kitchens of the Great Midwest," which is the story of a young Minnesotan woman, named Eva Thorvald, who endures a difficult childhood to become the mysterious chef behind an opulent supper club.
The novel recently won the Faulkner Society's annual novel competition, and the L.A. Times listed it as a must-read for the summer.
J. Ryan shares an excerpt, which introduces us to Eva's father Lars, who is also a chef. "He is extremely eager to pass his love of food onto his newborn daughter before she's even out of the hospital," the author said, "and that's what this section is about."

In the same fashion that a musical parent may curate their child's expo­sure to certain songs, Lars had spent weeks plotting a menu for his baby daughter's first months: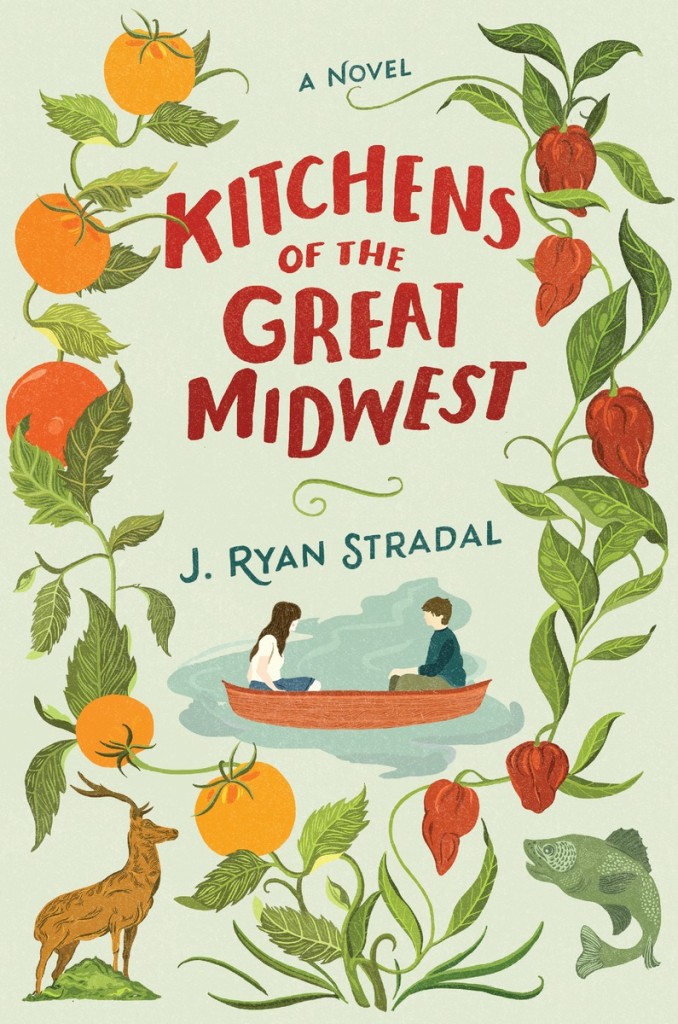 NO TEETH, SO:
Homemade guacamole.
Puréed prunes (do infants like prunes?)
Puréed carrots (Sugarsnax 54, ideally, but more likely Autumn King).
Puréed beets (Lutz green leaf).
Homemade Honeycrisp applesauce (get apples from Dennis Wu).
Hummus (from canned chickpeas? Maybe wait for week 2.)
Olive tapenade (maybe with puréed Cerignola olives? Ask Sherry Dubcek about the best kind of olives for a newborn.)
What for protein and iron?
Week Two
STILL NO TEETH, UNLESS WE'RE IMPROBABLY FORTUNATE, BUT WHAT THE HECK ANYWAY:
Definitely hummus.
The rest, same as above, until teeth.
Week Twelve
TEETH!
Pork shoulder (puréed? Or make a pork-based demi-glace?)
Vegetable spaghetti squash. What kid wouldn't love this? It'll blow her mind! (How lucky she is to be teething by the start of squash season!)
Osso buco (get veal shanks from Al Norgaard at Hackenmuller's).
Week Sixteen
TIME FOR GUILTY PLEASURES!
1. Mom's Chicken Wild Rice Casserole (recipe below)
1 small package wild rice
2 cups cooked chicken (diced)
1 can cream of mushroom soup
½ can milk
Salt and pepper
¼ cup green pepper, chopped
Heat the oven to 350°F. Cook the rice according to the directions. Mix the rice, chicken, cream of mushroom soup, milk, salt and pep‑ per, and green pepper. Place in a greased 2‑quart casserole pan. Bake for 30 minutes.
2. Corn Dogs (probably great for gnawing! Find the State Fair recipe.)
3. Mom's Carrot Cake (recipe below)
2 cups sugar (maybe use less)
1 1/2 cups salad oil (find substitute)
4 eggs
2 cups flour
2 teaspoons baking soda
1 teaspoon salt
3 teaspoons cinnamon
3 cups shredded carrots
1 cup chopped nuts (nut allergy risk?)
1 teaspoon vanilla
Heat the oven to 325°F. Combine the sugar, salad oil, eggs, flour, baking soda, salt, cinnamon, carrots, nuts, and vanilla and pour into a 9‑by‑13‑inch pan. Bake for 45 minutes.
Icing recipe:
1/4 pound or 1/2 cup butter (Grade AA)
8-ounce package cream cheese
3½ cups powdered sugar
Mix and spread on the cooled carrot cake.
This meal plan seemed like a sound strategy to Lars, who remained mindful of what was in season and what had sustained his own family through the long winters in Duluth. His main worry was the chopped nuts in the carrot cake recipe. He'd heard somewhere that a child could get a nut allergy from eating nuts too soon. But how soon was too soon? He had to talk to their obstetrician, Dr. Latch, who had a thick mustache, kind eyes, and what Lars interpreted as a can-do attitude.
In his office, Dr. Latch listened to Lars's question and then looked at the young man the way someone might regard a toddler who's holding a Buck knife.
"You want to feed carrot cake to a four-month-old?" Dr. Latch asked. "Not a lot of carrot cake," Lars said. "I mean, a small portion. A baby portion. I'm just concerned about the nuts in the recipe. I mean, I guess I could make it without nuts. But my mom always made it with nuts.  What do you think?"
"Eighteen months. At the earliest. Probably wait until age two to be safe."
"I could be wrong, but I remember my younger siblings eating carrot cake really young. There's a picture of my brother Jarl on the day he turned one. They gave him a little carrot cake and he smeared it in his hair."
"That's the best outcome in that situation, probably."
"Well, now he's bald."
"Looking over your dietary plan here, I'd have more immediate reservations."
"Like what?"
"Well, pork shoulder to a three-month-old baby. Not advisable."
"Puréed, maybe?" Lars asked. "I could braise it first. Or maybe just roast the bones and make pork stock for a demi-glace. That wouldn't be my first choice, though."
"You work at Hutmacher's, right?" Dr. Latch said. "You do make an excellent pork shoulder. But give it at least two years."
"Two years, huh?" He didn't want to tell Dr. Latch that this conversation crushed his heart, but the doctor seemed to perceive this.
"I understand your eagerness to share your life's passion with your first child. I see different versions of this all the time. The time will come. For now, just breast milk and formula for the first three months."
"That's awful," Lars said.
"Maybe for you," Dr. Latch said. "But your daughter is going to be monstrously satisfied with this diet. Trust me. Now, I'm going to refer you to the most vigilant pediatrician I know."
Back at their apartment in St. Paul, lugging all of the unfamiliar baby gear out of their car, Lars was grateful they could afford a place with an elevator. While waiting for the doors to open, he saw the building's lightly used concrete stairway, which he'd climbed a few times over the years for exercise. Feeling the straps of a diaper bag dig into his shoulder and the plastic handle of the portable baby seat against his palm, he guessed he might never use it again.
From "Kitchens of The Great Midwest" by J. Ryan Stradal published on July 28, 2015 by Pamela Dorman Books/Viking, an imprint of Penguin Publishing Group, a division of Penguin Random House LLC. Copyright by J. Ryan Stradal, 2015.