Illeana Douglas has starred in films like "To Die For" and "Cape Fear," and she also talks about films in specials on Turner Classic Movies. Her new book, "I Blame Dennis Hopper," is half-memoir, half love-letter to cinema. Below, she shares a tale of a dinner party we wish we'd attended.  (P.S. you'll also want to hear the tale of how she came to own Marlon Brando's driftwood collection.)

Illeana Douglas: This is a story about me getting to meet one of my idols. Everybody asks you, "Who did you most want to meet in your life?" And I say, "Ohhh. I met him."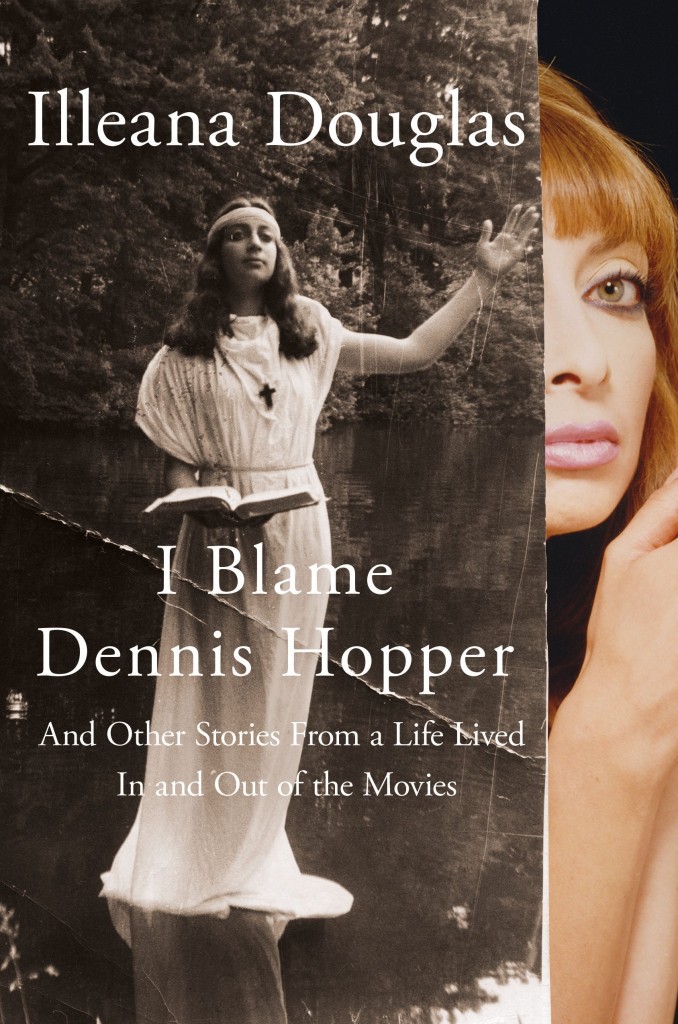 So, I was doing a movie called "Wedding Bell Blues." Very low-budget movie in L.A. I was in a relationship with Martin Scorsese, and he was coming out to Hollywood to win a humanitarian award, the John Huston award. I went to meet Marty at the Beverly Wilshire and he surprised me by saying, "Guess who we're going to meet tomorrow? Marlon Brando is coming over for lunch."
I just thought, "No." Everything that I wanted to be as an actor came from Marlon Brando, I have posters of him on my wall, I studied him in acting school. There's no way I can meet Marlon Brando. I can't meet him.
Marty assured me, "You'll be fine." And then we proceeded to go to this award show.
And I brought my autograph book. Now, they were hustling Marty out of there after the awards, and in the hubbub, I left my precious book on the table. When I went back for it, it was gone, and I was devastated.
It comes to morning. I'm really incredibly nervous. And the door opens, and there's Marlon Brando.
His eyes were this deep sapphire blue color I'd never seen before, which was arresting enough. But astonishingly, it matched the color of the blue velour sweatsuit that he was wearing! And I thought, "Marlon Brando is wearing a blue velour sweatsuit? Who made that for him? Who owns that much velour?"
He said very quietly to Marty, "How do I look?" And Marty said, "You look fantastic, Marlon."
Marty was always a better actor than I was.
So he comes in, and that's when I heard Marlon Brando say "Stop everything! Look at your feet." And we all looked down at my feet, which were inverted towards each other, kind of pigeon toed. And he said, "That's a sign of insecurity. Why should you be insecure?"
Suddenly, tears were streaming down my face. And Marty started to laugh really nervously, like, "She's a very emotional kid!" And he kind of put his arm around me like, hey — pull yourself together in front of Marlon Brando.
Brando said, "My dear girl, what is it?" And there was this rumbling inside of my core, and I couldn't stop myself — I said, "I'm sorry, but this is really emotional for me. I mean you're Marlon Brando! And everything I do, or want to do, or be is because of you. And I guess I am insecure."
Suddenly, Brando's eyes were locked with mine, and he said, "My God. You're a tuning fork! Now I'm crying!"
Marty comes running in with a Kleenex. And he starts to explain how I lost my autograph book and it was all his fault, and he feels so bad. And now Marty starts to cry.
And then all the sudden, Brando says, "Let's order lunch up here!"
You know, I always like to say Marty and I ordered the regular menu, and Brando the Henry VIII menu. Because it was, you know, shrimp cocktail, pasta, steaks, lots of wine, burgers, fries, ice cream, cookies, more wine … it was a bacchanalian feast.
Of course afternoon turned into night. We talked about his relationships with women, and his island of course. A crazy scheme he had about collecting electricity from electric eels in his pool. I mean, we were under this spell. It was just an incredible lesson to be yourself, and to be taught that by the world's greatest actor is something that I've never forgotten.
So, Marty goes back to New York, and I get a call from his assistant saying that Marlon Brando has asked for my address.
I got back to my hotel and there was the largest bushel of roses I'd ever seen in my life. There must have been over a hundred roses from Marlon Brando, and an invitation to have lunch with him at his house.
Of course I was immediately going to do that, because I thought, "Wow! This could be amazing! I'll get to see these electric eels." But the assistant who worked for Marty said, "There's just no way you can do this. It means he wants to have sex with you." And of course I was like, "No."
But that kind of got in my head, and I reluctantly turned down the invitation to go have lunch.
That is my biggest show business regret.
I'm sorry, Marlon Brando. I'm really sorry.