We've made a special episode of "The Dinner Party Download" stuffed with holiday goodness. Hip-hop legend Darryl McDaniels (the "DMC" of Run-DMC) riffs on his mega-hit "Christmas in Hollis"… TV's "Naked Chef" Jamie Oliver injects some health into our holiday menu (but don't mess with his decadent cheese toasty)… Humorist Fran Lebowitz keeps the season from getting too sappy with very tart etiquette tips… And chart-toppers Macklemore & Ryan Lewis craft a Yuletide playlist, featuring crazy relatives and, even crazier, David Bowie's "Labyrinth." You'll also hear winning remembrances of both "The Star Wars Holiday Special" — arguably the worst show ever on TV — and of "National Lampoon's Christmas Vacation", courtesy of star Beverly D'Angelo. Plus, a tale of Santa's whereabouts… during the Iranian Revolution. Featuring good cheer, comic relief, and a tipple or two, the episode's a perfect companion to the hectic and happy holiday season.
---

A dad joke about "Star Wars'" most famous dad, from musician and New Pornographer (and dad) A. C. Newman.
---

Daryl McDaniels -- aka "D.M.C." of rap legends Run-D.M.C. -- is a Rock and Roll Hall of Famer, a comic book author, and most germane for our holiday show, he co-wrote his band's holiday hit "Christmas in Hollis." He recalls how the song came about and how it almost never came to be.
---

Comic Maz Jobrani has performed on stages from the Middle East to the Middle West. His debut book is called, "I'm Not a Terrorist, but I've Played One on TV: Memoirs of a Middle Eastern Funny Man." The comedian looks back at a time when his Iranian parents had little patience for a chubby, red-suited, white-bearded man from the edge of the earth.
---

Jamie Oliver started his career as a boyish chef who became an international star with a series of hit British cooking shows. He's got restaurants all over the world and has long led the campaign to make school lunches healthier. His new book, "Everyday Super Food," is full of quick, nutritious recipes. He looks back with Rico at the special that launched his career, then shares a few healthy, delicious holiday dishes... and one super unhealthy one.
---

"National Lampoon's Christmas Vacation" came out in 1989 and it's now considered a holiday classic. The movie follows the Griswold family as their patriarch Clark (played by Chevy Chase) tries to host the perfect Christmas, but is foiled by in-laws, mean bosses, and wild animals. Beverly shares a behind-the-scenes tale about one of the movie's most iconic moments.
---

Hip-hop duo Macklemore & Ryan Lewis rode their smash hit "Thrift Shop" to the top of Billboard's rap charts, their album The Heist has been one of the most popular in the country, and now, the ultimate honor: they tell our listeners what to listen to. The hip-hop hitmakers offer up a holiday soundtrack… featuring David Bowie's "Labyrinth."
---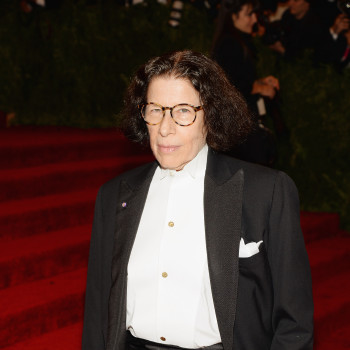 Fran Lebowitz's sardonic wit first cropped up in columns for Andy Warhol's "Interview" magazine. Then she published the acclaimed essay collections "Social Studies" and "Metropolitan Life." Those books are compiled in a collection called "The Fran Lebowitz Reader," which is out now on audiobook. She answers listeners' etiquette questions on ugly holiday sweaters, annoying family gatherings, and more.
---

Bruce Vilanch has had a storied career as a joke writer for performers from Bette Midler to Robin Williams and has six Emmys to his name. He also spent four years as a regular on "The Hollywood Squares" and appeared on Broadway in the musical "Hairspray". Listen as the comedian tries his best to shed light on the insane choices made to create what one critic has dubbed, "The worst two hours of television ever."
---

A few weeks back, Laurie Anderson told us about her film "Heart of A Dog." Which, among other things, is about her relationship with her late rat terrier, Lolabelle. The dog turned out to be musically gifted.
---