Before Carla Hall was known as the co-host of "The Chew," a "Top Chef" finalist, and the author of several cookbooks, the Nashville native was just a girl who was a deep fan of her grandmother's cooking, especially her cornbread. When she got older and became interested in cooking, she tried to sleuth out how to make it for her family and catering clients.
Below, she shares her grandma's famous cornbread recipe. And in the audio above, you'll hear some of her favorite memories of the dish.
Carla's Skillet Cornbread Recipe: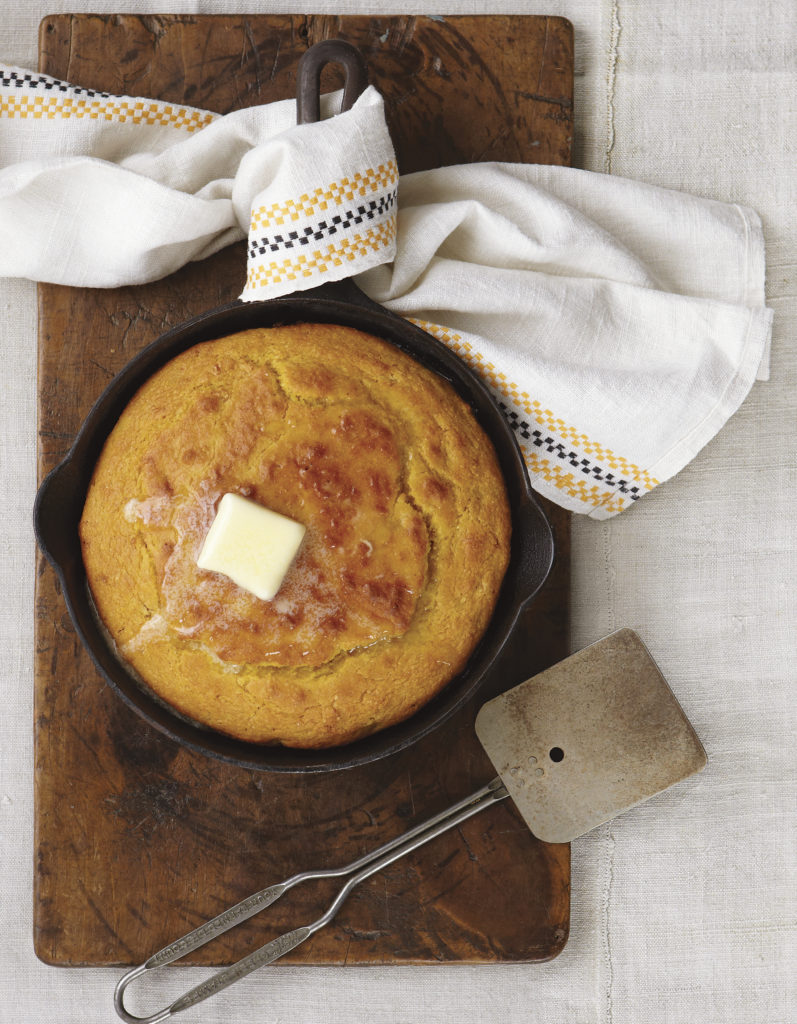 Ingredients:
2 cups white or yellow cornmeal

4 teaspoons baking powder
1 teaspoon salt
3 large eggs
1 cup sour cream
1 cup "Creamed" Corn (recipe below) or store-bought canned cream-style corn

In a food processor, pulse together ¾ cup fresh or thawed frozen corn + ½ cup heavy cream until coarsely blended.

1/2 cup plus 2 tablespoons canola or other neutral oil
Special Equipment: 12-inch cast iron skillet
Instructions:
Preheat the oven to 425ºF. Heat a 12-inch cast iron skillet in the oven until very hot.
In a medium bowl, combine the cornmeal, baking powder, and salt. In a small bowl, whisk together the eggs, sour cream, creamed corn, and 1/2 cup oil.
Pour the wet ingredients into the dry ingredients and mix until smooth. Pour the remaining 2 tablespoons oil into the hot skillet, and then pour the batter into the skillet. The batter will begin sizzling right away.
 Bake until golden and a cake tester inserted in the center comes out clean, about 25 minutes. Serve hot or warm.
On eating the dish as a child
Carla Hall: I grew up in Nashville, Tennessee and my grandmother lived in Lebanon, Tennessee. And so it was 30 miles from where we went to church to Granny's house. I always asked my mom, "Can we stop to call Granny so that she can start making the cornbread?" So that when we get there, it would be ready. But Granny would never make the cornbread until she saw the whites of our eyes and we were on the inside of the door. And then, as soon as we got in the door, I'm like, "Granny are you gonna make the cornbread? We're here!" And my grandmother would have the pan in the oven with a little bit of oil just waiting for us.
On the difference between Northern and Southern cornbread
Up North cornbread is a little cakier, and it's sweeter, it's almost like a corn muffin. Whereas in the South, the cornbread serves as a means of sopping up the thing's that are on your plate. It's a very savory dish.
On what made her grandmother's cornbread special
My grandmother would call cornbread that she would make "egg bread." She didn't use flour, it was all cornmeal and it tasted like corn. So, her cornbread was really light, honestly because of all the fat and the eggs and the milk. But I think that's what made Granny's cornbread really special, that coffee can that would be on her stove that would hold all the fat, the bacon fat, the ham fat.