This past Sunday, Brendan joined Hannah Kirshner of Sweets & Bitters for a special Facebook Live with Food 52. We figured we all hate the Sunday blues, right? Monday is looming around the corner, and with that in mind, you can't go too heavy on going out.
You might say, "But what about brunch?!?" Well, don't get us started on what's wrong with brunch.
But Sunday is a great opportunity for lighter pre-dinner snacks and drinks that'll put you in a good mood to start a new week. With that in mind, Brendan cooked up this recipe for stuffed olives, while Hannah mixed up a spritzer.
This not too heavy, not too boozy combo is a good way to treat yourself while you're cooking a Sunday dinner for yourself or friends.
Brendan got this recipe from a family friend and said, "You can tell someone loves you because it takes a lot to make." You can hear him explain the story behind it in detail in the video. Enjoy and check out the recipe for the olives below!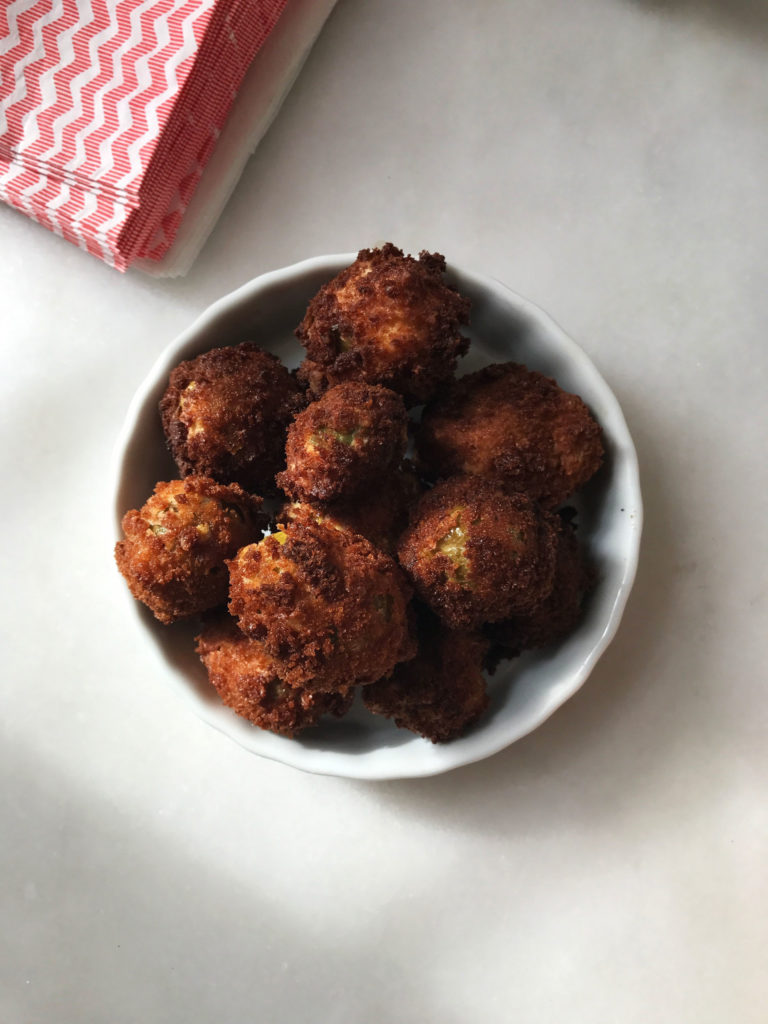 Brendan's Stuffed Olives
Ingredients for filling:
1 pound of ground pork*
1 pound of ground veal*
2 bone in chicken breasts
1 quart of tomato sauce (the original called for a can of Hunts)
Grated rind of 1 lemon
1 teaspoon freshly grated nutmeg
½ cup grated Locatelli Pecorino Romano cheese
6 slices of good country bread, trimmed of crust and cut into ½ inch dice
2 eggs, beaten
(*In the video, Brendan used ground meat for a faster cooking process.)
Ingredients for frying:
Large green olives (this probably makes 75 or more)
Flour, beaten egg and dry breadcrumbs (for dredging)
Vegetable oil (preferably peanut) for frying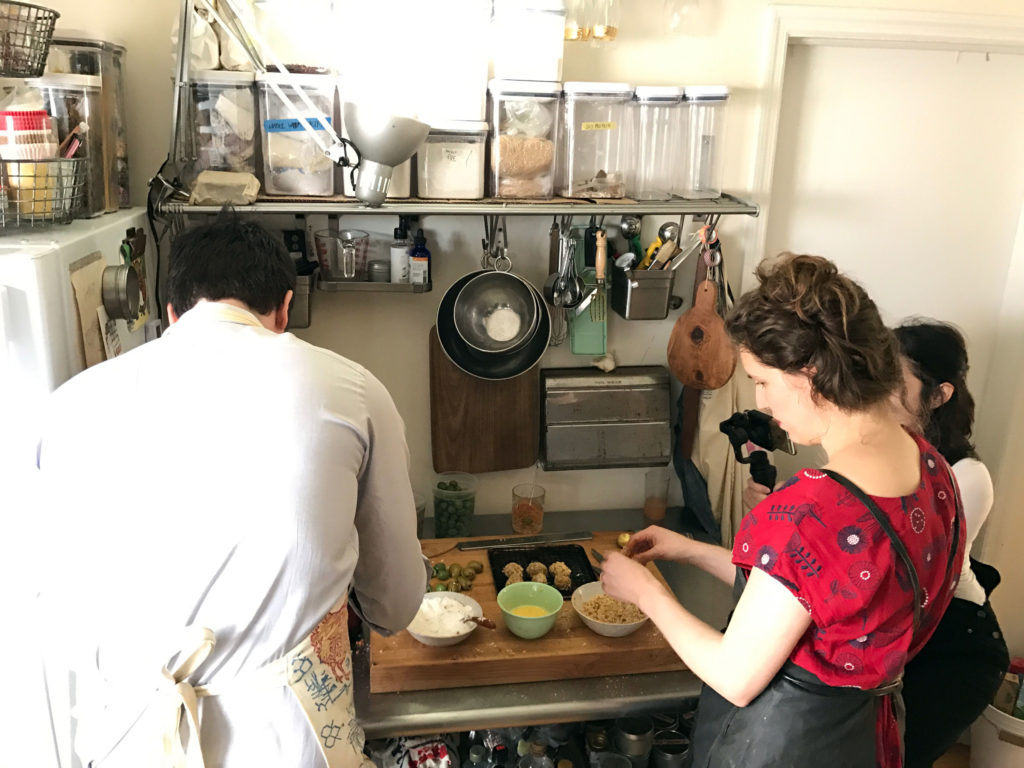 Directions:
Cook the meat in the sauce at a very gentle simmer until tender. Be careful not to overcook it.
When cool, shred or chop the meat finely. If you use a food processor, take care not to over-mix, you want some texture.
Mix the rest of the filling ingredients together with the shredded meat.
Form walnut sized balls of filling.
With a sharp knife, remove the flesh from the olive pits in one long spiral. This is a lot easier with pitted olives!
Wrap the "corkscrew" of olive flesh around a ball of filling. Don't worry if it breaks, just patch it together around the filling.
Dredge each filled olive in flour, egg and breadcrumbs in preparation for frying.
Deep fry at 350 degrees until golden brown and drain on brown paper or paper towels.
For an extra treat, check out Hannah mixing up her cocktail. Get the recipe below. Happy eating and drinking!
American Spritz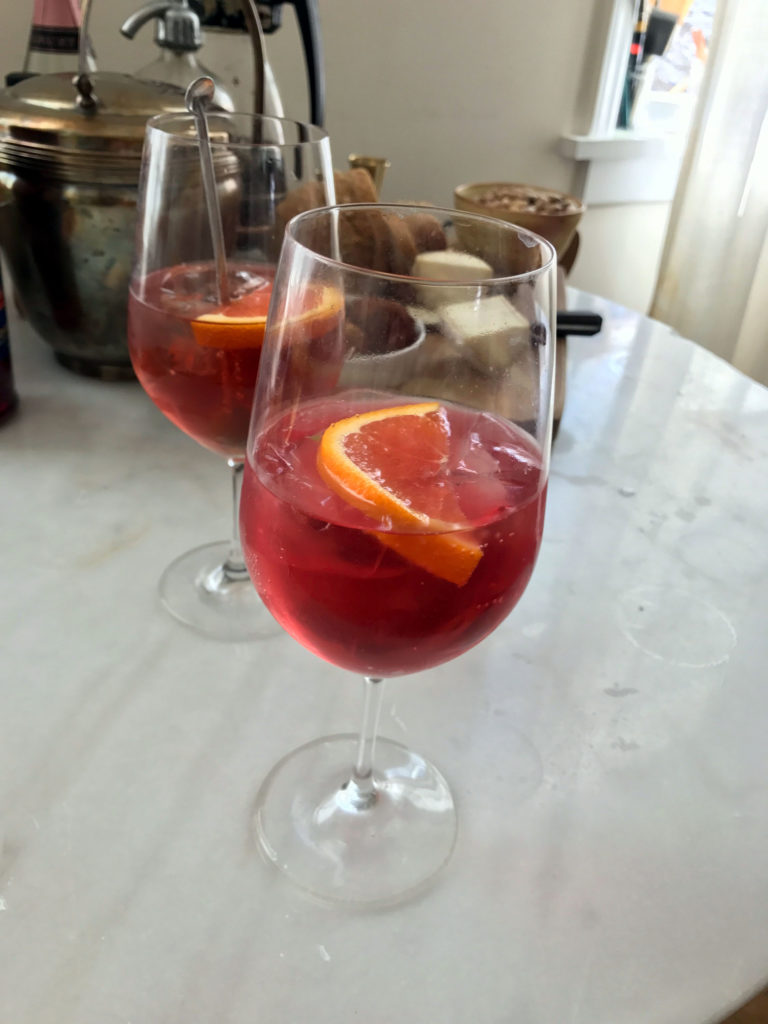 From Hannah: The spritz is light enough—in flavor and in alcohol—to add fizz to a Sunday afternoon without making you regret it come Monday morning. Here's a take on the classic Italian ratio using American ingredients.
Ingredients:
2 ounces American bitter liqueur, such as Grand Poppy or Orleans Bitter
3 ounces dry cider
1 ounce seltzer
green olive* for garnish (optional)
orange slice for garnish (optional)
*Ideally a Mission Olive, in keeping with the theme.
Instructions:
Place a few ice cubes in a large wine glass or tumbler. Add the bitter liqueur, dry cider, and seltzer. Stir briefly. Garnish with an olive and an orange slice (if you like).