(Ed note: This history segment initially aired in May 2012.)
In the 1840s, the rivalry between actors William Macready and Edwin Forrest turned, well, dramatic.
They were considered two of the best actors around. Both had huge success starring in Shakespeare plays. But, Macready was British, classically-trained and subtle, while Forrest was America's first home-grown Shakespeare star, self-taught and brassy.
At first, the two were pals, but that changed when a London audience hissed at Forrest during a performance of "King Lear." Forrest blamed a jealous Macready for hiring the hissers. So, he went to see Macready play Hamlet and hissed at him. When Macready toured the U.S., Forrest followed him around, playing his own shows in every city on the tour, just to draw away his rival's audience.
To New Yorkers, this wasn't some silly squabble — it was symbolic. See, working class nativists in the city championed anything made in America, like Forrest. They resented the upper class and their love of things British, like Macready. So, when the two actors staged competing productions of "Macbeth" in New York, everyone expected trouble. They got it.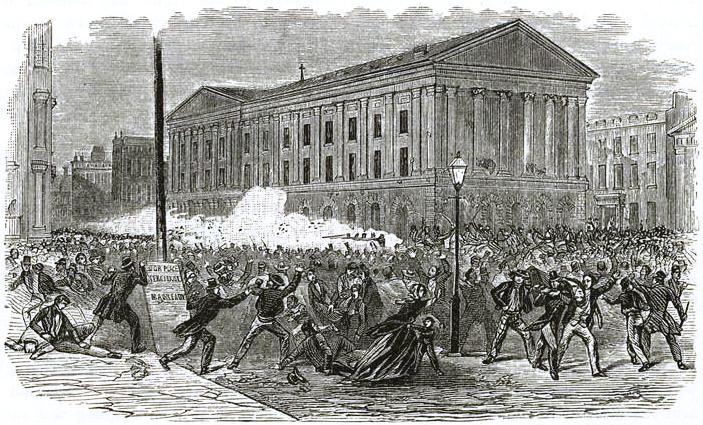 On Macready's opening night, nativists in the balcony pelted him with shoes and rotten eggs. They were so loud, he had to mime his lines. At the next performance, over 10,000 protesters showed up, bombarded the theater with stones, and tried to set it on fire. The State Militia was called. Shots were fired. When the smoked cleared, dozens were dead and more injured. It was a clear illustration of the growing class divide in America, and probably the only performance of "Macbeth" with more blood offstage, than on.
Cobbler Rouge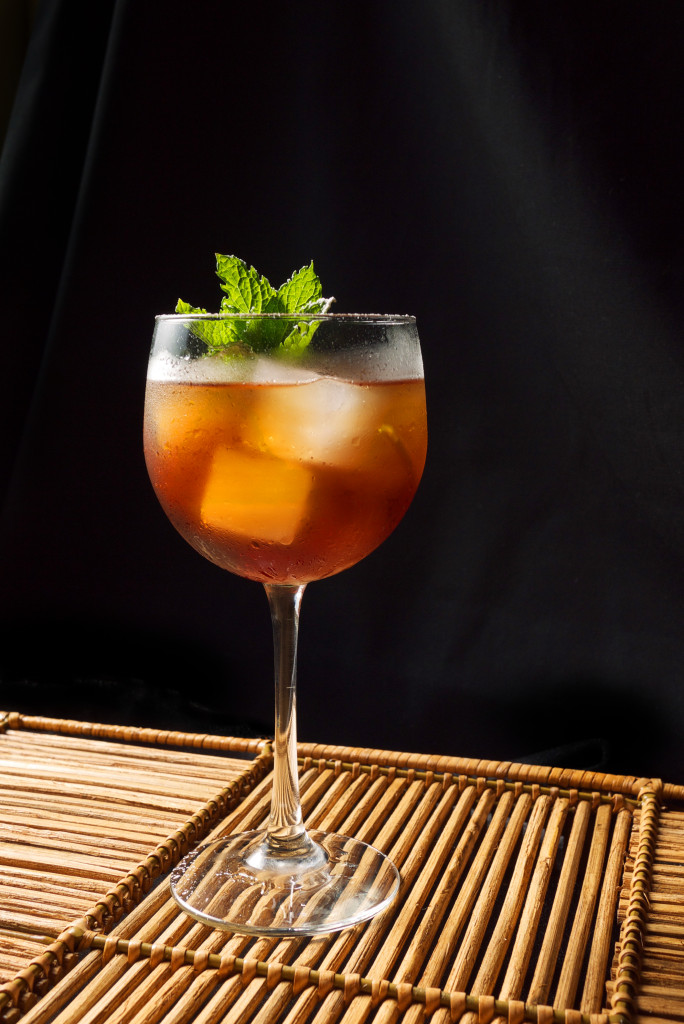 As performed by Frank Caiafa, former bar manager at The Vault at Pfaff's — a handsome cellar bar just a few blocks from the site of the original riot, which closed in 2013. Caiafa is now the bar manager of Peacock Alley Restaurant at the Waldorf Astoria in New York City.
Ingredients:
1/4 of fresh peach, cubed (small handful)
1/2 ounce simple syrup
2 dashes of orange or peach bitters
1 ounce Red Bordeaux wine ("Claret" to the Brits)
2 1/4 ounces Hudson Four Grain Bourbon (the all-American part)
Instructions:
In a shaker mix together bourbon, wine, peach bitters, simple syrup and add ice. Give it a hard and riotous shake. Strain into a freshly iced goblet — ideally a "Hawthorne House" glass. Add fresh mint as garnish (after slapping the mint against your hands for a bit to "wake it up") and peach cubes. Top with powdered sugar. Drink it down and leave the drama behind.