Writer Amber Sparks has earned two Pushcart Prize nominations for her fantastical, offbeat stories. The New York Times just praised her "singular voice." She has a new collection of short stories called, "The Unfinished World And Other Stories," which hits bookshelves on January 25.
"I would kind of almost compare it to a cabinet of curiosities, if that doesn't sound too hideously pretentious," Amber explained. "It really encapsulates a lot of different things including history, mythology, love stories… but, I think not the usual type of love stories."
She shares a piece with us from the collection called, "And The World Was Crowded With Things That Meant Love."

They met only once, at a piano recital in her hometown. Both of them were there for other people's children. He caught her yawning while a blonde in pigtails murdered The Blue Danube, and they exchanged grins. After drinks and dinner they were delighted to find they shared a hobby: both were sculptors of sorts, though she worked in clay and he worked in wood. Both had jobs that sent them round the world, and it was a way to kill the long, late hours that haunt the solitary traveler.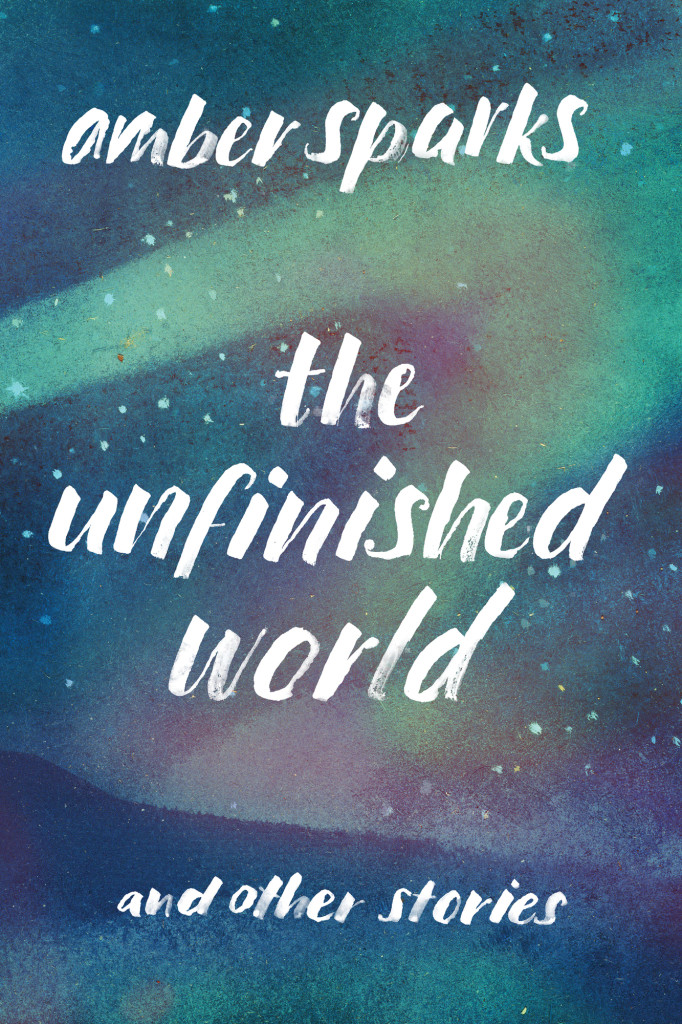 She started the exchanges, the reminders they sent to one another as they aged in different cities, countries, hemispheres. But that would come later. At first it was the dinner, and the drinks, and the porch outside where her laughing relatives lingered. At first it was her childhood bedroom, the quilt flung to the floor, the way she moved like a dancer and the way she flung her arms about and the way he surprised them both by bursting into tears. At first it was finding their faces fit perfectly, a jigsaw. A locket severed and the halves hung round the neck of the world they would cross many times over the years, always looking for one another.
The first piece was a bust, a child's head and shoulders. The pigtailed pianist. A drawer at the nape of her neck, with a little heart inside. A paper heart, coin-sized and inked in scarlet. He kept it in his pocket until it fell to pieces.
His eventual response: a small wooden copy of den lille havfrue, Andersen's little mermaid on her rock. But instead of the sea woman's visage, it was her own features carved into the soft basswood. She smiled when she saw how well he remembered her face.
Down the years they sent their strange missives. She sent maps made of clay, locks with no key, books with words cut out, fantastical animals and landscapes. He sent puzzle boxes, lacquered bangles engraved with kanji, bright yellow Dutch clogs. They sent maps of where they'd been and circled where they were going. And the world was crowded with things that meant love.
Once she received a plain cedar box with a wooden knife inside, and she was disappointed for a long time. She felt the sentiment fell too far from love and into something much darker. She was not sure they could be sustained by such cruel gestures.
But then at the Paris flea market she found a beautifully carved antique music box. She brought it home and sculpted a little ballerina, lovely and lithe and wearing, of course, her smiling face. She snipped the plastic ballerina out of the box and put her own inside. She wouldn't dance, but he would recognize a clumsy sort of hope here, the echo of his very first gift to her.
And so the gifts continued, from Brussels to Tokyo, from Lodz to Buenos Aires, from Ankara to Johannesburg. Wood and clay went by boat, by air, by train. Each gift arrived with a slip, printed with only a new address. Messages slower but more powerful than those carried in the digital noise of the world. They never spoke, never wrote, never texted, never exchanged a photograph, though they sculpted and carved each other many times. They could not help but notice each grew lovelier in memory, even as they grew older and older in life.
Eventually, he went to sleep one night in a hotel bed in Heidelburg, and he never awoke again. The room was full of beautiful objects, the hotel maid saw; souvenirs, she supposed. She found a curious item next to his body: a plaster arm–a woman's arm with fingers curled as if around some object. No one on the hotel staff could tell if the hand was giving or receiving–or if it was beckoning something or someone to finally come home.
From THE UNFINISHED WORLD: And Other Stories by Amber Sparks, published on January 26 by Liveright Publishing Corporation, a division of W. W. Norton & Company. Copyright 2016 Amber Sparks. This story was first published by Matter Press.