On stage and screen, Alan Cumming has played — among other parts — Dionysus, the Devil, God, a Marvel superhero, and every character in a one-man staging of "MacBeth."
In recent years, he's co-hosted the Tonys, stolen scenes on "The Good Wife," written a best-selling memoir, and revived his iconic role as the master of ceremonies in the musical "Cabaret." Which is fitting because his new project is an album of live cabaret performances recorded at the famed Café Carlyle in New York City.
It's called, "Alan Cumming Sings Sappy Songs." Clearly, he took this exercise deathly seriously. Before answering a few of our listeners' etiquette questions, he explained to Rico and Brendan how he chose to cover songs from the likes of Miley Cyrus and Billy Joel, the album's cheeky artwork, and more.
Interview Highlights
On how he defines "sappy"
Alan Cumming: It's actually interesting 'cause I realized… I don't know why this is a surprise, but I don't think of sappy the same way as American people. You know I've lived here for like 18 years and I still find that we're divided by a common language. There's a big gap.

Sappy to me means, emotional — and maybe a little more emotional than you're comfortable with — but at the same time, it's also going to be fun.
On his album's nude cover art
Brendan Francis Newnam: There's an element of mirth even by calling it and you are naked on the cover of this album.
Alan Cumming: Yes, outside the Café Carlyle.
Brendan Francis Newnam: So people know they're not just going to be weeping.
Alan Cumming: It's at the Café Carlyle. It's at the Carlyle hotel and you see the same kind of classic tradition. And at the same time, there's me naked, with two dancers holding a big bottle of champagne in front of my penis.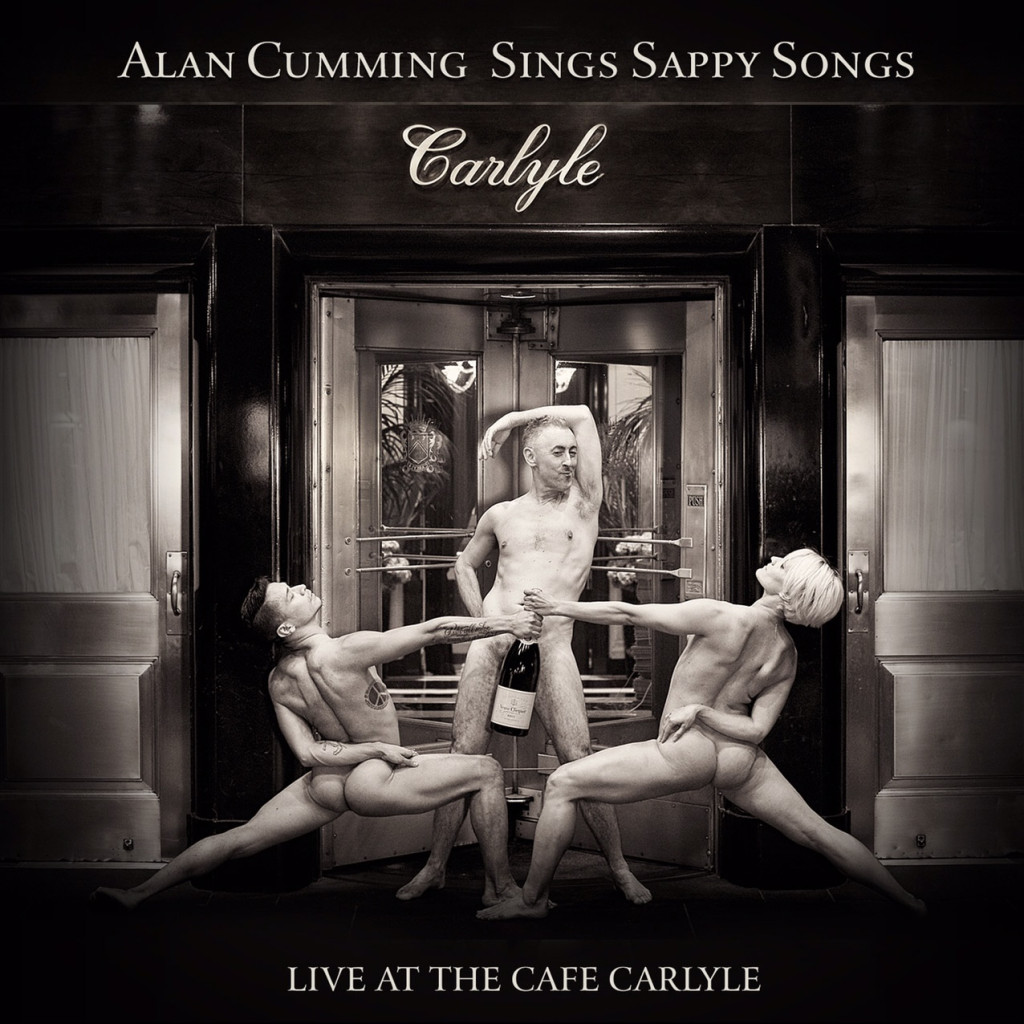 On how his performance can change the audience's perception of a song
Brendan Francis Newnam: So, you're clearly winking the audience as you perform some of these tunes, but, others you really do treat with reverence.
Alan Cumming: Well, I don't. Even when I say to the audience, "Some of the songs I'm going to sing for you, I never thought I would like. I never thought I would enjoy this artist." When I start to sing them, I am completely in them and committed to them.

A couple of the songs, people start tittering a little bit, "He's not going to do that!" And then I sing the song for real and it really, it makes them change how they think about the song.
On choosing to cover Billy Joel's "And So It Goes"
Brendan Francis Newnam: Hearing that baroque on Billy Joel is beautiful. Growing up in metro New York, I mean Billy Joel is just what you hear when you go fill up your gas tank. You know, or go to a diner, but he's a poet. And I feel like you really pulled that. What made you choose that song?
Alan Cumming: I just love it. I think it's so haunting and beautiful and what it says is that, it's basically, someone who's hurt and so in this song, he's saying, "You can break my heart." Which is so awful… I mean it's so beautiful that "I'll let you break my heart." And I sing another of his songs on my show and the record…. "Good Night Saigon," which is great. Another, I mean, a brilliant song!

Actually because it's so intense at the end, I've actually now said — whenever I go to different theaters — I said, "Do a blackout immediately at the end of this song." Because if you don't the audience are so shocked.

And — it's quite early in the show — and they're like, "Oh, I thought we were going to get funny songs! Miley Cyrus." And then suddenly it's like that scene in the "Producers" where, you know, the audience is completely horrified. They're like that. And they don't know what to do and they kind of don't clap.

So I actually, I try to make sure there's a blackout as soon as I finish just to get—
Brendan Francis Newnam: To cue the audience. Very clever trick.
Rico Gagliano: And to cleanse the palate maybe a little.
Alan Cumming: And scene!
On how his "Cabaret" dressing room (known as "Club Cumming") influenced his song selection
Rico Gagliano: Actually, you say that the seeds of this album were planted during the recent run of the musical cabaret in your dressing room, which you re-christened Club Cumming. What was going on?
Alan Cumming: Really it's because I went back to doing something that I had done 14 years before, you know, Cabaret. That role. And I was very overwhelmed by it when I did it in 1998. I didn't quite have as much fun as I think I could have because I was so green and didn't– it was a huge thing to happen to me and I was on my own.

Anyway, around this time around, I thought, "If I'm going to get through this aged 50…" Hello! "…dancing, my tits off with all these girls, I'm going to have to have fun every night."

So, I kind of, you know, was planning to entertain in my dressing room, but then… Campari — the booze people who do all these different types of booze — they said, they would sponsor part of my dressing room.

And it wasn't just me. It was like everyone who came to Club Cumming for the year. And I called it Club Cumming. I had a Neon sign made. The box office people said that people would come and say, "Could I have two tickets for the Thursday evening show and two tickets to Club Cumming, please?" And they were like, "It's just really his dressing room. You can't buy a ticket to get in."

But then eventually we sold — for charity for Broadway Cares/Equity Fights AIDS… you [could] come to Club Cumming on a Wednesday night, which is when I made soup. Because it was a matinee day. And I would always DJ and, like, there was a bar. So people paid like $15,000 to come to Club Cumming [laughs].
Rico Gagliano: Dude!
Alan Cumming: I know, right? And it was always just the best fun. So during that time, I would play lots of music and a lot of the songs in the show and on the album I grew to love in Club Cumming.

IT'S A PARTY IN YOUR INBOX…
…when you subscribe to our weekly newsletter. You'll find all sorts of good stuff there like bonus audio, musings on culture from our staff, photos of our guests and co-hosts being ridiculous, and new cocktail recipes. Sign up below!