Actor and writer Aasif Mandvi's new book, "No Land's Man: A Perilous Journey through Romance, Islam, and Brunch," is a collection of humorous essays inspired by his life and the particular challenges of being a South Asian man in Hollywood. He is best known as one of merry band of correspondents on "The Daily Show with Jon Stewart." He's also appeared in "Sex and the City" and "The Sopranos," in numerous films, and extensively on stage, including starring in the original cast of 2013's Pulitzer Prize winning "Disgraced," and in his own Obie-award winning one-man show, "Sakina's Restaurant."

Hi, my name is Aasif Mandvi. You may know me as the "foreign," "Middle East," "Muslim," "doctor," correspondent on The Daily Show. I wrote this book called "No Land's Man."  It has to do with my life. Born in India, growing up in the UK, growing up in the US, fitting in, working in Hollywood. I'm going to read to you a little excerpt from the book, a chapter called, "You Can't Be Michael Jackson All the Time."
{Editor's note: This story has been abridged for broadcast purposes.}
It was 1984 and MTV had recently launched on American cable television. That same year, the drama department at my high school decided that, instead of producing a traditional fall play, they would put on a variety show. Drama students were asked to perform some kind of musical number, even if their lack of singing ability left them to resort to lip-synching.
Initially, I decided to boycott the show entirely, but a few weeks before the performance, in a drug-induced moment in the back of my friend Roy's sky blue Volkswagen, I made a decision that would change the rest of my high school experience.
The variety show would have its very own Michael Jackson.
Earlier that year, Michael Jackson had sealed his stature as being bigger than Jesus. A single glove, a fedora, and the Moonwalk all came together in a magical moment. Truth be told, it was not the first time I had ever seen the Moonwalk. The Black kids in school had been popping and break dancing outside the lunch room for almost a year before I saw Michael do it on TV.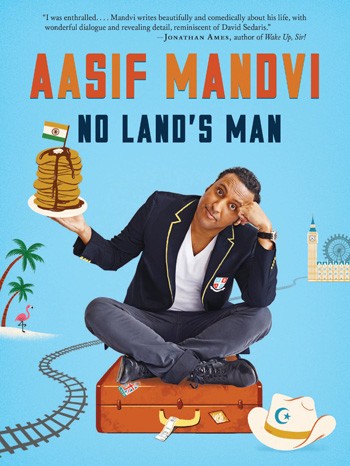 I had even tried doing it myself, in my bedroom, late at night, but I always looked less like I was dancing and more like I was being riddled with bullets. So I practiced that dance everywhere. All the time. I danced in the shower to the thumping of my mother on the other side of the bathroom door, yelling, "What are you doing in there? Why are you taking a shower at two o'clock in the afternoon?"
One night, before bed, while I was grabbing a glass of milk, I woke my father, who emerged to the sight of his teenage son kicking and twirling and emitting piercing high-pitched squeals, wearing only his underwear at two in the morning. He must have wondered in that moment, as he watched me from the shadows, why he had ever come to this country.
Despite my poor display, my family was supportive. Even though my grandmother didn't understand what it all meant, she would walk into my bedroom every day and sing "Billy Jesus, not my lawyer."
The day of the variety show arrived. I walked out in the darkness and stepped into a spotlight. In an instant, my mouth seemed to lose all moisture. My limbs felt heavy as I assumed a familiar pose. I realized that stoned people make impulsive decisions that lack judgement and that this was the backbone of the "Say No to Drugs" campaign.
Before I was ready for it to happen, the familiar, throbbing beat began. I reached up with my makeshift glittered glove, drenched in sweat, and slid my fingers across the brim of my fedora. I thrust out my hip and kicked my right leg straight and hard.
A girl screamed, "I love you!"
I heard another scream, "Hell yeah!"
Then another, and another, and, in an instant, a confidence began to come over me that I had never experienced before. There was an explosive scream from the audience as I swallowed and opened my mouth, becoming a vessel for Michael's pitch-perfect lament. All I had to do was bring the swagger. I walked forward and I glided backwards. It couldn't have been easier.
I was an Indian-English kid who had been transplanted to America, dancing on a Tampa high school stage, channeling a Black man who looked like an Indian girl.
It is true that you can't be Michael Jackson all the time. But on that day, for four minutes and thirty seconds, the entire student body – Black kids, White kids, the jocks, the prom queens, the drama kids, even the two Asian kids and the one Indian kid, Dilip – stood up and screamed, "Michael!"