Zachary Quinto has had major success in TV series like "Heroes," on Broadway with his acclaimed performance in Tennessee Williams' "The Glass Menagerie," and especially on film, portraying Mr. Spock in the latest "Star Trek" movies. The actor currently appears in "The Slap," an American adaptation of an Australian television series, which was based on a 2008 novel of the same name. Quinto plays Harry, a proud, wealthy man who slaps the out-of-control child of an acquaintance at a birthday party and sets off events that effect everyone around him.

Rico Gagliano: Zachary Quinto, welcome.
Zachary Quinto: Thanks, man. Good to be here.
Rico Gagliano: Harry's a philanderer, he has major anger issues. It's pretty clear from following your career and your political activities, you're probably not a fan of Harry's more conservative political philosophy. But I would say anyway that your portrayal is really empathetic. I actually find myself at times giving a damn about this character. What do you find that connects you to him?
Zachary Quinto: I think that he is wounded in a way that he's not able to integrate, if that makes sense. So I connect with that sense of vulnerability and just… injury that so many people in this world have, and so few people in this world — including Harry — are actually interested or capable of looking at.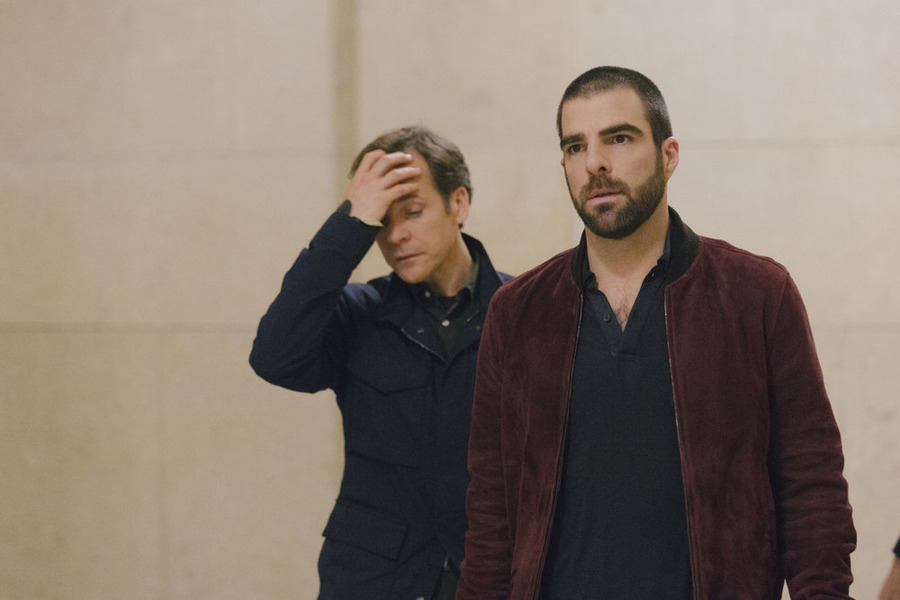 Rico Gagliano: For those who don't know, the character lost his parents…
Zachary Quinto: Yeah. He was orphaned at a young age, and he was uprooted from his homeland in Greece and brought to America, and forced into a system that I think encouraged all the wrong aspects of his personality.
Rico Gagliano: Yeah — at the end of the episode in which Harry features prominently, in fact… there's a narrator, and the narrator in a way equates Harry's character with America. Do you see him that way? 'Cause it's a pretty bleak picture of America, this guy who basically fights and fights and fights and will destroy all to preserve his family.
Zachary Quinto: Yeah, it's definitely a bleak picture of what he… I mean, he represents America in a number of different ways, right? He's an immigrant. He has achieved a great level of success and material accomplishment. He is living the American dream, but I think he feels really threatened by his success, in terms of how other people see it. Like, he has achieved all this stuff and now he's got this paranoia about protecting it, right? And that seems to be a good allegory for, I think, what our country's going through right now politically.
Rico Gagliano: People who know you mainly from the movie "Star Trek" may be surprised to know that this is not your first role on television. You were actually on TV for many years even before you got your recurring role on the TV show "Heroes." Can you talk about that moment, making that jump from the small screen to the big screen?
Zachary Quinto: Well, "Heroes," for me, was kind of — that had been the goal.  Specificity has always been kind of really important to me, and I remember saying to my agents, like, "I wanna get a recurring role, on an established show that's really successful."
Rico Gagliano: And you did it!
Zachary Quinto: And then it happened! And then in the midst of that experience, "Star Trek" happened, at the end of the first season that I did of "Heroes." So it really did legitimately feel like kind of winning the lottery twice in one year. It was crazy.
Rico Gagliano: And as far as pop-culture geeks are concerned, that's, like, the pinnacle.
Zachary Quinto: Yeah man, for sure! So for me, then, it was about really preparing for the scale of "Star Trek."

For me, acting tends to be about the proscenium, and the size of the proscenium. So if you're on stage in New York and you're in a theater and the proscenium's about 35 feet wide, that's the space that you have to fill. When you're acting for television, the largest proscenium you're probably going to be on is, what, a 70-inch TV screen or something? And when you're making a film, you have to sort of calibrate for the size of the screen, the size of your stage. So, you know, it wasn't a huge adjustment in technique, I would say —
Rico Gagliano: It was about a 50 foot adjustment.
Zachary Quinto: — About a 50 foot adjustment! No, but I think it was really about… I would say the bigger challenge of the "Star Trek" aspect of it is that, you know, I'm playing a character who's known for his restraint and his lack of emotional expression.
Rico Gagliano: And you've still got to fill that room, that screen! Speaking of which, as a Trekkie, I hope you forgive me if I ask you this: Of course, we lost Leonard Nimoy a few weeks ago. You worked with him on that film. Any story or a moment or something that you think captures the man?
Actors Leonard Nimoy and Zachary Quinto attend the Sundance Institute Vanguard Leadership Award honoring Glenn Close at Stage 37 on June 4, 2014 in New York City. (Photo by Astrid Stawiarz/Getty Images)

Zachary Quinto: Well, you know, I more than worked with him on that film. He became an incredibly important person in my life. In many ways he represented, for me, more of a father figure in my life than I've had since my own father died 30 years ago. So it was a profound relationship.

It's difficult to capture what made him the man that he was… I think the one thing about Leonard was his sense of humor.  And when I first met him it was in a crowded elevator, in a very rushed circumstance at Comic-Con in 2007, when we met there to announce that I would be taking over the role. And he was bemused at my naiveté in terms of what I was getting myself into, this "Star Trek" world.
Rico Gagliano: The "Trek" fandom?
Zachary Quinto: Yeah, exactly. And he was sort of ribbing me about that.
Rico Gagliano: "Get ready, buddy."
Zachary Quinto: Yeah, "You have no idea what you're in for," I think, was his opening salvo to me, as we were heading out on stage in front of like, 6,000 people or something.

He will be missed, but also celebrated, obviously.
Rico Gagliano: Obviously. And I'm sorry for your loss.
Zachary Quinto: Thank you.
Rico Gagliano: Let me end this with our two standard questions. Hopefully not too big of a pivot after that. The first question is… I may have just asked it, actually. The first question is, if we were to meet you at a dinner party, what question should we not ask you?
Zachary Quinto: I don't know!  Like… "Would you cut my head open?" Or like, "Will you take a picture doing…?" I feel like, I don't…
Rico Gagliano: That's one of the things your character on "Heroes" did, is cut people's heads open.
Zachary Quinto: …Right. I tend to not really respond to people who relate to me as the character that they know me for. Does that make sense?
Rico Gagliano: Yeah.
Zachary Quinto: Like, don't ask me to make the Vulcan salute if we're taking a picture together, don't ask me to pose as like, a character…
Rico Gagliano: You just looked at me with a raised eyebrow, like, "Don't you, self-proclaimed Trekkie, do that to me later."
Zachary Quinto: No!  But… that just becomes reductive. I try to be respectful, but respectfully, I decline.
Rico Gagliano: All right, good. I won't ask for the Vulcan salute later.
Zachary Quinto: Thank you for that.
Rico Gagliano: Our second question is: tell us something we don't know. Tennessee Williams trivia? Maybe that's a little esoteric.
Celia Keenan-Bolger, Cherry Jones, Zachary Quinto and Brian J. Smith attend "The Glass Menagerie" Broadway Opening Night at Booth Theater on September 26, 2013 in New York City. (Photo by Ben Gabbe/Getty Images)

Zachary Quinto: Well, I can tell you this story. I don't know how it fits in to the request here, but… Somebody came to see "The Glass Menagerie" when I was doing it in New York. Somebody who was an acquaintance of Tennessee who knew Cherry Jones, who was playing my mom.

This person gave Cherry this gift, which she then bequeathed to me. Somehow she felt like it was more appropriate for me to have this, which is interesting. And it's this beautiful, ornate bird, and it's like a little tray. And it turns out that what it was… was Tennessee's coke dish.
Rico Gagliano: What? Cocaine?
Zachary Quinto: Cocaine. Yeah, isn't that crazy?! And you take the little lid off and there's a little spoon in there, and it has a tail that's beautiful, and you would never know what it was to look at it.
Rico Gagliano: Yeah — it could be a candy dish.
Zachary Quinto: Well, it's much smaller than that. It's like, smaller than an iPhone.
Rico Gagliano: For tiny peppermints.
Zachary Quinto: For tiny mints. The good news is that, you know, it will remain empty and decorative, and I take a fair amount of pride in that fact.
[ed. note: For more about Tennessee Williams, and what might have motivated him to use that tray, see our interview with his biographer, John Lahr.]