Rashida Jones has acted in some of the most respected comedy shows of the last decade, including "The Office" and "Parks and Recreation." She also wrote and starred in the movie "Celeste and Jessie Forever." We actually spoke to her when that movie came out a couple years back.
These days you can see her on the TBS series "Angie Tribeca." The second season just came out. It's a spoof of police procedurals, in the vein of comedies like "The Naked Gun."
She sat down for a chat with Brendan about overcoming her "overdog" status, the possible revival of slapstick satire, and why there's a good chance you'll catch her grabbing a Wetzel's pretzel.
Interview Highlights
On whether she ever has a moment where she thinks, "I went to Harvard for this?"
Rashida Jones: Yeah, but you know what? This is kind of like a coming out party for me. Because the truth is, "Airplane" is just as dumb, and that's just always been my favorite. Those have just been my favorite jokes. And I do know a lot of smart people that like these types of jokes. I don't know why.

There's something that's so fulfilling, for a joke to pay off, to be told and pay off so fast. It's like the rate of joke telling that's so satisfying. But, yeah, I definitely wonder what happened in my life.
On why the "Airplane" kind of comedy went out of style… and why it might be making a comeback
I think, in general, this kind of comedy's very easy to watch, and it's very difficult to execute, and I think people try. It's just now, doing it, I'm realizing that divide. And it's very challenging because it's highly choreographed. Everything has to land perfectly for the joke to be funny. So, it takes kind of the whole village of production and post-production to make it work.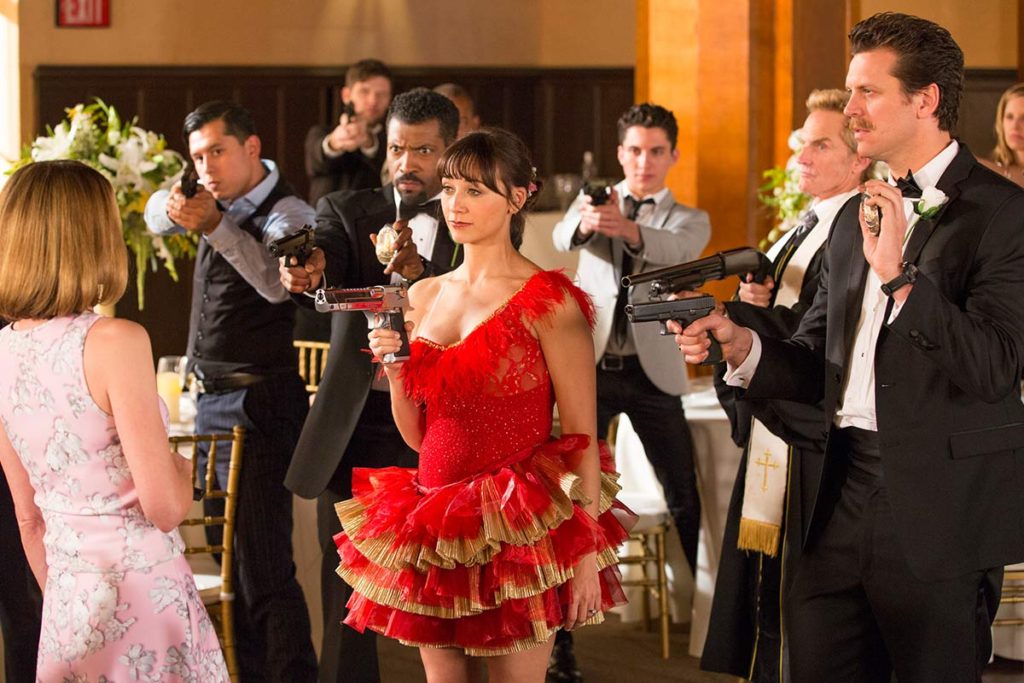 But I think, also, you know, maybe people thought for a while that it was too silly for them, and it wasn't highbrow enough. We've just come off this trend — we're kind of still in it — of all these "mockumentary" style comedies, and that's great. It's a new way to tell a story. It's a new way to laugh without the audience laughter cuing you.
But I think that we're kind of like, in a cool place culturally where high/low is kind of blending. And, to me, this show is that, where there's a blend. It's like, dumb jokes told intelligently. You still have to use a little bit of your brain to understand the jokes, but you can also just kind of relax and rest assured that if there's a joke that you don't like… that you have 10 seconds and there's going to be another one for you to grab onto.
On her Harvard speech about "overdogs" and overcoming her ultimate overdog status
Listen, I'm privileged in so many ways. You know, the way I was brought up, my education. And I chose to squander all of that by becoming an actress [laughs]. But, you know, in some ways, I feel really lucky because I have that, and then I also have all this other kind of like, really cool, really complicated heritage, you know?

I'm a woman of color. I'm Jewish. I'm living at a time when I have a lot of benefits. I can feel equal, but the truth is, a lot of people in my position who have the same heritage are not. So, the other instruction I gave during that speech was, "You have to care about something else besides yourself." It's really important. And I think especially if you do have that privilege and you're an overdog, you've got to take people with you, and you have to make it about more than yourself.

I'm lucky in the sense that even though I grew up in L.A., and I come from privilege, and I have an education. My parents are both very compassionate, very thoughtful, and very giving, and that's something that's been instilled in me. And I don't think that I could ever feel comfortable just being like, "Get yours!" You know, "Here I am coming for the top, and forget about everybody else."
On how celebrities like Amy Poehler, Aziz Ansari, and Andy Samberg might've changed the acting scene in Los Angeles by being all-around content creators
What I think is, like, a really nice trend that's coming out of L.A., is that it's just content creation. So, those are all people who are not sitting waiting for jobs. And I did it kind of begrudgingly because I wasn't getting work. You know, I wanted to be a writer, but I was too scared to do it. And I finally did it because I wasn't getting jobs, and I wasn't getting jobs that were satisfying.

So, all those people, they produce, they write, they create their own content. They also act in things that are not theirs. They have friends who all do that. So, the community now supports the fact that everybody wears multiple hats and I think you kind of either need to be well-adjusted to flow through all those different kinds of modes or it makes you readjust because it's very humbling to create your own stuff.
On one surprising thing we might not know about her (think: Orange Julius)
I love malls. I love the mall. I don't love them all.

I grew up going to the Beverly Center, and the Century City Mall, and the Sherman Oaks Galleria — made famous by the movie "Valley Girl" and "Fast Times at Ridgemont High."

There's something so comforting about, like, you go look at some tennis shoes, and then you get a Wetzel's pretzel, and then you go to Sanrio, and then you go see a movie. You could spend all day in there, and it's like, temperature control and you meet your friends there. I don't know. I just love malls. I love that everything's available in one place.