You may know Jason Schwartzman from a million things (he's been on our show twice, as a matter of fact), but you probably first saw him playing Max Fischer, the eccentric, extracurricular-obsessed prep-school kid in the movie "Rushmore."
That was the first of his many collaborations with director Wes Anderson, which include "The Darjeeling Limited" and "Moonrise Kingdom." He's also starred in films from "I Heart Huckabees" to "Saving Mr. Banks." But his latest project is for the small screen. Jason produces, writes for, and performs in the Amazon series "Mozart In the Jungle," which just won a Golden Globe for Best TV Series, Comedy or Musical.
It's a behind-the-scenes look at a fictional symphony orchestra in New York. We talked to star Gael Garcia Bernal, back in December, before he too nabbed a Golden Globe for playing conductor Rodrigo De Souza in January. The series was recently renewed for a third season.
Jason's known for playing in the pop bands Phantom Planet and Coconut Records, so Rico and Brendan kicked things off by asking what attracted him to the world of classical music.

Interview Highlights:
On his family connections to classical music
Well, I've always been interested in classical music. My grandfather was a conductor and a flautist. He actually played first chair flute for Toscanini.

My mom loves classical music, but it's always been very intimidating to me. The world of it was a bit scary and intimidating and sometimes, as a young boy, my mom would get tickets to go see the L.A. Philharmonic play, and the process of getting ready for it was unenjoyable.

And going there, and then you see all these people, and there's like, you know, there's cough drops everywhere so that people don't cough, and you never know when to clap. And it was just very, like, awkward.
On how the book "Mozart in the Jungle" is based on helped him relate to the classical world
I read a — this is about eight years ago now — I read a review about a book that was coming out, called "Mozart in the Jungle," and it was this woman named Blair Tindall's account of her trying to make it in the world of classical music in New York City.

I read the review, and then the book, and it was the beginning of it feeling alive to me. Because it was about people, and instead of the tuxedos that everyone's wearing being perfect, somehow they had holes in them, and they just seemed like, people that I could, maybe meet.

And really, at the end of the day,  it's about people that make things and make music and get to connect with composers.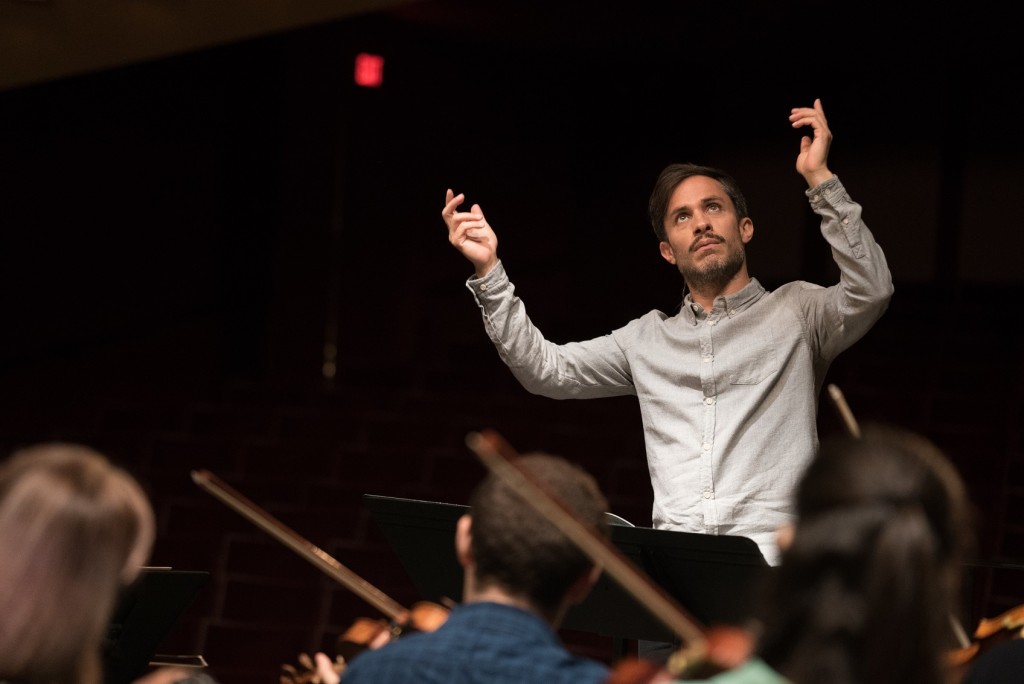 On L.A. Philharmonic Orchestra Gustavo Dudamel, who Bernal's character is partly based on, guest starring on the show.
We shot a scene at the Hollywood Bowl. They said, "You know we have a Mozart night, and perhaps there's some arrangement we could make and we could join forces." And, so Gustavo Dudamel actually spent a lot of time teaching Gael Garcia Bernal, who plays our main maestro, teaching him some expertise conducting tips.

And, Gael actually conducted the L.A. Phil at the Hollywood Bowl in front of a real audience. We had one take to do it… It was amazing. And he said he had never been more nervous in his life. But, Gustavo Dudamel plays a stage manager who walks him to the wings. And he improvised a line, that's in the show, and to me is like the funniest line… In our show, the New York Symphony is possibly gonna go on strike. And he says to Gael, "Are the rumors true that you're gonna go on strike? If so, would you come to L.A.?" And he says, "No, we're not going on strike, I'm gonna stay in New York."

And he says, "You've gotta come to L.A. We hate our conductor."
On how public radio legend Davia Nelson of The Kitchen Sisters helped him get cast in "Rushmore."
She was the San Francisco casting director for "Rushmore." Or I guess put in charge of keeping an eye out for, possibly someone to be in the movie "Rushmore," and basically– just as a little back story: I was a bit of a clown in school. Usually in love with older girls. And was a bit eccentric. I wanted to be like a playwright, I'd write and direct plays. And I was in a band and all this stuff.

And, Davia was talking to my cousin Sofia at this party — they have known each other for many years I guess — and she said she was trying to cast this film, "Rushmore," about an eccentric teenager who's in love with an older woman, who was a playwright.
And I happened to be at this party, and she said, "I'm casting this movie that sounds like maybe you would be interested. Would you like to… do you ever audition for anything?" And I said "No, I've never auditioned, I'm a musician." And I gave her my address. The script for "Rushmore" came to my mom's house and I read it. It was the first script I'd ever read in my life. And I remember sort of feeling like an odd connection to it.

And I went to the audition in L.A… [Jason pauses as Rico and Brendan play the following audition tape for the crowd.]
It's odd. It's odd. Don't people's voices get lower as they get older? [Rico and Brendan laugh.]