"Worn Stories" editor Emily Spivack also shared a story of her own with us.

Greta Gerwig's story, as drawn from an interview with Emily Spivak:
Twelve years ago, I was working as a stage manager at a theater company in Vermont for the summer. I was the worst stage manager of all time.
Around this time, I figured out that I could fall in love with people and that I could be in love. I was already in love with one person, and I started falling in love with lots of people. I felt very guilty about it, but it also felt like an appropriate response to figuring out you can be in love. I was in love with love.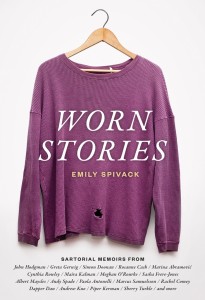 In high school, I would have these horrible crushes on people but they were never reciprocated or the people were gay. Then, in college, I had the experience of looking into someone's eyes and saying, "I love you," and he said, "I love you" back.
So I had this crush, or love, for this actor at the theater in Vermont. His name was David and I thought he was so beautiful. He had this very soft button-down shirt. When I hugged him, and I would always invent reasons to do so, I would touch his shirt. It was very chaste, and nothing ever happened. I was in love with him, but he was twenty-six-years old and I was eighteen, and when you're eighteen, twenty-six seems really old.
David left that summer before I did. We took him to the bus station. I cried, because I was eighteen and dramatic. I watched him go and I felt bereft. My friends and I returned to the falling-apart cabin in the woods that had been our home that summer. I went to the room where I had a bunk bed. Hanging on my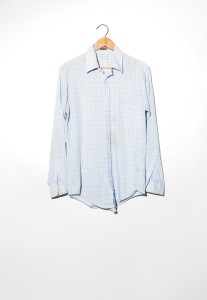 bunk was that button-down shirt. His shirt!  Tucked inside the shirt pocket was a note. He told me I was beautiful and a creature of light.
Doesn't it just kill you?  Can you imagine an eighteen-year-old girl coming back from the bus station to her room and seeing that the guy she loved had left his shirt for her? He knew. He just knew it. And it was beautiful.
I always write while I'm wearing the shirt, because it makes me feel like I have a secret. When you write, it's good to have a secret, because in a way you do. You have to nurture the secret until other people know about it.