Filmmaker Barry Jenkins finds magic in "Moonlight"…Actor Gael Garcia Bernal waxes poetic about art and "Neruda"…U.K. wit Caitlin Moran proposes steam baths for politicians and onesies FOR ALL… Folk phenom Lucy Dacus spins us a soundtrack built for living rooms and river beds. Plus: Jedi poetry, "Surfy Christmas," and tiny Jane Austens.
---

How postcards, holiday greetings, and a whole bunch of random sentences created the text messaging protocol that defined a decade.
---

Virginia musician Lucy Dacus has had a pretty sweet 2016. Back in February, she put out her debut album "No Burden" on a local label. Then 20 labels were so floored, they came calling to re-release it. Matador Records won the bidding war, and their reissue is out now. Check out her party soundtrack featuring Thao & The Get Down Stay Down, Big Thief and more.
---

Barry Jenkins's low-budget debut "A Medicine for Melancholy" put him on critics' radar. But his latest -- the meditative coming-of-age drama "Moonlight" -- is an indie hit and a major Oscar contender. It's already up for five Golden Globe awards. The director shares insight on film's cinematography, tells us how he weighed positive portrayals vs. productive portrayals with certain characters, and hints at the many sides of his cinematic creativity.
---

As a homeschooled, pop-culture-obsessed 17-year-old, Caitlin Moran landed a gig writing columns for the Times in the U.K. Twenty-odd years later, she's racked up a ton of awards for these frank and funny pieces. Her new book, "Moranifesto," collects her favorite recent writings and before turning to our audience's etiquette questions, she shared her methods for improving the world (hint: saunas) and maintaining an optimistic outlook in dark times.
---

After solving the world's problems one sauna at a time, the columnist takes aim at our listeners' etiquette woes concerning bumbling yoga classmates, holiday cards for the single set, and more.
---

Mexican-born movie star Gael García Bernal won last year's Golden Globe for his starring role on Amazon's "Mozart In The Jungle." This week you can catch him in "Neruda" -- Chile's entry for the Best Foreign Film Oscar. The actor talks to us about the movie's surreal take on poet Pablo Neruda's life... and explains why art and politics *do* mix.
---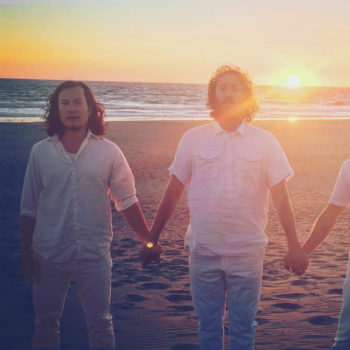 Since it's that time of year, we thought a holiday song might be appropriate. It's a brand new one written by Sandy's - a band obsessed with all things surfing and this track is no different. It's called "Surfy Christmas."
---