For seven seasons, Nick Offerman starred as Ron Swanson on the sitcom "Parks and Recreation," delivering deadpan zingers through a lush mustache. He's also stolen scenes in delightful films, like "The Kings of Summer," and "Me and Earl and the Dying Girl," and recently landed a recurring role in TV's "Fargo." He's also written a couple of books. But one of Nick's true passions is wood.
Nick makes and sells furniture, canoes, and more. In 2008, he released an instructional woodworking DVD, and this week, he released a book about it. Complete with tutorials, it's called "Good Clean Fun." Read highlights of our interview with him below and click here to hear Nick answer a few of our listener's etiquette questions.
Interview highlights:
On how often people ask him if his woodworking is just a joke
Nick Offerman: It's interesting, my wife and I, Megan Mullally — the gorgeous goddess, comedy legend of "Will and Grace," and Tammy 2 fame [from "Parks and Recreation"] — it's something that we countenance quite frequently.

People, years later, say "Oh my God! I never knew Ron and Tammy were really married!" Or, "I just found out that Nick Offerman really has a wood shop." And of course, in my reality, it's all perfectly obvious, because Ron's wood shop scenes were shot at my wood shop, and Ron's canoes were my canoes that I built.

I had a lot of woodworking on the show. And it's ultimately a compliment from the universe, anybody that has questions like that, what they're really saying to me is: "I enjoyed your show. And I just didn't read all the fine print. So I'm surprised to learn that you sometimes don't have a mustache, or sometimes actually make tables."
On why he continues his woodworking craft, despite hitting big on TV
Nick Offerman: My mom's side of the family are farmers, so I grew up in this community, this fellowship of people working hard together to create something beneficial, or medicinal, for one another. The neighborhood farm families, we would take turns bailing hay. So we would all go over to Kenny Bolty's farm and bail his hay, and then they would all come over and bail our hay, and so-forth.

And then I got into theater in Chicago, and again, it was the same kind of thing. It was a group of people working really hard, for not much money. But a really rich recompense from the audience's laughter, or tears, or catharses.

…To me, this book says, "Look how much fun me and my friends and my family have making stuff together." Some of it is dumb. You know, some of it's like a stick. And so you can reach the curtain to close it at night. It all creates a much happier life.

And it's not something you do for money. In this era of consumerism, where, well, if you make enough money to go to the mall, and buy enough pairs of shiny athletic shoes, you'll be very happy. And it was probably my 8th or 9th pair of pink and yellow sneakers that I was like, "Wait a second. It doesn't make me feel like my childhood did."
On how woodworking influences his acting and how his wife is an inspiration
Nick Offerman: In both disciplines, I try to keep my tools sharpened. It comes down to like, the more work and discipline I exhibit, the better the end result. And I always knew that.

But I really… I continue to learn from my wife, Megan. She is the most consummate, bad-ass professional I've ever seen in showbiz. She just works so hard, for every little — whether she's doing a big movie, like this amazing comedy called "Why Him?" that she has coming out on Christmas Day, from FOX. In which she's terribly gorgeous and hilarious.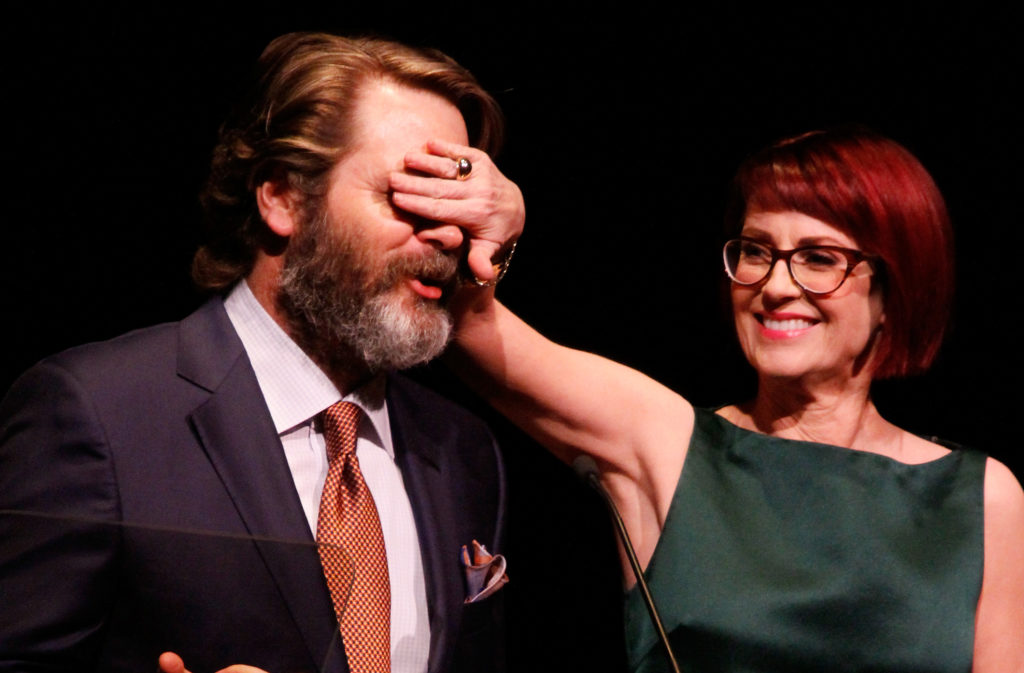 It could be a big job like that, or it could be some little bit that she's doing for somebody's like, comedy short. She treats them all with the same reverence because they deserve the same reverence. You're preparing something for your audience.

When I was younger I thought, "Well, if you make it in showbiz, you just like, smoke a blunt in your trailer, and then they bring you out on set, and you're like, 'What's up, I'm the funniest guy in the world! I'll be in my trailer if you need any more hilarity.'"

And you come to learn that if you're going to succeed, you gotta leave the blunts for after work.
[This interview has been edited and condensed.]