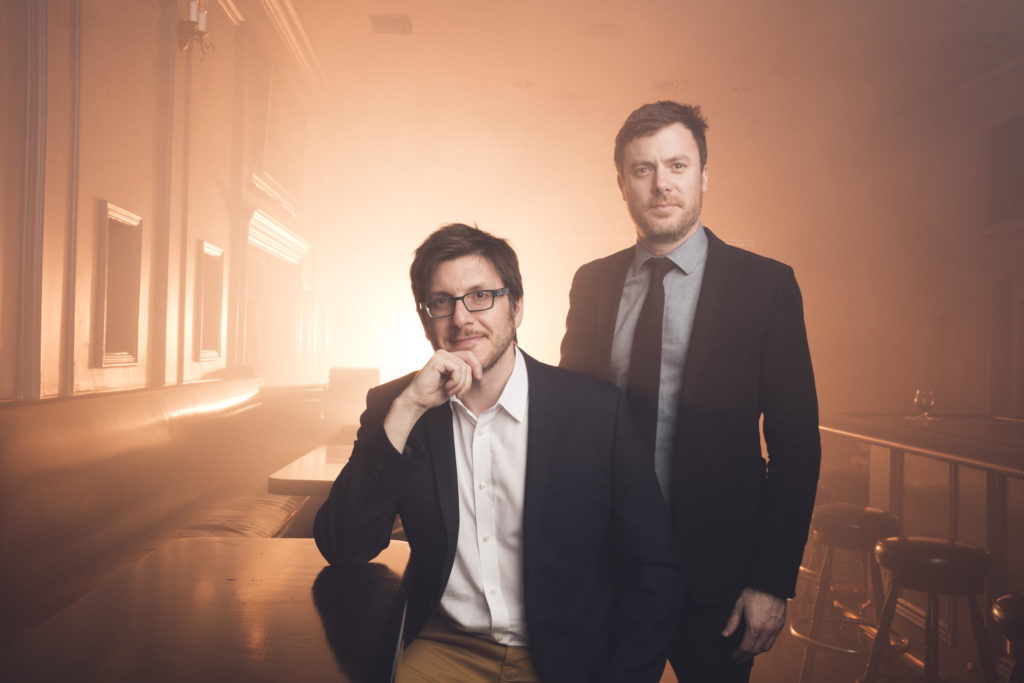 Welcome to The Dinner Party Download, a fast and funny hour of culture, food, and conversation. Think of it as public radio's arts & leisure section.
In every episode, you'll learn a joke… bone up on an odd bit of history and then wash it down with a themed cocktail recipe… meet artists of note (Pharrell Williams, Scarlett Johansson, and Steve Martin to name a few)… have your burning etiquette questions answered by the likes of Mel Brooks or Aisha Tyler… savor an emerging food trend… and hear your new favorite song. Plus, unconventional wisdom from hosts Rico Gagliano and Brendan Francis Newnam.
Where to Find Us
The Dinner Party Download is produced by American Public Media and airs weekly on more than 175+ public radio stations and HD channels (see our station listings here). We're also available on your many podcast platforms (find them all here). You'll occasionally find them on TV, too! They've appeared on Top Chef: Masters, Last Call With Carson Daly and Rocco's Dinner Party.
Your Hosts and Party Planners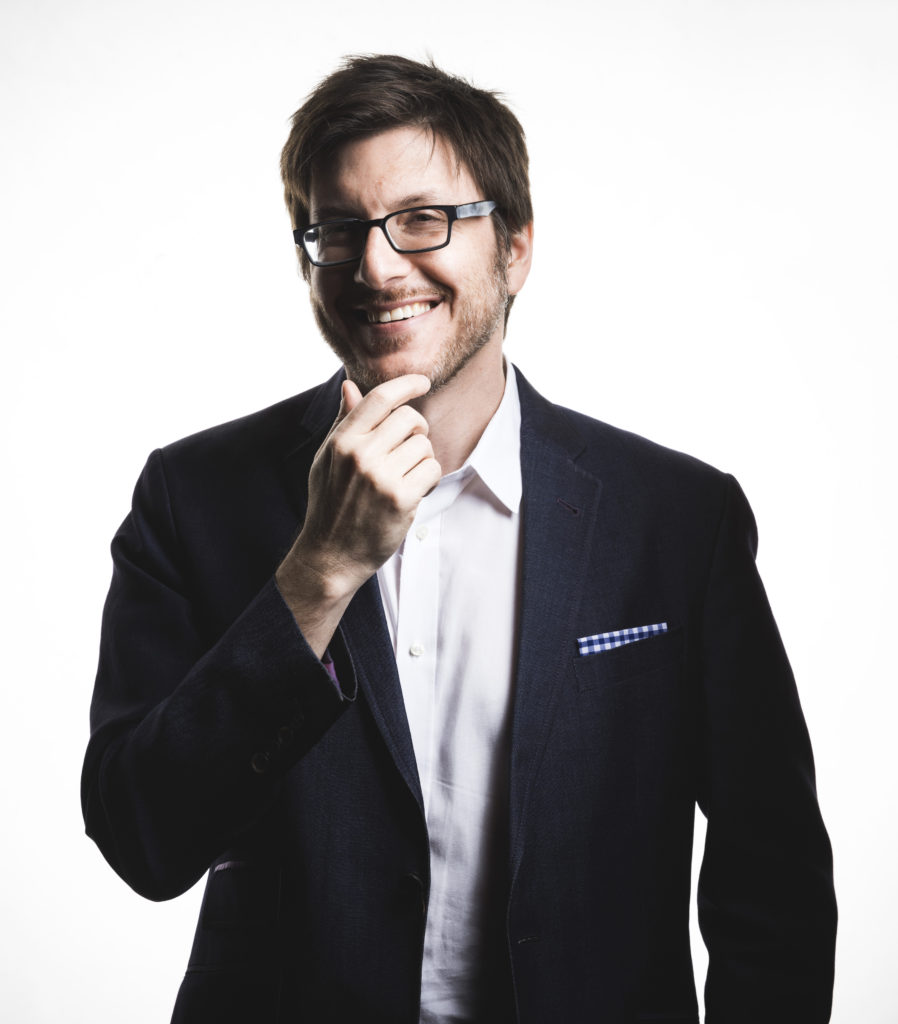 RICO GAGLIANO has worked in public radio for over a decade. He's been heard on All Things Considered, Weekend America, The Savvy Traveler KPCC's The Frame and other series, but he was best known as a reporter on "Marketplace," for which he filed stories from England, Ireland, Sweden, The Netherlands, India, South Korea and across the good ol' USA. He also penned and performed many of the show's "Marketplace Players" comedy sketches. Prior to radio, Rico worked as a TV writer on shows for MTV, ABC, Fox Family and The Cartoon Network… and as a freelance print reporter for LA Weekly, the Village Voice, The Pittsburgh Post-Gazette and others. He continues to contribute pieces to The Wall Street Journal, Los Angeles magazine and others. Rico co-created, performed and wrote for the circus-like L.A. sketch comedy troupe The Ministry Of Unknown Science, which at various times required him to drop his pants on stage, stand fully clothed in frigid ocean waves for half an hour, and stand way too close to the explosion caused by detonating a sex doll filled with propane.  The troupe had a top-10 video podcast on iTunes and filmed pilots for Spike TV and the SyFy Network. Rico holds an MFA from the American Film Institute. He's been a fan of dinner parties since childhood, when it meant he got to eat in his parents' bedroom and watch TV all night while the grownups sat around in the dining room getting wine-tipsy.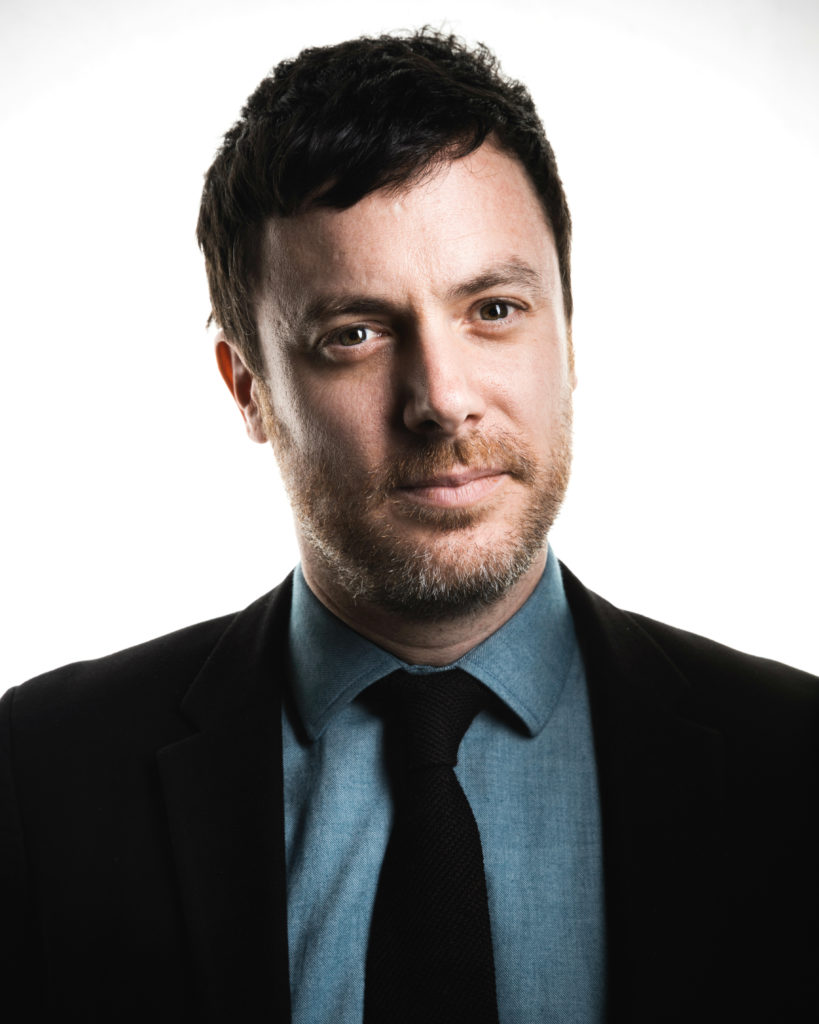 BRENDAN FRANCIS NEWNAM has been winning dinner parties since first taking a seat at the kid's table at his family's holiday gatherings. Granted, by then he was in his 20s and had graduated from Rutgers at the top of his class while the rest of his tablemates were toddlers, but, still, a victory is a victory, even if you make a 5-year-old cry. A long time foodie, during the height of America's cupcake craze, Brendan sought refuge in Europe, where he wrote and edited travel guides, music reviews and celebrity profiles for various websites and magazines, including Vice and Blackbook, and delivered lectures on the ontology of the gin martini. But even la dolce vita gets old, and he returned to America to embark on a career in law. But after earning a JD and spending a summer fighting for prosecutorial reform in Bulgaria, he was seduced by public radio's siren call. (Or maybe that was the sound of corduroy rubbing?) Before launching The Dinner Party Download, he produced and reported for national public radio shows including "Marketplace," "Marketplace Money," "Fresh Air," and "Weekend America," and, in his spare time, created and produced "Audiovant," one of the first music interview podcasts. Though he now has a stable income and is chipping away at his law school debt, Brendan continues to freelance for various outlets, including Dwell, Modern Farmer, Saveur, and CNN.com, where, in 2011, he penned a series of travel tales called "The State I'm In." Brendan is also a past Knight Media Fellow, and lest you think he has a face for radio, the national fashion website Racked named him a "style icon," and that's without even knowing about his tattoo of the word "tattoo."
JACKSON MUSKER wears many party hats. He calligraphs and hand-delivers invitations to our Guests of Honor. He folds napkins into endangered species for our Main Courses (to raise awareness). And he serves as the test subject for every cocktail, which is an issue on Deadline Friday. Jackson landed his producer position after reporting/producing stories for L.A.'s beloved arts & culture show Off-Ramp. Prior to his radio gigs, he studied English at Duke University and double-minored in History and North Carolina-style BBQ. Jackson enjoys writing fiction, teaching kids, critiquing movies, butchering other languages, and bemoaning the Dodgers' annual collapse. He has contributed to NPR's Morning Edition, The California Report, the San Francisco Bay Citizen, and Cyberfrequencies.com.
MICHELLE PHILIPPE loves bite-sized dinner party food and doesn't talk with her mouth full. Which is really important when she's narrating our "History Lesson with Booze" segment.  In addition to telling you what happened this week in history for DPD, she tells you what's coming up tomorrow in the "Marketplace Datebook." Michelle, herself, tries to live in the moment. She does that as an actor. And until she lands her dream job playing an evil alien space queen, she considers herself lucky to have a pretty cool job at Marketplace. Though she doesn't have the proper wardrobe for it, Michelle is also an amateur gardener. She grows tomatoes which she loves to eat and which her husband loves to compost.
CHEERS
Here's a small sample of what bloggers and tastemakers around the world are saying about The Dinner Party Download:
"If all dinner parties were this cool, we sure would be a lot less antisocial." (Bon Appetit)
"One of the top 40 reasons to live in America." (Wallpaper magazine)
"…Could be considered the icebreaker that helped public radio loosen up." (The Los Angeles Times)
One of the "20 Podcasts You Must Hear in 2015."   (Entertainment Weekly)
One of the "5 Intriguing Interview Podcasts You Need to Download Now." (InStyle) 
"If there's ever been a podcast that I would want to create, that is the one." (How Did this Get Made host Paul Scheer, in A.V. Club)
"After the first 20 seconds, I was hooked. Literally 20 seconds… The show is highly produced and brilliantly fast-paced … Dinner Party Download, I think this is the beginning of a beautiful friendship." (Public Radio Redux)
"This podcast has become our secret weapon at parties and events where we know there will be a lot of mingling. In fact, we weren't sure we wanted to share it with you because then you'd know where we've been getting all our jokes and clever stories! But no, this podcast is too good to keep to ourselves. (Apartment Therapy)
"This is possibly our current #1 favorite podcast…full of fascinating short factual segments plus an impressive interview lineup with cool musicians, authors, actors, directors, etc." (Goop)
"These guys are good."  (Dick Cavett)
Rico and Brendan listed among "40 Big Food Thinkers 40 and Under" (Food and Wine Magazine)
"Even more tips for all those kuntoilijoille cuisine, of which the home computer seems to exiting too painful: The Dinner Party Download the joy of serving illallispöytään. Housewife or the landlord needs only to cook, as this amusing podcast handle jokes, topics, and drinkkireseptit for you." (Someone in Finland – translated by Firefox browser)