This week: Actor Michael Shannon ("The Iceman") revisits his Wobegon days… Hugh Dancy of TV's "Hannibal" lists a few good baddies… Acclaimed travel writer Paul Theroux on a place he won't be heading back to… "Daily Show" co-creator Lizz Winstead grins and bares it … San Fran rocker Mikal Cronin serves up soundtrack… Biscuits on the rise…And the Posts deak with Brendan's kickstarter requests… Plus, a cocktail inspired by garbage, forgotten fallout shelters, and broken banjos.
---
Sadie Stein, Deputy Editor of The Paris Review, shares a story close to her bookworm heart: two-hundred core words have been in use for up to 15,000 years… including the word "worm."
---
David Alan Grier's publicist isn't going to like this joke...
---
In 1671, Colonel Thomas Blood attempted to steal the Crown Jewels - armed with little more than his charm. He failed miserably. Learn about why King Charles rewarded the red-handed bandit, and then quaff this gilt-y pleasure of a cocktail.
---
The creator of Love and Rockets is back with a semi-autobiographical comic book about being a kid. He remembers back to a time when comics for kids, about kids, were more popular than super-heroes.
---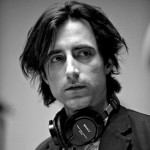 The indie filmmaker's newest, Frances Ha, is an uncharacteristically upbeat look at a young artist struggling to survive in contemporary New York City. He chats with Rico about the new New York, fending off superheros, and Spaghetti-or-Meatballs.
---